March 17, 2012 -
National Football Post
Day 3 Sleeper RB Prospects
My top five late round/free agent running back prospects…

5. Vick Ballard: Mississippi State (5-11, 220)
Possesses some natural running skills and is a strong kid who always falls forward. However, isn't going to break nearly as many tackles in NFL as he did in college and will struggle averaging over 4.0 yards per carry. A reserve only.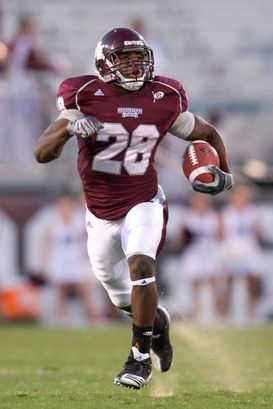 ICONBallard runs hard and gives you everything he's got.
4. Davin Meggett: Maryland (5-9, 215)
A shorter, thick back with a strong lower half, runs low and has the quickness/acceleration to pick his way through tight areas and explode toward daylight. Lacks a great feel, will slow his feet and not look real natural at times picking his way through traffic. However, when he sees a lane he can be dynamic and get up the field quickly

3. Brandon Bolden: Mississippi (5-11, 221)
A tough, productive SEC back who runs hard and can be effective when there are lanes to run through. Isn't going to create on his own in the NFL and isn't dynamic in any area of the game. Looks like a number three back at the next level.

2. Michael Smith: Utah State (5-9, 205)
He played behind a talented runner in Robert Turbin at Utah State this past year, but was extremely productive with limited touches, averaging over 7.0 yards per carry. He's a powerfully built kid who runs low to the ground, displays good short areas quickness and has a burst when asked to get up the field. He looks explosive pressing space and accelerating toward daylight, could be a nice late round value.

1. Bryce Brown: Kansas State (6-0, 220)
Watching him run in Lane Kiffin's zone scheme as a freshman, the guy was an impressive back with a lot of natural talent. He was the number one ranked recruit out of high school, ahead of Trent Richardson in 2009 and no doubt has the skill set to play in the league. The biggest question mark for him going forward is his overall character.
Check out the NFP Draft Page here...