April 20, 2011 -
National Football Post
Day three gems
It's the first three rounds that get all the fanfare every year when talking about the NFL draft. However, NFL talent evaluators make their money with their ability to recognize talent later in the draft come day three. Therefore, today we look at some of the more intriguing potential day three values who could end up making rosters and fighting for playing time down the line.
QB Tyrod Taylor: Virginia Tech
He isn't your protypical pocket passer, but the guy has the ability to consistently create second lives, is a gifted run/pass threat and if he's willing could have a similar career to Seneca Wallace at the next level.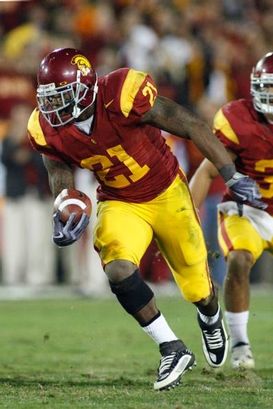 ICONAllen Bradford could thrive in the right offense.
RB Allen Bradford: USC
From a pure physical standpoint, Bradford is worth a top-100 pick. However, he's not the most instinctive of backs and doesn't have a great feel between the tackles in my view. However, if you put him in an offense where he can run toward daylight off tackle and not have to decipher information as much, I think he could thrive.
FB Owen Marecic: Stanford
Much like John Conner last year, Marecic could be had at a bargain price and end up maturing into one of the league's better lead blockers early in his NFL career.
WR Courtney Smith: South Alabama
You can't teach size and at 6-4, 223, Smith has plenty of it. He's a raw route runner, but plays faster than he times and has that vertical speed to make plays down the field. A nice late-round guy with a lot of upside who's worth taking a flyer on.
TE Will Yeatman: Maryland
Depending on how you look at him, Yeatman could be a developmental OT or short yardage/goal line type tight end. Either way he's a good athlete for his size, can catch the football and is only starting to scratch the surface of his potential.
OT David Mims: Virginia Union
At 6-8 and now down into the 330-pound range Mims has the athleticism and overall frame to not only make a roster, but with some time end up fighting for playing time as an NFL right tackle.
DE Brandon Bair: Oregon
He possesses a long 6-7, 272-pound frame, a great motor and offers some scheme versatility to play both inside and out. I don't think he's ever going to be a starter in the NFL, but more of a nice swingman/rotation player that can be had late.
DT David Carter: UCLA
Carter's best football is still ahead of him. A one-year starter who has played both the nose and three-technique at UCLA. However, when given a chance to get comfortable as a three-technique this year his game really took off. I like his upside and seems like the kind of long-framed kid to take a shot on during day three who could pay dividends down the line.
LB Steven Friday: Virginia Tech
Friday isn't real natural with his hand on the ground. However, if you let this guy stand up, in my mind he's got the first step to consistently threaten the edge in the NFL. He was up to 240 pounds at his pro day, has the frame that he can continue to fill out and long term could be a real threat off the edge as a 34 rush backer.
DB Brandon Hogan: West Virginia
He's an unquestionable talent who in my mind could start on the outside, play in the slot and even get looks at safety in the NFL. However, a torn ACL he suffered in December and some questionable character concerns will cause him to fall. Isn't worth much more than a late-round pick, but if he can ever put all the pieces back together, guy could be a real player.