August 17, 2012 -
National Football Post
Debate: Who will be the better pro quarterback?
Rookie quarterbacks Robert Griffin III and Andrew Luck begin their first professional regular seasons in three weeks. There will be big plays and there will be growing pains. But when we look back on the careers of both players, will one have emerged as the superior talent?
Matt Bowen and Joe Fortenbaugh flipped a coin to decide which side of the argument they would support. Bowen's backing RG3 while Fortenbaugh is advocating on behalf of Luck.
And the comments section is open for all of you to join in.
Argument: Robert Griffin III
By: Matt Bowen
Why Robert Griffin III? The intangibles, athletic ability and skill set that he brings to an offensive playbook. I would love to coach the Baylor product, game plan up on the chalkboard and put my rookie quarterback in a position where he can make plays.
There is no question Andrew Luck has the talent to play at a high level for a decade (or more) if he stays healthy in the NFL. I expect him to win and eventually compete for a championship if the talent develops around him in Indianapolis.
But I still have my eyes set on RGIII.
Think of what you could do with Griffin from a play calling perspective. The read option, sprint action, spread looks and multiple offensive personnel groupings that would cater to his abilities to run the script at the pro level. A player like this demands a unique approach to Sundays.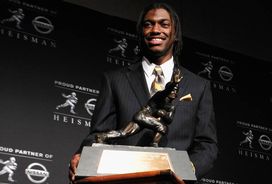 ICONRG3 has the ability to cause a lot of sleepness nights for opposing defensive coordinators.
The 4.4 speed? Yeah, it matters. And if you have ever played against Michael Vick, you know what it feels like to have your heart in your throat when he breaks contain. That ability to extend the play can be a nightmare for a defense and coverages begin to crumble. A basic curl route converted into a go route down the field. A safety—now with his eyes on the QB running outside of the pocket—allowing the top of the defense to fold. Big plays that flip the field and produce points.
Time to strike up the band and play the fight song—again.
Griffin will need time to develop, clean up his mechanics and polish his footwork to meet the standards of the pro game. That takes time and dedication from the coaching staff when you work with elite athletes.
However, what the Heisman winner brings to your offense can't always be taught. And those are the moments you look for. Maybe he picks up a crucial third down with his feet, or buys time in the pocket to target the third option in a route combination for six points.
The possibility for excitement (and natural creativity) is there every time he takes a snap.
Plus, don't forget to study Griffin's impact on the game from a defensive perspective. An athlete—a true athlete—at the QB position causes heartburn and sleepless nights for opposing defensive coordinators (and secondaries) leading up to game day. You will spend extra time on the practice field throughout the week preparing for Griffin.
I'm excited to watch him play and even to make mistakes as a rookie. Because those will be corrected as part of the process to develop his overall talent and feel for the NFL game. And I wouldn't be shocked to see Griffin jump onto the Sunday stage with some real production this season as a rookie.
So would I choose RGIII over Andrew Luck? You got it.
Argument: Andrew Luck
By: Joe Fortenbaugh
Playing the hypothetical role of NFL general manager tasked with making the decision between Stanford's Andrew Luck and Baylor's Robert Griffin III, I'm taking Luck, firing up a cigar and heading out to the links for 18 holes of guilt-free golf.
This business isn't always about selecting the player with the most upside. The NFL hands out lucrative multi-million dollar contracts to top-ten draft picks every year without so much as having seen any of these young men play a single down of professional football. In a high-risk environment like that, I want the guy who not only brings an impressive resume to the table. I want the player who offers the least likelihood of failure.
Andrew Luck will have a better career than RG3 for three reasons: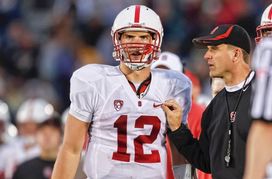 ICONLuck had the benefit of learning from former NFL quarterback and current 49ers head coach Jim Harbaugh.
1. He's more NFL-ready: Luck spent three years in Stanford's pro-style offense, two of which came under the tutelage of former NFL quarterback and current San Francisco 49ers head coach Jim Harbaugh. He's comfortable under center, knows how to take three, five and seven step drops and is deadly accurate (over 70% completion percentage in both 2010 and 2011). RG3 played in a spread offense at Baylor and spent the majority of his time lining up out of the shotgun formation. He'll need to get comfortable under center and learn the intricacies of an NFL offense—two important aspects of the position that will put Luck ahead of the curve heading into 2012.
2. NFL competition: Luck gets six games a year against the Jaguars, Titans and Texans, three teams who have combined for just two playoff wins over the last eight years. And while the Texans are on the rise, the Jaguars and Titans ranked in the bottom-seven in the NFL in sacks last season. Meanwhile, RG3 has to contend with the Giants, Eagles and Cowboys six times per year. Those three organizations each ranked in the top-seven in the NFL in sacks last season. Griffin could be running for his life in 2012.
3. Big game factor: In the biggest matchup of Luck's 2011 campaign, the Stanford quarterback went to USC and completed 29 of 40 passes (72.5%) for 330 yards with three touchdowns and one interception in a 56-48 triple overtime win against the Trojans. In the biggest game of Griffin's 2011 season, RG3 watched his team fall behind 49-3 after three quarters at Oklahoma State in a showdown where the Baylor quarterback threw only one touchdown pass. This is an admittedly small sample size, but it's still worth noting when you consider the fact that Luck completed 73% of his passes with 14 touchdowns and only five interceptions in five games against ranked competition last season.
Robert Griffin III is a tremendous talent with a bright NFL future ahead of him, but I want the pro-ready quarterback with a softer divisional schedule who is known for coming up aces in big game situations. That's Andrew Luck.
Follow us on Twitter: @mattbowen41 @joefortenbaugh