March 09, 2011 -
National Football Post
Defensive linemen fight night
Breaking down the draft's top two interior defensive linemen.
Tale of the tape…
Nick Fairley
Height: 6-4
Weight: 297
40 Time: 4.84
10-yard split: 1.72
Vertical 31 inches
Short Shuttle 4.56
Three cone: 7.14
Marcell Dareus
Height: 6-3
Weight: 319
40 time: 4.93
10-yard split 1.68
Vertical 27 inches
Short shuttle: 4.62
Three cone: 7.83
Athletic ability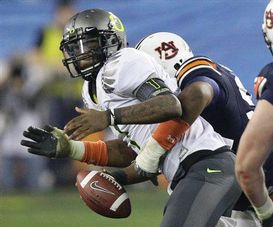 Nick Fairley is one of the more explosive and agile defensive tackles in the draft.
Fairley not only is one of the more explosive and agile defensive tackles in the draft, but I honestly believe that if you were to line this guy up as a defensive end in a 4-3 or 3-4 he would still have the ability to get after the passer at just about any spot in any scheme. He possesses an explosive first step, is sudden, can bend and quickly is able to change directions and close on the football. The Auburn standout also displays good range in pursuit and can consistently make plays off his frame. Plus, he's balanced enough to break down in space, absorb contact and still make a play on the ball carrier.
When looking at Dareus, he's a gifted athlete for his size. He has some short-area quickness and burst, can threaten gaps slightly off the snap and eventually has the ability to fight off blocks and close on the quarterback. But when comparing him strictly as an athlete to Fairley, I have to give Fairley the significant edge.
Advantage: Fairley
Vs. Run
Take nothing away from Fairley, because when he sits into his stance, extends his long arms and sheds a block, he consistently shows up on run downs. The more I watched him the more impressed I was overall with the guy's ball awareness and ability to quickly identify plays. He sheds blocks well, puts himself in position to make plays and was effective both making his way into the backfield and at the point.
However, as much as I like Fairley, he can still be washed out of plays at times when asked to anchor vs. the double. Dareus on the other hand has about as good a natural anchor of any defensive lineman in the draft. He's patient and powerful when asked to shed blocks, can consistently set the edge and has the kind of sneaky athleticism to close off his frame.
Advantage: Dareus
Vs. Pass
There really is no other way to put it other than stating that Fairley possesses a rare combination of initial burst and power as a pass rusher. He's got the first step to consistently threaten gaps inside, is shifty enough to cleanly change directions on any type of counter and work his way free from blocks through contact.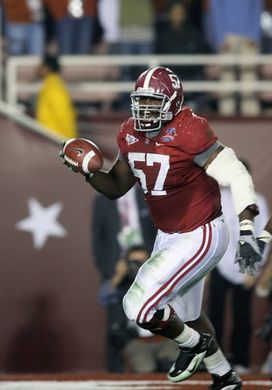 ICONMarcell Dareus is tough to block consistently through contact.
Dareus on the other hand doesn't have nearly the get off burst as Fairley. He's more of a power player who wants to get his hands on you, overwhelm and eventually work his way free. He's tough to block consistently through contact, but he isn't nearly as sudden or explosive when asked to shed and close compared to Fairley.
Advantage: Fairley
Character/Technique
The first thing I want to state concerning character of a defensive lineman is that these aren't guys who are playing the game consistently with a full deck of cards. You literally have to be a little nuts to want to play defensive line at any level, so I can live with a guy who wants to talk some trash and plays with a nasty streak that at times can be viewed as dirty. I like that Fairley plays hard, wants to drive quarterbacks into the dirt and has some bad intentions sticking in the back of his head. Therefore, I really don't have a problem with how Fairley plays the game. My biggest concern is keeping him motivated to play up to his potential at the next level. He has the talent to be a Pro Bowl-caliber player in the NFL, it's just keeping him focused and motivated which is key.
Dareus is the higher floor guy. He comes from a Nick Saban type coaching style, is a little more technically sound with his hands, has had a better line of production throughout his career at Alabama and overall is a safer prospect at this stage. Dareus has had some documented weight issues, especially during the early part of this year when he was forced to miss some games early because of his potential involvement with the agent scandal. But overall, I still think he has a slight edge over Fairley.
Advantage: Dareus
Upside
Fairley is the better athlete, he's the better pass rusher and in a pass-happy NFL, he's the kind of guy who could be the more impactful NFL defensive lineman because of his ability to stop plays before they start and force opposing defenses to game plan around him.
Again, I think Dareus is a guy who can be a very solid continuing three-down defensive lineman in the NFL for the next 8-10 years in either a 3-4 or 4-3. However, if both guys hit their ceiling, I like Fairley by a long shot.
Advantage: Fairley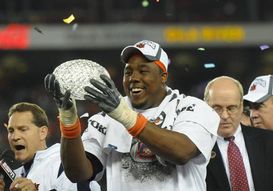 ICONFairley is your "Fight Night" winner.
Overall, Dareus in my mind has the ability to be a very good starting five-technique in a 3-4 as well as a versatile defensive tackle in a 4-3 capable of playing both the nose and three-technique. He offers enough athleticism to certainly rush the passer, will instantly be able to come into the league and play the run well and looks like a solid three-down lineman who you can win because of.
However, when looking at Fairley he strikes me as a guy who you can build your entire defense around and be the impact three-technique in the league. It's rare to find an athlete capable of playing just about any defensive line position in the NFL, but Fairley in my mind is that type of talent. He's explosive, sudden and powerful when asked to shed and does a nice job finding the football. The Auburn standout isn't quite as safe a pick as Dareus, but if he is willing to continue to work at his trade and stays motivated, there is no doubt in my mind he can be one of the better defensive linemen in the NFL.
Winner: Nick Fairley
Follow me on Twitter: @WesBunting