February 17, 2012 -
National Football Post
Defensive prospects in need of a strong Combine
Who are the main defensive prospects that need a big Combine performance to really help push their draft stock…
DE Whitney Mercilus: Illinois (6-4, 265)
Physically he looks the part and has the natural talent to simply man handle college lineman. However, he's a raw kid who is stiff in the hips and doesn't have a great feel for the game when asked to find the football. He's got some upside, but his tightness and overall lack of natural feel for the game are two very big concerns of mine. Nevertheless, he's got the ability to "wow" during workouts and could be one of the big winners to come out of Indy and set his draft stock soaring.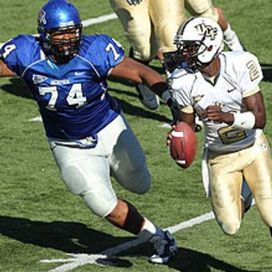 ICONPoe moves well for a big guy.
DT Jerel Worthy: Michigan State (6-3, 310)
A talented kid with a thick frame, "plus" get off burst and good snap awareness. However, doesn't shed blocks well when engaged and lacks ideal anchor ability inside. Looks like a one-gap type lineman only who could give solid reps at both nose and three-technique in a 43 front. But, he's going to need some time before he's ready to start. However, has the skill set to impress during workouts and despite his inconsistent play, there aren't too many guys in the class who physically and athletically can do what he does.

DT Dontari Poe: Memphis (6-5, 350)
Has a rare physical skill set due to his combination of flexibility, power and get off burst. However, he's still learning the nuances of the position. If he's willing to put in the time, Poe can mature into one of the leagues better interior presences. And I have a feeling after watching this big guy move the way he can at his size, the buzz surrounding the him will be deafening post combine.

OLB Bruce Irvin: West Virginia (6-3, 245)
A gifted athlete who has the initial burst to routinely reach the edge. However, lacks ideal size and doesn't have a real sophisticated pass rushing repertoire. Is going to make the move to a 34 OLB at the next level and might need a little time. Therefore, watching to see how much he weighs, how fast he runs and how well he performs during linebacker drills are the three keys in determining how high he goes on draft day.

ILB Vontaze Burfict: Arizona State (6-3, 250)
A talent with a natural pop on contact, can hold the point of attack when he wants to and for his size exhibits good range and fluidity. However, due to the character concerns it will be interesting to see what kind of shape he's in when asked to workout. Talent evaluators want to see how passionate he is about the game and this process, and getting a feel for what kind of shape he's in will be key.

CB Dre Kirkpatrick: Alabama (6-3, 192)
Will be an ideal zone corner at the next level because of his size, instincts and physicality. However, he can also press off the line and consistently re-route receivers. Isn't a dynamic quick-twitch athlete, but showcases good balance, can keep his feet under him and looks like a "plus" caliber starting cornerback in the NFL. Nevertheless, cornerback is a stopwatch position and he's still going to need to prove he can run well (low 4.5 range at worst) if he hopes to go in the top-ten.
Follow me on twitter: @WesBunting
Check out the NFP Draft page here...