August 19, 2011 -
Barry Dorey
Delayed Patriot Act
Revelations, Book I
There were only two preseason games on the Thursday docket, but there's plenty of Revelations material here -- without the obligation to detail Michael Vick backtracking from a GQ interview or Eli Manning's overblown appraisal of his own place in the NFL universe.
1. Tom Brady has no patience for preseason drudgery. Last year in this column, I marveled at how Brady and the Patriots marched into Atlanta (no William Tecumseh Sherman pun intended) on a mundane August night and drubbed the Falcons in the most efficient way possible; and that performance, in turn, set the tone for Brady's 3,900-yard, 36-TD campaign. Well, after watching Brady (118 yards, 2 TDs) dissect the Tampa Bay defense with relative ease, it finally dawned on me: In five years of ranking the QBs, I have never listed Brady higher than No. 3, due to the incredible depth at that position and the Patriots' lack of superstar receivers. Well, for once, I'm going to be ahead of the curve, meaning that Brady has usurped Aaron Rodgers at No. 2 ... even though Rodgers (32 TDs last year) did nothing to deserve the demotion. (As stated on Tuesday, we're really splitting hairs here.)
2. Stevan Ridley has secured his pre-draft standing as a top-40 running back. In two preseason games, Ridley has cracked the 100-total-yard barrier twice and scored three total TDs -- the kind of production that commands respect on draft day, even if RB BenJarvus Green-Ellis (2 TDs vs. Tampa Bay) is a threat for double-digit TDs and the Patriots use a shotgun formation on 60 percent of their offensive plays. From my seat in the peanut gallery, the explosive Ridley is a candidate for 32 catches, 980 total yards and six TDs, with the upside to eclipse Ryan Williams, Daniel Thomas and Mark Ingram as the best rookie fantasy back by season's end.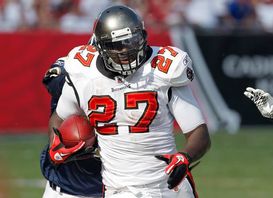 ICONHow high would you be willing to draft LeGarrette Blount?
3. LeGarrette Blount is not a RB1 or RB2 in 10- or 12-team leagues. This revelation has nothing to do with Blount's 4-carry, 1-yard performance against the Pats. It merely endorses my reluctance for ranking Blount (1,021 total yards, 6 TDs last year) among the top-15 backs -- despite having zero competition in Tampa Bay. Truth be told, I envision Blount (who was axed by the Titans last year before Week 1) as a 2.0 version of former one-year-wonder Earnest Graham (who's still on the Bucs' active roster). This isn't to say Blount won't rush for 66 yards in 16 straight games this season (16 x 66 = 1,000 yards), or score six TDs again; but he should never be rubber-stamped as a starter every Sunday. He's a flex consideration.
4. Hines Ward may be more valuable than DeSean Jackson in PPR leagues. On the surface, that statement reeks of blasphemy, since Jackson is one of the NFL's five most electric talents when running with the ball ... and Ward (1 TD vs. Philly) recently turned 35. But unless Jackson (3-year average: 57 catches/1,045 yards/6 TDs) can pull down at least 70 receptions this year -- while balancing kick-returning duties -- I like Ward's chances of racking up (slightly) more catches and touchdowns. Especially if Ben Roethlisberger attempts 470-510 passes in a 16-game slate.
5. Out-of-the-box fantasy owners should consider handcuffing Aaron Hernandez to Rob Gronkowski on draft day. Hernandez (3 catches, 42 yards, 1 TD vs. Tampa Bay) and Gronkowski (10 TDs last year) are the NFL equivalent to identical twins in grade school. No one can tell 'em apart ... and no one can predict -- with great confidence -- how they'll fare on any given Sunday. Might as well be safe and grab 'em both -- the Patriots' Week 7 bye be damned!
6. Put Chad Ochocinco down for 75 catches and 1,200 yards. Gone are the days when Ochocinco was a top-10 receiver and a major cog in 7-player megatrades involving Peyton Manning and Brian Westbrook (2005). But now that he's aligned with Brady, Bill Belichick and the expertly focused Patriots, he's a comfortable lock for his baseline numbers when completing a 16-game season -- 72 catches, 1,166 yards, 5 TDs.
7. Michael Vick did the fantasy world a pre-draft favor on Thursday night. Sure, Vick's three-interception flameout against the Steelers will likely have zero impact on the upcoming season. But when constructing cheat sheets at quarterback, it seems a little silly that some prospective owners might have Vick ranked higher than -- and slotted 1-2 rounds above -- Tom Brady in standard-scoring drafts, huh?
The Hands That Built America
I purposely waited until Preseason Week 2 to debut my top 50 list of wide receivers in standard-scoring leagues -- to prevent readers from carrying outdated cheat sheets to their respective drafts. As a disclaimer, these rankings are subject to change over the next two weeks:
1. Andre Johnson, Texans
2. Calvin Johnson, Lions (the superstitious NFL doesn't recognize his 13th TD from last year)
3. Roddy White, Falcons
4. Larry Fitzgerald, Cardinals (still a fantasy prince ... thanks to the Kevin Kolb trade)
5. Hakeem Nicks, Giants
6. Miles Austin, Cowboys (his fantasy dominance runs in direct correlation to Tony Romo's health)
7. Mike Wallace, Steelers
8. Greg Jennings, Packers
9. Reggie Wayne, Colts
10. Marques Colston, Saints
11. Mike Williams, Buccaneers
12. Brandon Marshall, Dolphins (this year marks his greatest challenge at 100 catches)
13. Dwayne Bowe, Chiefs
14. Dez Bryant, Cowboys
15. Vincent Jackson, Chargers
15a. DeSean Jackson, Eagles
16. Percy Harvin, Vikings
17. Sidney Rice, Seahawks
18. Kenny Britt, Titans
19. Brandon Lloyd, Broncos (last year's garbage-time king will have a slight market correction in 2011)
20. Anquan Boldin, Ravens
21. Santonio Holmes, Jets
22. Pierre Garcon, Colts (a reasonable threat for eight TDs ... if Peyton's healthy)
23. Jeremy Maclin, Eagles (still has time to reclaim his top-20 slot)
24. Mario Manningham, Giants
25. Santana Moss, Redskins
March Of Progress
On Wednesday, I held a Twitter-based contest, where Philanthropist-only readers could join a 16-team fantasy league IF they correctly identified a code/password on Twitter ... between 7-8 p.m. (no heads-up about s pecific time). Well, with zero promotion outside of this column and no Twitter references to the contest before it started ... we received 67 unique entries in the first 18 seconds after releasing the codeword and 94 within 60 seconds! How cool is that?
So, instead of having only one "Fantasy Philanthropist & Friends" league to occasionally write about here ... there are now four 'Philanthropist' leagues of 16 teams. Thanks to everyone who played along on Twitter!
The Hands That Built America, Part II
... And here's the bottom half of the Top 50 wide receivers:
26. Wes Welker, Patriots (perpetually undervalued by yours truly in standard leagues)
27. A.J. Green, Bengals
28. Steve Johnson, Bills
29. Chad Ochocinco, Patriots
30. Steve Smith, Panthers
31. Mike Thomas, Jaguars
32. Lee Evans, Ravens (perpetually overvalued by yours truly)
33. Mike Williams, Seahawks
34. Braylon Edwards, 49ers
35. Lance Moore, Saints
36. Austin Collie, Colts (the mediocre ranking is concussion-based ... not stat-justified)
37. Malcom Floyd, Chargers
38. Julio Jones, Falcons (stealthily moving up the fantasy boards)
39. Hines Ward, Steelers
40. Michael Crabtree, 49ers (I can only say three words in Italian: receiva non grata)
41. Robert Meachem, Saints
42. Mohammed Massaquoi, Browns (sleeper pick of the just?)
43. Jerome Simpson, Bengals
44. Steve Breaston, Chiefs
45. James Jones, Packers
46. Mike Sims-Walker, Rams
47. Davone Bess, Dolphins
48. Roy Williams, Bears
49. Donnie Avery, Rams
50. Arrelious Benn, Buccaneers
Tiers Of A Clown: Tight Ends
Tier 1 (1,000 total yards and/or 8 TDs)
Antonio Gates, Jason Witten, Dallas Clark, Vernon Davis, Jermichael Finley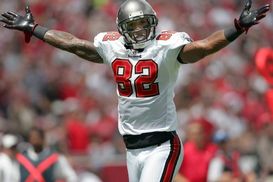 ICONKellen Winslow is currently a Tier 2 tight end.
Tier 2 (800 total yards and/or 6 TDs)
Kellen Winslow, Jr., Owen Daniels, Tony Gonzalez, Brandon Pettigrew, Rob Gronkowski, Marcedes Lewis, Jimmy Graham, Dustin Keller, Jermaine Gresham, Chris Cooley, Greg Olsen, Zach Miller (Seahawks)
Tier 3 (675 total yards and/or 5 TDs)
Benjamin Watson, Aaron Hernandez, Tony Moeaki, Visanthe Shiancoe, Brent Celek, Todd Heap, Heath Miller
Tier 4 (500 total yards and/or 4 TDs)
Lance Kendricks, Ed Dickson, Kevin Boss, Jared Cook, Dennis Pitta, Travis Beckum, Jeremy Shockey, Tony Scheffler, Fred Davis, Jacob Tamme, Anthony Fasano, Martellus Bennett, Shawn Nelson
Tier 5 (375 total yards and/or 3 TDs)
Kyle Rudolph, Kellen Davis, Joel Dreessen, Daniel Fells, Bo Scaife, Evan Moore, John Carlson, Andrew Quarless, Michael Hoomanawanui, Daniel Graham, Luke Stocker, Randy McMichael, Delanie Walker, Rob Housler, Zach Miller (Jaguars)
Good News/Bad News Propositions
Good News: Chris Johnson's prolonged holdout hasn't yet diminished his preseason ranking.
Bad News: A few missed practices and film sessions with coaches cannot change the fact Johnson (5,606 total yards/38 TDs in three seasons) remains the epicenter of the Titans offense and torch-bearer to the club's AFC South title hopes. But if Johnson doesn't end his contract-based absence by next Wednesday -- presumably enough time to suit up for the third preseason game against Chicago -- I'll have no choice but to downgrade him one or two spots in the RB rankings. And I'm probably not alone here. The longer Johnson sits on his couch waiting for his agent's phone to ring ... the greater risk of pulling a hamstring or tweaking a quadricep in the first 10 days of returning. Yes, preseason games are meaningless, but even highly conditioned athletes still need practice reps ... and Johnson (No. 3 behind Adrian Peterson/Arian Foster) is on the verge of losing that luxury.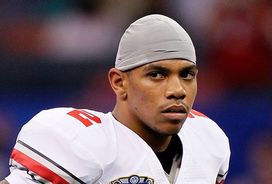 Don't expect any legitimate fantasy production from Terrelle Pryor this season.
Good News: Terrelle Pryor will probably be in the NFL this season.
Bad News: Unless you're in a league that assigns points to backup QBs and their proficiency as regular-season scout-teamers, Pryor will have zero impact in 2011 -- real world and fantasy. He's a big name (thanks to ESPN), a great athlete and an interesting option near the goal line, but he's not worth rostering in leagues that go 16, 18 or 20 players deep.
Good News: Colt McCoy is slowly moving up the preseason QB charts.
Bad News: If Browns wideout Mohammed Massaquoi is indeed ready to take a quantum leap in production this season (as some well-meaning fantasy gurus claim), then by extension, McCoy (1,576 yards passing/6 TDs last year) should encounter a noticeable bump in numbers, as well -- especially if tight end Ben Watson (68 catches/763 yards last year) and RB Peyton Hillis are operating at full capacity. But it's still too early to make any definitive judgments on McCoy -- although it helps to have new head coach Pat Shurmur and omnipresent czar Mike Holmgren at his side. For those who aren't familiar with Shurmur, he called 55 pass plays for the Rams in Week 1 last season -- Sam Bradford's NFL debut.
Practice Makes Perfect
Fantasy owners should soon begin the process of mock drafting. Here are some of the best sites for round-the-clock mocking.