March 10, 2012 -
National Football Post
Did the Redskins give up too much for RG3?
The Washington Redskins decided three 1st round picks and a second rounder was the appropriate price tag for a talent like Baylor QB Robert Griffin III. Did they pay too much?
Why I like the deal…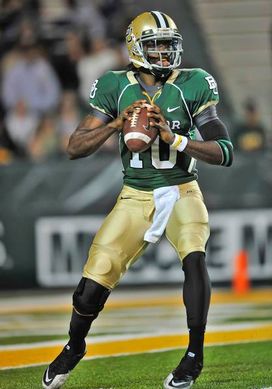 ICONGriffin III has an elite skill set.
It wasn't too much for the simple reason that you can never put a price tag on a franchise quarterback, especially one with the overall talent level of a guy like Robert Griffin III. He's a quarterback who can create second lives in the pocket, make all the throws, kill you with his legs and is a perfect fit for the Skins boot action offense. Plus, you get a guy who "gets it" from the shoulders up. He's willing to put in the work, win football games on Monday, Tuesday and Wednesday with his hard work and preparation, and has shown the willingness to work at his trade and get better.
Griffin III also has elite upside at the position, is a leader who everyone seems to rally around and does the two things every offense needs from their QB in order to win…
1. Move the chains consistently.
2. Creates big plays on all levels of the field.
Why I question the deal…
It's as simple as Texas A&M QB Ryan Tannehill.
I might be one of the biggest Ryan Tannehill supporters out there. However, despite the talent of Robert Griffin III, when you weigh the options of Tannehill for a first round pick and Griffin III for three 1st rounders and a second, I am of the thought personally that Tannehill is the better value.
Now, obviously I like Griffin III more as a prospect. However, I also think Tannehill can be a heck of a quarterback in the NFL and has the talent/mental aptitude needed to be a franchise signal caller. Therefore, in my view the idea of getting Tannehill in the first round, even in the top ten, is a more attractive option for the Skins because of his skill set and fit in the boot action offense, than risking the future of the franchise for any single prospect.
But that's just my take.
Check out the NFP Draft page here...