May 18, 2012 -
National Football Post
Does Alabama have a future stud QB on its hands?
QB AJ McCarron: Alabama (6-4, 210)
What I like…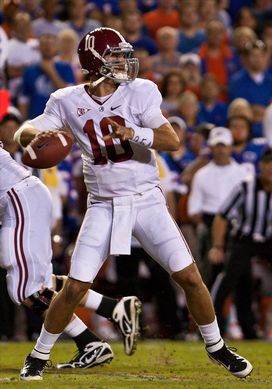 ICONMcCarron will stand tall in the pocket.
- Has the pedigree of being a former big time recruit, but has not been babied during his time at Alabama.
- Showcased the ability to play early in the SEC, winning a National Championship as a sophomore.
- Is willing to be grinded on day in and day out by an NFL caliber coaching staff.
- Can take critical feedback.
- Possesses good size for the position and the ball comes out over his ear.
- Holds the football at his chest plate in his drop and doesn't have a ton of wasted motion in his delivery.
- Possesses solid arm strength, isn't going the throw the football through a wall, but possesses more than enough arm to make all the throws.
- Showcases above-average touch on all levels of the field.
- Is comfortable taking a bit off throws in the underneath pass game and exhibits "plus" ball placement both inside and outside the numbers allowing his target to run through the pass.
- Showcases the ability to find secondary receivers across the field when going through his progressions.
- Routinely understands where his secondary/ "hot" read will be underneath.
- Works well off play action, snaps his head around quickly and exhibits "plus" touch down the field when asked to drop the ball into tight ears.
- Isn't afraid to throw the football into coverage, exhibits enough ball placement to put throws where only his target can make a play.
- Balances himself well in his drop from under center, keeps a wide base in his lower half and can transfer his weight well when the ball needs to come out on his back foot in the three and five step game.
- Uses his eyes well to manipulate defenses at times, looks off safeties and stays in balance when coming back across the field with a throw.
- When his feet are set showcases good accuracy and timing in the short/intermediate pass game.
- Has some sneaky athleticism to his game when asked to boot outside the pocket and throw on the move.
- Is a smart kid who has battled through adversity while playing vs. a high level of competition early in his college career. The best is still to come.
What I didn't like…
- Still doesn't look completely comfortable with what he sees in the pocket.
- Looks tentative at times to really cut the ball lose, plays not to make mistakes instead of trying to make a play.
- Has a tendency to hold onto the football too long in the pocket waiting for a receivers to uncover.
- Needs to improve his mental clock in the pocket and when the football needs to come out.
- Gets too narrow with his footwork at times and routinely is forced to take a step into throws, even on passes that don't require it, causing his timing with the receiver to be a step late.
- Doesn't generate a ton of torque off his back leg because of his upright base at times when standing in the pocket.
- Gets caught bouncing on his toes in the pocket and isn't always set and ready to deliver the football.
- Will make up his mind pre-snap at times and force throws into coverage.
- Has yet to take that next step as a big time NFL prospect, but showed glimpses of it in the 2012 National Championship game.

The Breakdown…
A lot can be said about the fact that he's already won a National Championship before his junior year all while handling the tough love of the Alabama coaching staff. Nevertheless, he's battled the adversity well, showed significant improvement during the 2011 season and has the skill set to make all the throws with zip and accuracy in the NFL.
I still want to see him mature into a more poised pocket passer, trust what he sees and not be afraid to cut the football lose. However, that is something that should take place during the next season or two if he's willing to put in the work.
And after all he's faced during his first two years at Alabama, I can see McCarron maturing into a very solid NFL quarterback prospect, better than the likes of former Crimson Tide signal callers Brodie Croyle (3rd round) Greg McElroy (7th round) and John Parker Wilson (undrafted)