June 04, 2012 -
National Football Post
Does Baylor have another first round WR prospect?
The Breakdown

WR Terrance Williams: Baylor (6-1, 190)

What I like…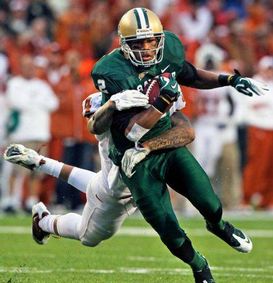 ICONWilliams possesses a nice combo of size and wiggle.
- Possesses an athletic frame, good size and natural length for the position.
- Isn't afraid to extend his long arms and pluck off his frame in the pass game.
- Showcases good coordination/body control when asked to adjust in order to come down with the football.
- For the most part exhibits good hands and can make plays on some really difficult throws over the middle and down the field.
- Exhibits a "plus" initial first step off the line and eats up the cushion quickly.
- Reaches top end speed quickly and has the ability to simply outpace defenders vertically.
- Displays a second gear to his game when asked to track the football vertically as well.
- Looks natural reading zone coverage, finding a soft spot and sitting down underneath.
- Exhibits the short area quickness to get in and out of his breaks cleanly.
- Is a "plus" stop and go athlete. Looks natural working the "whip" route underneath. Sets up defenders well and can accelerate quickly out of his breaks.
- Possesses the acceleration to run away from defenders on shallow and deep crossers and can create in the open field.
- Exhibits a nice combination of wiggle and physicality in the open field. Runs hard can make an initial man miss in space.
- Is willing to do the dirty work on the outside as a blocker. Gains leverage, is heavy handed and works his legs hard through contact.
- Showcases a great feel when working himself open once plays breakdown. Knows when to work back to the quarterback or turn his route up the field.
- Does a nice job cutting down the angle and working back to the football in the screen game, allowing him to gain momentum and create after the catch.

What I didn't like…

- Is still developing as a route runner and has yet to learn the entire route tree.
- Tends to drift a bit away from the football at times on his comeback route, isn't real sharp or sudden consistently out of breaks.
- Still developing running sharply breaking routes. Wasn't asked to run many and tends to drift in and out of breaks, wasting motion in the process.
- Isn't overly physical down the field in jump ball situations; can be overmatched when trying to box defenders out.
- Will put the football on the ground at times as he tries to run before securing the catch.
- Will need to learn to beat press coverage, tends to simply run around his man and waste some motion on his release. Has the short area quickness/physicality to develop, but had ability to simply run by defenders at college level.

Overall…

There is a lot to like about the skill set of Baylor wide out Terrance Williams. He possesses above-average size, accelerates well down the field and has a natural feel setting up routes and separating underneath. Plus, he can catch the football in traffic and adjusts well vertically.

He does need to improve as a route runner, as he wasn't asked to run many sharply breaking routes in the Baylor offense. And he will need to learn to beat press coverage more consistently in the NFL as well. However, he's got the skill set to develop in both areas quickly.

In my mind he looks like an NFL starter with the ability to eventually run the entire route tree and create big plays on an NFL offense. I don't think he's an elite prospect, but if he runs as fast as he plays, Williams projects like a potential first round selection with the ability to line up all over an offense and create on all areas of the field.