January 05, 2012 -
National Football Post
Does Stanford OT Jonathan Martin warrant a top-ten draft grade?
Breaking down the game of Stanford OT Jonathan Martin and our impression of him at the next level…

What I like…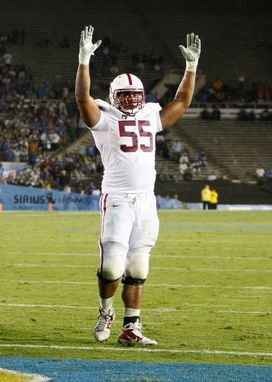 ICONMartin possesses an athletic looking frame.
- Possesses an athletic looking frame with solid length for the position.
- Showcases natural bend and flexibility when asked to sit into his stance.
- Can keep his base under him and knees bend initially on his kick slide.
- Does a nice job initially maintaining proper balance with his footwork when trying to reach speed off the edge and set.
- Showcases natural range to the corner. Exhibits a good first step and the ability to reach quick-twitch pass rushers.
- Looks natural when asked to quick set. Keeps his base down, hands up and demonstrates natural foot quickness and change of direction skills when asked to mirror in space.
- Exhibits the body control and recovery ability needed to quickly collect himself through contact after he gets overwhelmed at the point.
- Possesses the kind of natural bend and length to gain leverage vs. the bull rush.
- Displayed more of a mean streak to his game in 2011, doing a better job staying engaged and finishing blocks in the run game.
- Works hard through contact to try to create an eventual push as an angle guy.
- Does a nice job staying low off the ball when asked to get around on reach blocks and seal. Doesn't waste much motion and can get around opposing linemen quickly.
- Exhibits good short area quickness when working in tandem on a combination block and then quickly reaching a defender off his frame at the second level.
- Has experience getting around the edge and pulling into the second level. Exhibits average range in space.
- Understands angles well in the run game. Is coordinated, gets his feet around when looking to set the edge and can seal.
- Has anchored the Stanford offensive line the past three years and handled the pressure well of protecting the blindside QB Andrew Luck during that time.

What I don't like…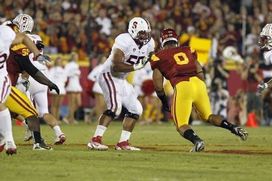 ICONMartin has struggled vs. the top pass rushers he's faced.
- Isn't a real physical kid and doesn't possess the natural girth through the base/hips to get that much stronger in the lower half.
- Tends to pop upright into contact and doesn't stay real compact with his footwork. - Isn't a natural puncher, struggled to uncoil a quick, strong jab and gain inside leverage.
- Isn't real heavy handed through contact and has a tough time sticking once he gets his hands on defenders. Too often his hands are outside the defenders chest plate.
- Will get overextended into his punch and stop moving his feet, allowing quicker pass rusher to slip him on contact and work the edge.
- Has a tendency to give up a soft corner in pass protection too often because of lacking explosive/power elements to his game.
- Possesses solid recovery ability (not great), but lacks the type of natural power to consistently stick to defenders once they gain a step and simply push them past the play.
- Has a tendency to get upright as an angle blocker in the run game as well and has a tough time gaining leverage.
- Lacks ideal natural power on contact, works hard and eventually can begin to get a push. However, will struggle with balance and ends up on the ground too often as an in-line guy.
- Doesn't display the type of "plus" range and body control his frame would indicate when asked to block in space.

Impression: He's got the NFL size, length and overall athletic skill set. However, he's not a natural anchor player and doesn't strike me as a guy who is ever going to be real physical at the next level. He can mirror in space, but struggles to stick through contact and isn't real heavy handed. Looks like a finesse tackle who will get over drafted because of athletic talent, but is going to have a hard time keeping the edge clean at the next level.

Grade: 6.6 D B J
Follow me on twitter: @WesBunting
Check out the NFP Draft Page here...