July 30, 2011 -
Barry Dorey
Double Jeopardy
The Bland Introduction
Most fantasy writers don't wait until a column is finished to write the introduction ... but that's how it goes when you've been engulfed by the Great Free Agent Frenzy of 2011. For the record, the lede story of today's Philanthropist has been altered six times since 7 p.m. EST on Thursday -- and it would've been seven if QB Kyle Orton had been traded to the Dolphins, instead of taking first-team reps with the Broncos. (More on that later.) Assuming you're reading this piece on Saturday or Sunday, I can only pray that 80 percent of the material is NOT obsolete.
Good News/Bad News Propositions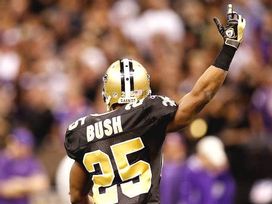 What does Reggie Bush's signing mean for rookie Daniel Thomas?
Good News: New Dolphins tailback Reggie Bush (career-high 243 touches in 2006) only has to beat rookie Daniel Thomas to become the "workhorse" back in Miami.
Bad News: A Heisman recipient at USC (sort of) and onetime purported savior of the post-Katrina Saints, Bush hasn't been an all-encompassing, every-down back since his senior year at Helix (Calif.) High School in 2002. In fact, if you should see Reggie surveying the South Beach nightlife sometime this fall, wish him a Happy 9th Anniversary for the last time a coaching staff lived and died with him between the 20s ... in the red zone ... and at the goal line.
Good News: The much-anticipated union of Chad Ochocinco and Bill Belichick has finally comes to fruition.
Bad News: At first glance, it's hard to see the downside of Ochocinco taking his talents to Foxboro. He's in phenomenal shape for 33 years old, he didn't tear a knee ligament in the offseason while (allegedly) filming a reality-TV show and he's undoubtedly motivated to help the championship-starved Patriots win their fourth Super Bowl title in 10 years. (It's weird to think the Patriots are currently the red-headed step children of Boston-area sports.) But a couple of lingering questions remain:
**Can Ocho's ego accept the fact that Wes Welker is the team's go-to receiver?
**Can Ocho become a mentor to <strong>Brandon Tate, who may be a better option for Tom Brady at this time?
Good News: Wideout Roy Williams and offensive guru Mike Martz are reuniting in Chicago.
Bad News: Martz may be a mad genius and one of the most prolific offensive minds of our time, but there's no way he can bump old Roy back into the strata of 70-catch wideouts, right? It's not like these Bears resemble the historically bad 2008 Lions; it's not like Williams still has the straight-line speed to usurp Devin Hester as Chicago's main downfield threat; and it's not like Martz and QB Jay Cutler will be compelled to look Williams' way 19 times in a single game (as was the case in Detroit). If anything, Williams should bulk/fatten up and fill the Bears' most pressing void -- tight end.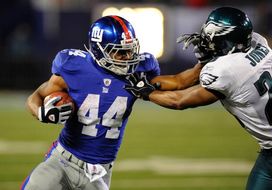 ICONAhmad Bradshaw is still out there waiting to be signed.
Good News: The Giants still have their choice of prime tailbacks Ahmad Bradshaw and Ronnie Brown.
Bad News: Don't get me wrong, rookie Da'Rel Scott (Maryland) has absurd wheels and could be a dynamic third-down back in the New York offense. But there's no way the Giants can excite its PSL-driven fan base without Bradshaw (1,549 total yards/9 TDs in 2010) or Brown (4,815 career rushing yards) carrying the freight this season; and that comment stands up even if Brandon Jacobs completes a 16-game slate. Amazingly, the Giants have evolved into a pass-heavy offense under Tom Coughlin's conservative watch ... but for the team's sake, I hope they don't overplay their hand and lose Bradshaw and Brown to more aggressive front offices.
Good News: On paper, QB Kevin Kolb represents a considerable upgrade for the Cardinals over John Skelton and/or Derek Anderson.
Bad News: If my Sports Illustrated story archives from 2010 still existed on the site ("petty" theft?), readers could verify my unabashed love for Kolb during last year's preseason run. But I'm taking a more conservative tack this time with Kolb, who must erase the stench of that Week 17 home clunker against Dallas (162 yards passing, 1 TD) and prove his preseason worth to Arizona WR Larry Fitzgerald before cracking the top-16 QB rankings. Also, I'd love Kolb's fantasy potential more if Steve Breaston hadn't deserted the desert for the now-loaded Chiefs ... although Breaston's defection opens up a Grand Canyon-sized opportunity for second-year wideout Stephen Williams.
Meet The Avoidables
Here's a listing of players, aka The Avoidables, whom I pledge to ignore within their specially earmarked draft slots. It bears repeating: I am not condemning the fantasy talents of the talent below ... I simply won't be taking them at their Average Draft Position value. But I'm sure that little disclaimer will fall upon blind eyes, when receiving snarky emails or Tweets on this subject.
The Avoidables
Round 1 -- RB Maurice Jones-Drew, Jaguars (change of heart would only come with guarantee of getting Rashad Jennings in Round 9)
Round 2 -- RB LeGarrette Blount, Bucs (until L.B. brings it in back-to-back seasons, he's just another Earnest Graham)
Round 3 -- WR Dwayne Bowe, Chiefs (I have D-Bowe down for 1,091 yards and 9 TDs this season -- Round 5 territory)
Round 4 -- RB Felix Jones, Cowboys (Marion Barber's absence may be offset by DeMarco Murray's possible explosion)
Round 5 -- WR Kenny Britt, Titans (I'll probably regret passing on him at this level by Week 10)
Round 6 -- WR Austin Collie, Colts (needs to flirt with 80 catches/900 yards to justify a Round 6 slot)
Round 7 -- TE Jimmy Graham, Saints (I'll wait until Round 11 for a tight end -- IF I don't land Gates/Davis/Witten by Round 5)
Round 8 -- RB Daniel Thomas, Dolphins (I'd rather wait for rookies Ryan Williams and Mikel Leshoure)
Round 9 -- QB Jay Cutler, Bears (I haven't seen one mock draft where Cutler isn't available come Round 10)
Round 10 -- RB Toby Gerhart, Vikings (a substantial reach, even for those looking for the Peterson/Gerhart handcuff)
Round 11 -- D/ST New York Giants (in 16-round drafts , there's little need for a defense in Round 11 -- especially a hum-drum one)
Round 12 -- RB Danny Woodhead, Patriots (Ben-Jarvus + two touted rookie runners = a Woodhead regression)
<p>
Two Panthers In Hand Are Worth Four In The Bush
We're only four days into the Great Agent Frenzy, and the Panthers are already reaping the benefits of the new Collective Bargaining Agreement. With plenty of pre-Tuesday cap space and a burning desire to retain free agents like Charles Johnson, Thomas Davis and James Anderson, Carolina has chosen to put its faith into known quantities, as the club begins the Ron Rivera regime (say that five times fast).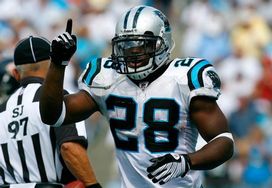 Put that finger down, J-Stew. You're back to being No. 2.
Which brings us to the re-signing of RB DeAngelo Williams (multiyear deal with $21 million guaranteed). During the lockout-ravaged offseason, it was assumed that Williams (412 total yards, 1 TD in only six games last year) would leave the rebuilding Panthers for a clear shot at big touches with the Broncos or Dolphins. And yet, D-Will could hardly wait 48 hours into free agency before re-committing to Carolina (and boy-wonder QB Cam Newton) ... while continuing his time-share agreement with fellow tailback Jonathan Stewart (873 yards, 3 TDs in 2010). Yes, both players rushed for 1,000 yards in 2009 -- one of only six backfield tandems in NFL history to accomplish the feat -- but it's also fair to wonder if they're maximizing their real-world and fantasy potential when part of the same backfield?
**In the 46 starts that Williams or Stewart compiled from 2008-10, both backs eclipsed the minimum "jackpot" threshold of 85 total yards and/or 1 TD nine times -- 17 percent (Carolina's record: 8-1).
**In that timeframe, neither Williams nor Stewart reached the 85 yards and/or 1 TD threshold 11 times -- 23 percent (Carolina's record: 2-9).
**Stewart amassed 539 total yards and three TDs in the five games Williams has missed since '08 (Carolina's record: 4-1). Williams, in turn, never tallied one carry or reception in a game that Stewart was inactive (2008-10).
Verdict: I cannot, in good faith, recommend that anyone devote a Round 4-or-higher pick on Williams or Stewart ... without grabbing the other in a handcuff situation. As healthy backs, they''re obviously candidates for 1,000 rushing yards and 8-9 TDs; but recent history suggests that neither one will be consistently great from week to week. Of course, if you end up plucking the Williams/Stewart combo, you'll have to encounter that gut-wrenching game of "Who To Start?" at 12:47 p.m. every Sunday afternoon. Hmmm ... maybe it's best to steer clear of anything Panthers-related in fantasy drafts -- especially if/when Cam Newton morphs into a goal-line vulture.
R U Ready For Next Friday?
We're assuming the fast-and-furious action with free agents will slow down by Aug. 5 ... just in time for our annual PPR Spectacular to make waves. That column will cover all the bases with sneaky-good wideouts (Davone Bess), running backs with expert hands (Jahvid Best), mock drafts, auction drafts, targets and whatever else is necessary to help you flourish in Points Per Reception leagues. It's the least we can do.
Passing Fancy
Here's a revised listing of my fantasy-QB rankings for starters only, 1 through 32:
1. Drew Brees, Saints (his second-half schedule is littered with indoor games)
2. Aaron Rodgers, Packers
3. Tom Brady, Patriots
4. Michael Vick, Eagles
5. Peyton Manning, Colts
6. Philip Rivers, Chargers (tempted to bump Mr. Rivers to No. 5)
7. Ben Roethlisberger, Steelers (never underestimate a newly married man's desire to dominate)
8. Matt Schaub, Texans
9. Tony Romo, Cowboys
10. Matt Ryan, Falcons
11. Josh Freeman, Buccaneers
12. Joe Flacco, Ravens
13. Eli Manning, Giants
14. Matthew Stafford, Lions (my man-crush has been well documented here)
15. Jay Cutler, Bears
16. Mark Sanchez, Jets
17. Sam Bradford, Rams (will Bradford attempt 55 passes -- again -- in Week 1?)
18. Matt Cassel, Chiefs
19. Kevin Kolb, Cardinals
20. Ryan Fitzpatrick, Bills
21. David Garrard, Jaguars
22. Alex Smith, 49ers ($500K for a starting QB ... jackpot!)
23. Chad Henne, Dolphins (not fearing a Matt Moore uprising at this time)
24. Matt Hasselbeck, Titans
25. Donovan McNabb, Vikings
26. Tim Tebow, Broncos (I'm not buying Kyle Orton as the Week 1 starter)
27. Jason Campbell, Raiders
28. Colt McCoy, Browns
29. Andy Dalton, Bengals
30. <strong>Cam Newton, Panthers
31. Tarvaris Jackson, Seahawks
32. Rex Grossman, Redskins (pointless assumption on my part)
Choose Your Quarterback
The timing of today's QB mano y mano couldn't have been better, since both Matt Hasselbeck (Titans) and Donovan McNabb (Vikings) found new NFL homes this week. Here's a week-to-week breakdown of the borderline Hall of Famers ... in case you draft 'em both in 16-team leagues:
Week 1 -- Hasselbeck (@ Jacksonville) over McNabb (@ San Diego)
Week 2 -- McNabb (vs. Tampa Bay) over Hasselbeck (vs. Baltimore)
Week 3 -- Hasselbeck (vs. Denver) over McNabb (vs. Detroit)
Week 4 -- Hasselbeck (@ Cleveland) over McNabb (@ Kansas City)
Week 5 -- McNabb (vs. Arizona) over Hasselbeck (@ Pittsburgh)
Week 6 -- McNabb (@ Chicago) over Hasselbeck (BYE)
Week 7 -- Hasselbeck (vs. Houston) over McNabb (vs. Green Bay)
Week 8 -- Hasselbeck (vs. Indianapolis) over McNabb (@ Carolina)
Week 9 -- Hasselbeck (vs. Cincinnati) over McNabb (BYE)
Week 10 -- McNabb (@ Green Bay) over Hasselbeck (@ Carolina)
Week 11 -- McNabb (vs. Oakland) over Hasselbeck (@ Atlanta)
Week 12 -- McNabb (@ Atlanta) over Hasselbeck (vs. Tampa Bay)
Week 13 -- McNabb (vs. Denver) over Hasselbeck (@ Buffalo)
Week 14 -- Hasselbeck (vs. New Orleans) over McNabb (@ Detroit)
Week 15 -- McNabb (vs. New Orleans) over Hasselbeck (@ Indianapolis)
Week 16 -- Hasselbeck (vs. Jacksonville) over McNabb (@ Washington)
Week 17 -- Hasselbeck (@ Houston) over McNabb (vs. Chicago)
Final Tally: Hasselbeck rallies for a 9-8 victory, although he and McNabb are essential tossups for the fantasy-playoff periods of Weeks 13-16.
Mile High Subterfuge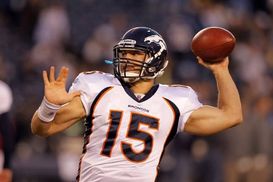 ICONSo what's the deal? Is Tebow the starter or the backup?
Did you catch Rich Eisen's hilarious bit/rant after a training camp whiparound during Thursday's night's NFL Total Access? In comedic fashion, Eisen demanded to know how Kyle Orton could possibly be getting first-team reps with the Broncos -- while his agent was apparently negotiating terms of a potential trade-and-sign with Miami ... and with Tim Tebow standing right next to him at practice? Are we to suddenly believe ...
*That Tebow (850 total yards, 7 TDs in Weeks 15-17) has been demoted to the No. 2 spot, despite finishing the season over a healthy Orton?
*That Orton (3,653 passing yards, 20 TDs last year) will be a more attractive trade chip if the local media gets video of him taking first-team reps?
*That Brady Quinn has a legitimate shot at starting even if he's currently the No. 3?
Look, no one is hailing Tebow as a lead-pipe cinch for real-world or fantasyland greatness someday; heck, there's not even a guarantee he'll sniff Orton's proficiency of the last three seasons. But it makes no sense for Denver to hand the keys to Tebow in the final three games of 2010 ... and then declare the 2011 season belongs to Orton. Surely, the Broncos recognize the difference between a rebuilding club and a playoff contender? They understand which one of their QBs leads the league in jersey sales, right? Obviously, jersey sales should never be a single factor in determining playing time ... but over the course of the 132-day lockout, you'd think Broncos execs John Elway and Brian Xanders would have found time to show coach John Fox video of Tebow's comeback victory over Houston in Week 16.
Toolbox Of Wonder
The forward-thinking workerbees at Fantasy Football Toolbox are off and running with unique takes on the upcoming season -- such as:
1. Positional Average Draft Position (ADP)
2. Team-by-Team Depth Charts
3. Top 200 listing (continually updated)
4. Positional sleeper picks</a>
5. Beware of the busts
6. Best Year 3 wideouts
Sleeper Cells
I've been inundated with "super-sleeper" queries on Twitter involving wide receivers. To wit, here's my list of Round 12-or-later sleepers who may become certifiable diamonds by season's end: (Note: I expect Bengals rookie A.J. Green to be drafted in the middle rounds.)
1. Mohammed Massaquoi, Browns (ambitious praise for a guy with 70 career catches/5 TDs)
2. James Jones, Free Agent (could be bumped to No. 1 IF he signs with the right team)
3. Brandon Tate, Patriots (the very definition of a high-upside breakout candidate)
4. Julio Jones, Falcons (will someday be a top-15 receiver)
5. Donnie Avery, Rams (Josh McDaniels + Bradford + Avery's 4.3 speed = 75 catches)
6. Lance Moore, Saints
7. Earl Bennett, Bears
8. Mike Thomas, Jaguars
9. Jordy Nelson, Packers
10. Steve Breaston, Chiefs (Kansas City has an embarrassment of skill-position riches)
11. Jabar Gaffney, Redskins
12. Emmanuel Sanders, Steelers
13. Brian Robiskie, Browns
14. Stephen Williams, Cardinals
15. Randy Moss, Free Agent
16. Terrell Owens, Free Agent
17. Darrius Heyward-Bey, Raiders (his breakout is imminent -- I think)
18. Titus Young, Lions (a physical clone of DeSean Jackson)
19. Ben Obomanu, Seahawks
20. Greg Little, Browns
21. Jonathan Baldwin, Chiefs
22. Arrelious Benn, Buccaneers
23. Jacoby Jones, Texans
24. Mark Clayton, Free Agent (would be wise to re-sign with the Rams)
25. Torrey Smith, Rams / Leonard Hankerson, Redskins / Vincent Brown, Chargers
A Few Words About Sl-Sl-Sl-Slooooow Drafts
For those who are new to fantasy football, I've got two quick reminders:
1) Buckle up for the most addictive game of chance you'll ever experience outside of Las Vegas and ...
2) By any means possible, avoid participating in a 16-round email -- or "slow" -- draft at the end of August.
In this age of high-speed internet and iPhones, there is zero excuse for falling into the trap of partaking in a slow draft with friends -- unless you're having it a bar ... and there's PLENTY of beer flowing during the event. Otherwise, it makes complete sense to do drafts on Yahoo, CBSSports.com, ESPN.com, Rotowire, Rotoworld, MockDraftCentral, Antsports.com, SportingNews.com, FOXsports.com or Facebook, to name a few sites that can efficiently handle a 16-to-20-round draft in a matter of hours.
I Tweet, Therefore I Am
@RyanSchick asks: Who do I keep in my one-player keeper: Ray Rice, Matt Schaub, Owen Daniels, Dwayne Bowe, Brandon Marhsall, Ben-Jarvus Green-Ellis?
Answer: With all things being equal, Ryan, I'd forge my alliance with Rice. Yes, Schaub, Bowe (1,162 receiving yards, 15 TDs) and Ben-Jarvus (10 TDs) had stellar seasons in 2010, and yes, B-Marsh had four games of double-digit catches/100 yards receiving in a so-so Dolphins offense; but Rice is Round 1 gold in standard-scoring and auction drafts. What's more, I personally guarantee 2,000 total yards and nine touchdowns. Boom!
@CarChen wonders: Who's your #1 pick for fantasy football this season?
Answer: As I mentioned in Wednesday's Fantasy Philanthropist, I've yet to formally establish an order for the Big Six tailbacks (Ray Rice, Adrian Peterson, Jamaal Charles, LeSean McCoy, Chris Johnson, A rian Foster) ... but if I had to choose right now, I'd probably go with Peterson at No. 1 in standard-scoring leagues. Now that AP has a veteran quarterback (Donovan McNabb) and a healthy Percy Harvin wreaking havoc, Peterson should be a reasonable threat for 1,850 total yards yards and 13 TDs; in fact, he's practically a sure thing for that threshold. For PPR leagues, I'd probably ride Foster at No. 1; although I'm praying to the God of Skinny Punks that I don't draw the top slot in PPRs. It's too much pressure.
@P_Monahan poses this question: Mike Williams ($2), Peyton Hillis ($10), Mike Wallace ($11), Vincent Jackson ($14) or Ben-Jarvus Green-Ellis ($10)?
Answer: I wouldn't be shocked if Chargers QB Philip Rivers threw for 4,800 yards this season; and yet, that's not necessarily a hearty endorsement of V-Jax's capacity to hit 1,200 yards or eight TDs. Same goes for Ben-Jarvus: I need more evidence of his 10-TD potential than one season in New England. As a result, I'd keep the ultra-cheap Williams, Hillis and Wallace, who serves as the northeast's answer to Brandon Marshall (on the field, at least).
@CCronlife wonders: I can probably get Ryan Mathews in the 3rd round. Barring a preseason injury, do you see him going any higher?
Answer: There are pockets of owners who are tabbing Mathews for a Foster-sized leap in 2011 ... and they'll draft him in Rounds 1 or 2. But universally speaking, Mathews' value lies somewhere in the middle of Round 3. Be smart, don't reach!
@swk473 asks: Who do I keep for my 10-team PPR league: Arian Foster (No. 3 overall) or Ray Rice (No. 4)?
Answer: I essentially answered this question from @CarChen's query. Rice may be a personal lock for 2,000 total yards (especially with no McGahee or McClain vulturing goal-line touches) ... but who am I to deny Foster and his prodigious numbers of the last 18 games (2,422 total yards/21 TDs)? I'm not THAT crazy.
I Cannot Leave Without Praising ...
The long-overdue changes of the new Collective Bargaining Agreement, which rewards productive veterans ... and minimizes the salary-cap impact of high-end rookies everywhere. This isn't a knock on Cam Newton, A.J. Green, Julio Jones, Von Miller, Marcell Dareus, Nick Fairley or Mark Ingram; it's merely a market correction for all the years when top draftees (and their agents) inexplicably had beaucoup leverage at the negotiating table. And while not everyone agrees with the new system -- Atlanta radio wiz John Kincade comes to mind -- we have finally eliminated the absurdity of rookies making insincere draft-day pronouncements like "I WILL be in camp on time" ... or "I'd play this game for free ... but at the same time, it's a business."
An award-winning fantasy writer with Sports Illustrated (2008-2010) before joining the National Football Post, Jay Clemons' Fantasy Philanthropist Blog can be found here every Monday, Wednesday and Friday. Clemons can be reached, day or night, via Twitter.