December 15, 2011 -
Jay Clemons
Double trouble
The Grand Introduction
It can only mean one of two things if you're reading today's column, cover to cover: Either you've reached the semifinal round of the fantasy playoffs (congrats!) ... or you simply can't get enough Brent Musburger or Jimmy 'The Greek' Snyder' clips from yesteryear, via YouTube. There's also one more ancillary reason for tuning in just 10 days before Christmas: You've been a tireless devotee to the Fantasy Philanthropist, forsaking friends, family, office gossip and work-related assignments every Monday and Thursday afternoon ... for which I humbly, happily say, Thank you, and please get a life. HA! Moving on to the next round ...
Week 15 Rules To Live By
1. Ride your studs for Weeks 14-16. At the risk of repeating popular refrains from weeks past, Round 2 of the playoffs is NOT a time for overthinking or experimentation. Unless your star is severely limited by an injury ... owners must assume elite talents will bring their typical A-games to the weekend party (uh, except Ahmad Bradshaw). If you've been riding Percy Harvin (38 catches, 445 yards, 5 TDs since Week 10) as a flex starter for the season's second half ... there's no point in deviating from that savvy stance. If you're convinced that Michael Bush is the Raiders' only hope for victory -- or avoiding 30-point deficits at halftime -- keep throwing him to the wolves (and Lions DT Ndamukong Suh, who's back from a two-game supspension). But if you're thinking about benching Larry Fitzgerald because of his made-for-TV clash with Browns CB Joe Haden ... perhaps you should stop reading and head back to the mall. Bottom line: Stars are stars for a reason; so let's not delude ourselves into thinking that Arian Foster cannot dominate the Panthers on Sunday. OK?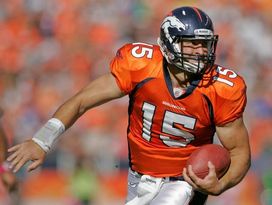 Can Tim Tebow muster up a big performance against a shaky New England defense?
2. Don't assume fantasy greatness for Tim Tebow against the pass-friendly Patriots. New England may have the NFL's worst pass defense, but it would be foolish for Denver to abandon its run-first, run-second strategy in this spotlight game. The Broncos, for all their many warts, are an above-average running team when Tebow's deftly operating the read-option and Willis McGahee isn't hindered by knee, hamstring or ankle injuries; and it's a primary reason for the club rebounding from a 45-10 debacle in Week 8 to post six straight victories. (Not to mention taking America and Twitter Nation by storm.) Unless Tebow has plenty of time for garbage-scoring passes on Sunday, he's still only a lock for 235 total yards and one touchdown. Decent numbers for a QB2.
3. Don't sweat the small stuff, like kickers and defenses. It's real simple here: If you have a top-10 kicker, don't mess with success. And if you have a top-10 defense or one that gets to play Kansas City, Cleveland, Indianapolis, St. Louis or Jacksonville in Weeks 15 or 16 ... therein lies the key to playoff success!
4. Start all productive players from the Ravens, Vikings, Giants, Chargers, Redskins and Saints this weekend. The scheduling gods sometimes smile on fantasyland ... and when that happens, act accordingly. For all-important Week 15, you likely can't go wrong with starting regulars from Ravens-Chargers, Saints-Vikings and Giants-Redskins -- a game where QB Rex Grossman could become a last-minute addition to the 'QB Locks' list for 275 total yards and/or three touchdowns ... and Roy Helu and Brandon Jacobs may hit the 100-yard/1-TD threshold.
5. Think of Andy Dalton and A.J. Green as surefire springboards to the championship round. By all accounts, Dalton (at least one TD pass in 10 straight games) and Green (55 catches, 891 yards, 7 TDs) have exceeded expectations for NFL rookies to this point; in fact, their progress has been nothing short of remarkable. But for the first time since Week 8, we're guaranteeing prolific numbers for the tandem -- against the Rams on Sunday and Cardinals for Week 16. Simply put, if St. Louis couldn't handle Doug Baldwin (7 catches, 93 yards, 1 TD last week), what chance does it have against Green -- a possible Round 4 pick in next year's standard-scoring drafts?
Week 14: QB Locks For 275 Yards and/or 3 TDs
1. Tom Brady @ Denver
2. Aaron Rodgers @ Kansas City
3. Drew Brees @ Minnesota
4. Philip Rivers vs. Baltimore
5. Andy Dalton @ St. Louis
6. Cam Newton @ Houston
7. Michael Vick vs. N.Y. Jets
Eli Manning vs. Washington
RB Locks For 120 Total Yards and/or 2 TDs
1. Michael Turner vs. Jacksonville
2. Chris Johnson @ Indianapolis
3. Arian Foster vs. Carolina
4. Ray Rice @ San Diego
5. LeSean McCoy vs. N.Y. Jets
6. Frank Gore vs. Pittsburgh
7. Michael Bush vs. Detroit
8. Roy Helu @ N.Y. Giants
9. Marshawn Lynch @ Chicago
10. Beanie Wells vs. Cleveland
Tale Of The Tape ... Apropos Of Nothing
At the time of this writing (Wednesday morning), I still haven't gotten over two crushing defeats from Round 1 of the playoffs -- the SI.com & Friends and Downriver Celica Supra leagues, where I twice cleared 100 points yet lost to a lower-seeded club that suddenly found religion in Week 14. That isn't to say Cory McCartney and Tony Bahu don't possess championship-caliber rosters, they do; but in standard ESPN leagues, cracking the century mark is usually a means for playoff advancement.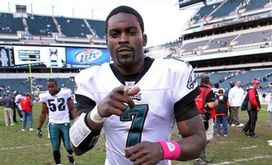 The Philanthropist is looking for a big day from Michael Vick.
Moving on, I have a great semifinals matchup in the 16-team 'Philanthropist #4' league against No. 3 seed John Lorge IV -- a Northwest-based software tycoon who, back in September, brazenly rebuffed my pitch to create/develop a phone app that would dramatically enhance the viewing experience inside a stadium/ballpark for any of the four major sports. (The pitch is near the bottom of this column). So, as you can imagine, knocking off the cold-hearted, practical-minded Lorge would be a nice piece of revenge. (cue evil laugh) Here's our tentative lineups for Week 15:
Lorge
QB: Drew Brees
RBs: Michael Turner, Darren Sproles
WRs: Mike Williams, Wes Welker
Flex: Greg Little
TE: Jimmy Graham
PK: Stephen Gostkowski
D/ST: Pittsburgh Steelers
Clemons
QB: Michael Vick
RBs: Ryan Mathews, Frank Gore (with Ahmad Bradshaw forever banished to the bench)
WRs: Victor Cruz, Laurent Robinson
Flex: Roy Helu
TE: Jason Witten
PK: David Akers
D/ST: Arizona Cardinals
For what it's worth: ESPN projects a 103-100 victory for Lorge's Seattle Seacocks.
Running With The Moon
Here is my always-fluid top-40 listing of tailbacks in standard-scoring leagues -- from this point forward:
1. Ray Rice, Ravens (needs 124 total yards per game to hit 2,000)
2. LeSean McCoy, Eagles (a consistent fantasy dynamo ... just like we predicted back in August)
3. Arian Foster, Texans (expect a big-time bounceback this week)
4. Maurice Jones-Drew, Jaguars (care to repeat the 4-TD odyssey from last week?)
5. Chris Johnson, Titans
6. Marshawn Lynch, Seahawks
7. Frank Gore, 49ers
8. Michael Turner, Falcons
9. Adrian Peterson, Vikings
10. Roy Helu, Redskins (a solid bet for 100-plus yards in Weeks 15/16)
11. Rashard Mendenhall, Steelers
12. Shonn Greene, Jets
13. Ryan Mathews, Chargers (the West Coast version of Helu)
14. Michael Bush, Raiders
15. Steven Jackson, Rams
16. Beanie Wells, Cardinals
17. Willis McGahee, Broncos (deserves 24 touches per game, when healthy)
18. LeGarrette Blount, Buccaneers
19. Darren Sproles, Saints
20. Cedric Benson, Bengals
21. Brandon Jacobs, Giants
22. Reggie Bush, Dolphins (second-half resurgence bodes well for 2012)
23. Felix Jones, Cowboys (opportunity knocks once again for this speed demon)
24. Marion Barber, Bears
25. Ahmad Bradshaw, Giants (persona non grata with yours truly ... but still has value)
26. DeAngelo Williams, Panthers
27. Ryan Grant, Packers (easily the most coveted free agent this week)
28. Jonathan Stewart, Panthers
29. C.J. Spiller, Bills
30. BenJarvus Green-Ellis, Patriots (paying the price for the passing game's near-perfection)
31. Kevin Smith, Lions
32. Peyton Hillis, Browns
33. Mark Ingram, Saints
34. Darren McFadden, Raiders (on the very-remote chance he returns for Week 16)
35. Mike Tolbert, Chargers
36. Toby Gerhart, Vikings (Gerhart and earn major backup props for 2011)
37. Joseph Addai, Colts (an injury-ravaged disappointment -- again)
38. Pierre Thomas, Saints
39. James Starks, Packers
40. Matt Forte, Bears (I don't expect him back until the wild card round)
WR Locks For 110 Yards and/or 1 TD
1. Roddy White vs. Jacksonville
2. Vincent Jackson vs. Baltimore
3. Calvin Johnson @ Oakland
4. Percy Harvin vs. New Orleans
5. Wes Welker @ Denver
6. Marques Colston @ Minnesota
7. Jordy Nelson @ Kansas City
8. A.J. Green @ St. Louis
9. Brandon Lloyd vs. Cincinnati
10. Dez Bryant @ Tampa Bay
11. Victor Cruz vs. Washington
12. Mike Williams vs. Dallas (does this count as a sleeper pick?)
Kicker Locks For 3-Plus Field Goals
1. Ryan Longwell vs. New Orleans
2. Stephen Gostkowski @ Denver
3. Sebastian Janikowski vs. Detroit
4. Dan Bailey @ Tampa Bay
5. Josh Scobee @ Atlanta
6. David Akers vs. Pittsburgh
The 'In-Stadium Convenience' App That'll Never See The Light Of Day
I. Welcoming video from home team's star player (or local celebrity), introducing the unique features of the "in-stadium convenience" app
II. Outside: GPS-style format for marking the location of vehicles in massive stadium lots
III. Inside: GPS-style map of stadium
a. Color-coded moving dots tracking the roaming concessionaires (beer, sodas, pretzel, hot dogs, ice creams, etc.)
IV. Wi-Fi-like access to stadium officials for pre-ordering concessions, merchandise, special meetings with on-site team representatives
V. 'Binoculars' app (w/infrared sensors) for getting a better view of the action (less expensive sets)
VI. Real-Time cameras outside the men's/women's bathrooms ... and at certain concession stands (tracking user/customer lines throughout an event)
VII. Take Detroit's Comerica Park for example: When parents are watching their kids at the famous ferris wheel (within stadium confines), they'll get the closed-circuit game feed that can usually be viewed near the concession stands
VIII. Sport-specific metrics:
a. Baseball -- A device that tracks real-time "pitch speed," "bat speed" and distance of a fly ball/home run
b. Football -- A device that tracks real-time speed of quarterback throws, hang time for punts, wind variables for field goals, etc.
c. Basketball -- A device that tracks a player's vertical leap on dunks/blocks
d. Hockey -- A device that tracks the speed of slap shots, person-to-person checks and running time for line-shift changes
YouTube Memory Lane
To conclude our last full Philanthropist column of the season, here are two epic NFL clips from the 1970s, via YouTube:
1. 1976 (Rams-Dolphins) -- Here's something you don't see very often -- legendary CBS (and later FOX) announcer Pat Summerall calling a regular season game at the Orange Bowl in Miami (this site is the new home of baseball's Miami Marlins). Two interesting nuggets stand out:
a. To open the second half, Summerall qualifies the Rams' 19 first-half passes as essentially their total passing output for the entire season (3-plus games at the time), an homage to head coach Chuck Knox's stubborn and highly successful commitment to the running attack (except this game). Incidentally, Knox won five straight NFC West titles in five seasons with the Rams (1973-77) ... but never led Los Angeles (or any other club) to the Super Bowl. Simply put, in the history of decorated coaches who routinely sparked previously moribund programs and won far more games than they lost but didn't make it to Super Sunday ... Knox was Marty Schottenheimer before, uh, Marty Schottenheimer.
b. When promoting the slate of next Sunday's games, Summerall mentions how the Giants will host their inaugural game at the new Meadowlands Stadium. In that turbulent '76 season, New York opened with nine consecutive losses, including a 24-14 defeat in the home opener against Dallas (Week 5).
2. 1978 -- The original broadcast from Earl Campbell's famous bulldozing run against the Rams (and through Isiah Robertson). How awesome was The Tyler Rose's display of tearaway-jersey power and fury? In the countless clips I've seen of George Allen as an announcer ... this is the most excited he's ever been. And for those who don't remember old George, he was always pumped! At the end of the clip, play-by-play icon Vin Scully happily reports that Campbell quickly got a brand-new jersey from the Oilers' equipment staff ... begging these pertinent questions for some 33 years later: How did the Houston staffers know Campbell would require a second #34 at a moment's notice? (It's not like they were playing on wet grass that day.) And who has a squeaky-clean, fresh-smelling alternate jersey on hand for games played indoors? I bet the Bad News Bears didn't have alternate jerseys when they visited the Astrodome one year later.
An award-winning fantasy writer with Sports Illustrated (2008-2010) before joining the National Football Post, Jay Clemons' Fantasy Philanthropist Blog can be found here on Monday and Thursday during the regular season. Clemons can be reached, day or night, via Twitter.