March 14, 2011 -
National Football Post
Draft prospects worth fighting for
A rundown of my favorite prospects at each position who I would definitely be targeting throughout the NFL draft.
QB Christian Ponder: Florida State
It's no surprise that Ponder would be the QB I target, seeing as I have him as the number one rated quarterback prospect in the draft. He's not quite as physically talented as the big three juniors in the class. However, he's a tough, gritty kid who displays good accuracy and anticipation in the pass game. Plus, he's comfortable from center, is athletic enough to create second lives for an offense and if he checks out medically, I wouldn't have any qualms at all taking a look at him in the mid/late first round range.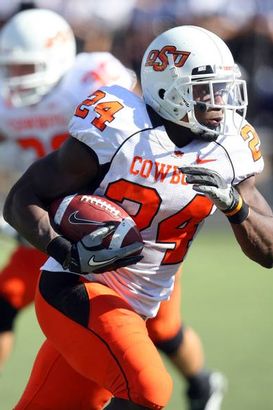 ICONHunter possesses a compact frame and is a tough guy to bring down.
RB Kendall Hunter: Oklahoma State
At only 5-7, Hunter packs almost 200 pounds into his thickly built frame and a lot of it sits right in his base and lower half. He runs with a low pad level, is sudden/instinctive in tight areas and looks like a guy capable of running between the tackles or from the gun. He can also catch the football out of the backfield, help out in blitz pick up and looks like a potential productive 3rd down type option in the NFL.
WR Titus Young: Boise State
We talk all the time about receivers who get drafted high typically need to have the ability to run. However, not only can Young run, but he's fluid/balanced out of his breaks and can create separation for himself on more sharply breaking routes with ease. Ideally, he looks like a guy you want to move around the offense and run the more vertically breaking routes, but he's slippery enough to line up on the outside, get off press and get open on all levels of the field. A wideout who I would likely target early in the second round.
TE Jordan Cameron: USC
In a lackluster tight end class, Cameron is the one guy who not only has the long-term upside to really intrigue, but in my view he's already come a long way in a short amount of him. The former basketball standout is looking more natural cleanly getting off the line and slipping contact on his release, displays natural balance/burst out of his breaks and is doing a better job playing with leverage as a blocker. He's not quite the athlete Jimmy Graham was last year, but I think he could end up maturing into a starting caliber option in the NFL.
OL David Mims: Virginia Union
The massive Virginia Union blocker was the one small-school offensive lineman on tape this year that really jumped out to me. He displayed natural balance/short-area quickness through balance, could drop his pad level down into blocks and looked coordinated on the move. Now, he is raw and is going to need some time to develop. However, at 6-8, 330-plus pounds I have heard he can run in the sub-5.3 range and put up 35-plus reps on the bench. If he does anywhere close to that at his pro day, he will end up being one of the more intriguing developmental offensive tackle prospects in the 2011 NFL Draft.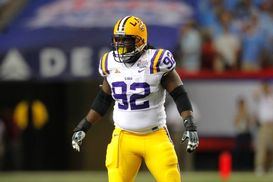 ICONYou can tell Nevis has a real passion for the game.
DL Drake Nevis: LSU
Nevis isn't a fit for every scheme. However, if you get this guy into more of a Cover 2 defense and allow him to one-gap and get up the field, I think he could end up being one of the more disruptive interior defensive linemen in the league. He's got a great motor, plays the game with bad intentions and consistently is around the football. Might have the best initial first step of any defensive tackle I've seen this year.
LB Brian Rolle: Ohio State
Speaking of ideal Cover 2 type defenders, Rolle will likely be looked at as more of a nickel linebacker in most schemes. However, again if you can get him in the right defense, he's a guy who can instantly come in and help out on special teams. And with some time I think he's got the range, awareness and ability to wrap up on the ball carrier and to mature into a potential starting Cover 2 weakside backer. His lack of ideal size will cause him to fall a bit on draft day, but he looks like a nice later round gem to me.
DB Curtis Marsh: Utah State
Marsh is a former running back who has only two years of experience playing the cornerback position. He's still a bit raw with his balance and footwork off the line. However, what I see is a long, strong, 6-0, 200-pound corner who possesses some natural fluidity when asked to redirect, has the speed to run with NFL wideouts down the field and exhibits the upside to just keep getting better and better, ultimately developing into a starting caliber corner in the NFL.