March 06, 2013 -
Erik Oehler
Draft Rumblings
This being the first full week of pro days, NFL personnel are traveling around the country working out numerous players. Not only are they looking at the high end prospects, but really taking the time to thoroughly evaluate potential third day draft picks and free agent signings. Below is what I have heard from scouts over the last few weeks.
1. Gavin Escobar, TE, San Diego State, Junior (6057, 254 and 4.84): Zach Ertz and Tyler Eifert are generally considered the top two tight ends in the Draft, but some NFL personnel we spoke to told us that Escobar is right there with them. They expressed to us that because Escobar's play on film was so impressive that if he workouts well at San Diego State's pro day he could push himself to the top of the tight end class. Deceptively quick accelerating to full speed, he has a burst out of his cuts to gain separation and the speed to make plays running after the catch. A natural receiver, Escobar catches the ball away from his body and has consistently shown the ability to twist body to adjust and make tough catches with surprising ease. In addition, he has the speed to stretch the field and the jumping ability and hands to go up and catch contested high passes over defenders.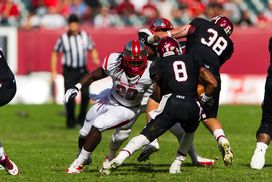 US PRESSWIRERutgers linebacker Khaseem Greene prepares to make tackle.
2. Zaviar Gooden, LB, Missouri, Senior (6014, 234 and 4.47) and Khaseem Greene, LB, Rutgers, Senior (6006, 241 and 4.71): While Greene is considered a top prospect and Gooden a rising one, some NFL people we spoke with said their teams view them as similar prospects who do not warrant consideration before the third round of the Draft. They both are athletic linebackers with the speed to chase plays down in pursuit and the explosiveness to drive into the ball carrier to make a hard tackle. A concern is that both players seem to be better athletes than football players right now and do not make as many plays as they should. Regardless of how athletic a defender is, when they are often a beat late reading and reacting to the play they rarely are able to make up for it. Neither is a big, powerful linebacker and they can be engulfed and ridden out of the play if a blocker gets ahold of them. In the end, where Gooden and Greene get drafted is impossible to predict because they are viewed so differently around the league, but there is definitely no consensus that they are elite prospects.
3. Onterio McCalebb, WR/RB/RET, Auburn, Senior (5102, 168 and 4.34): After a stellar career at Auburn as a versatile contributor carrying the ball, catching passes and returning kickoffs, McCalebb was somewhat of an afterthought because of his slight frame and having not been a full-time starter. However, after blazing his 40 at the Combine, teams are taking a closer look to see what role he can fill despite his size. An elusive runner who makes big plays when he has space to work, McCalebb's slight frame, bad pass blocking technique and questionable effort in pass protection make him a hard fit as a third down back. NFL personnel have told us that while McCalebb will likely get used some as a backup running back at the next level, he will most likely have to earn his keep as a slot receiver and kickoff returner. Because of these concerns about his size and therefore his ability to be a durable NFL player, McCalebb will likely still only be a third day pick despite his great 40 time.
4. Jesse Williams, DT, Alabama, Senior (6033, 323 and 4.90 E): There are many defensive tackles being discussed by the media as likely first round picks, but one who is not is Alabama's Jesse Williams. According to NFL people that I spoke to, Williams has received first round grades from numerous teams and could end up being selected higher than expected. While still learning the game after coming over from Australia, Williams needs to improve his technique and has to get quicker reading the play and identifying blocking schemes. What gives Williams the opportunity to be a high pick is that he has the uncommon combination of quick feet, good athleticism and rare playing strength. Williams is viewed as a versatile defensive lineman who could start as a nose tackle or defensive end for a team that plays a 34 defense or as a defensive tackle in a 43 scheme. Do not be shocked if a team like San Francisco or Baltimore at the end of the first round drafts him because he would fit so ideally in their defensive schemes.
Email Russ at Russelllande@yahoo.com and Follow Russ on Twitter @RUSSLANDE