April 02, 2013 -
Erik Oehler
Draft Rumblings – Risers & Fallers Around The NFL
As Pro Days are pretty much complete, except for a few individual workouts, and team's final draft meetings have begun, we are hearing a lot of rumors from NFL personnel. While there are a lot of stories floating around about different players, what we find most interesting is which players are moving up and down draft boards across the league. Below is a look at some players whose draft stock has been on the move. We haven't included Star Lotulelei on this list because as we have said numerous times, his status is completely dependent on each team's decision as to his medical situation.
Players Whose Draft Stock is On the Rise: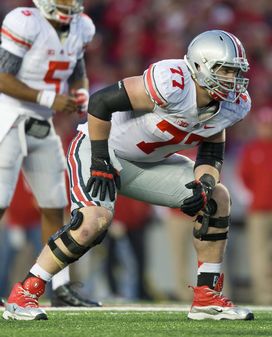 US PRESSWIREOhio State OT Reid Fragel is in stance ready to block.
1. Reid Fragel, OT, Ohio State, Senior (6075, 308 and 5.13): A former tight end, Fragel made big strides as an offensive tackle in 2012 and is climbing up draft boards because of his potential. Few offensive tackle prospects in this year's Draft possess Fragel's height, long arms, feet and overall athleticism. Evaluators have been impressed with his ability to kick slide out to protect the corner while maintaining good base so that he can re-direct and adjust to different pass rush moves. While his draft stock is no doubt rising, the concern that has been voiced to us is that his playing strength needs to greatly improve. For a 300+ pounder he gets driven backwards by bull rushers and struggles to consistently get movement on in-line run blocks. The hope is that he can improve his strength, but teams are always concerned when a player is already 300+ pounds and played at a program, like Ohio State, that has an outstanding strength and conditioning program and still struggles with playing strength. Right now Fragel has moved up into fourth round consideration and could be a surprise late in the third round.
2. Devin Smith, CB, Wisconsin, Senior (5103, 182 and 4.50): Despite not being invited to the Combine, teams are intrigued by Smith's ability to be a versatile defensive back and special teams player in the NFL, which is why he is moving up draft boards. Not a huge corner at 5'10, but solidly built and willing to play physical, Smith has the quickness, agility and deceptive speed not often found in physical cornerbacks. A player that a lot of area scouts really liked in the fall, Smith helped himself with a very strong Pro Day performance where he not only tested well, but was excellent in positional drills, which grabbed the attention of NFL personnel. While he is not viewed as a definite starter, NFL people have told me that he is viewed as a nickel cornerback who could also fill in at safety when needed and will be a good special teams player. All of these reasons are why we expect Smith to be a fifth or sixth round pick despite not receiving much national attention.
Players Whose Draft Stock is Falling: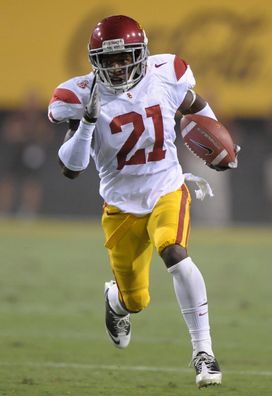 US PRESSWIREUSC cornerback Nickell Robey runs with the ball after making a play.
1. Nickell Robey, CB, USC, Junior (5072, 169 and 4.41): Robey surprised many when he declared for the Draft, but immediately he began to receive hype as a potential second or third round pick because of his elite speed and flashes of big play ability. However, since that week his stock has been falling as scouts have broken down film and it culminated when he struggled at USC's Pro Day. A short cornerback with blazing speed, Robey is not the elite athlete that many people think. He is stiff and tight in hips and struggles to change directions, which hinders his ability to transition out of his pedal and close quickly on passes. Obviously, he lacks the size to be effective jamming receivers and slowing their release in press coverage. His struggles as a press corner are compounded by his losing a step when he has to flip hips to turn and run to stay with receiver off the line. For a big school player who was viewed as a playmaker and likely high draft pick when he came out, NFL personnel have told us they think Robey will be at best a late round pick and could very well go undrafted.
2. Tharold Simon, CB, LSU, Junior (6020, 202 and 4.49): While Simon is definitely going to be drafted, his stock is not as high as many expected when he declared for the Draft. With great height, long arms and elite speed for his size, he has everything teams want in a press man cornerback, but the issue is the total package. While his backpedal is deceptively quick and compact, as soon as he has to transition out of pedal to close on the ball he is in trouble. Teams are concerned about his stiff hips and struggles changing directions. Additionally, after his poor display of ball skills at the LSU Pro Day, teams question if he can track the ball well enough to break up or intercept passes consistently. For a player that has the measureables to be a first or second round picks, NFL personnel have told us they expect he will be a fourth or fifth round pick.
Email Russ at Russelllande@yahoo.com and Follow Russ on Twitter @RUSSLANDE