April 09, 2013 -
Erik Oehler
Draft Rumblings – Risers & Fallers Around The NFL
Player Whose Draft Stock is on The Rise: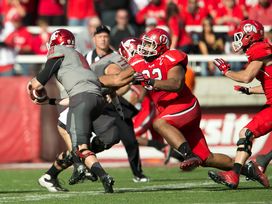 US PRESSWIREUtah DT Star Lotulelei chases down quarterback for the sack.
1. Star Lotulelei, DT, Utah, Senior (6024, 311 and 5.23): Now that Star has reportedly received medical clearance and teams are in the middle on final draft meetings, Star's on field play has him back in the mix to be a top five overall selection. Coaches and scouts alike have been impressed with his hard to find skill set. Few 320+ pound defensive tackles have Star's explosive initial quickness, the playing strength to dominate OL and the speed to chase down ball carriers along the LOS in pursuit. Unlike many defensive tackles that fit a few potential positions, Star's size, strength, competitiveness and athleticism make him a real fit at DE and NT in a 34 scheme and DT in any 43 defense. Now that the focus is back on Star's production on film and physical skill set, we have been told he is likely to be the first defensive tackle selected.
2. Akeem Spence, DT, Illinois, Junior (6005, 307 and 5.14): In a year with numerous high end defensive tackles, Spence has slid through the draft process with virtually no attention from the media, but NFL teams really like what they have seen. A highly competitive player with great intangibles, Spence impressed many with a strong workout at his pro day, which convinced teams he has the athleticism to carry over his production to the NFL. Although he lacks ideal height, Spence's initial quickness, ability to play with leverage, playing strength and top level athleticism have teams confident he can be a starting DT in a 43 scheme or DE in a 34 scheme. Do not be surprised if Spence gets drafted higher than many of the other more publicized DT's and ends up being selected in the second round.
3. Don Unamba, CB, Southern Arkansas, Senior (6001, 201 and 4.55): There has been a ton of focus on some lesser known cornerbacks like DJ Hayden and Sanders Commings moving way up draft boards the last month. However, Unamba has not received any publicity despite teams being impressed by his skill set. With good size and strength, Unamba's quick feet, good hips and deceptive speed have teams intrigued by his ability to be productive as both a press corner and in off alignments/coverages. When NFL teams start breaking down small school players they want to see a player who dominated the lower level of competition and Unamba definitely did that with three interceptions, 17 pass break-ups and two blocked kicks during the 2012 season. Although I know that Unamba will not be an early draft pick, do not be shocked if he is selected in the fourth or fifth round.
Player Whose Draft Stock is Falling:

1. Kawann Short, DT, Purdue, Senior (6027, 299 and 5.30 E): A productive college player, Short was viewed by many as a sure first round pick during the 2012 season, but we are hearing that NFL teams do not think as highly of him. Despite possessing elite athleticism for a 300+ pounder and good playing strength, NFL teams are concerned with Short's inconsistent motor/intensity. Too often Short seems to stop fighting to get to the ball and ends up "chicken fighting" with the OL too long and does not make the play. Although he had a strong week of practice at the Senior Bowl to prove his talent, teams were turned off when he struggled through his pro day. With many NFL teams there pretty much just to see him, he tired fast during the workout and did not seem to be in the best shape, which just adds fuel to the fire that he lacks the motivation to be an elite player. While Short's talent is no doubt top ten caliber, we have heard that he is much more likely to be a second or high third round pick than a first rounder.
Email Russ at Russelllande@yahoo.com and Follow Russ on Twitter @RUSSLANDE