March 19, 2013 -
Erik Oehler
Draft Rumblings – Risers & Fallers Around The NFL
As we get close to the end of Pro Days and await the beginning of team's final draft meetings, we are hearing a lot of rumors on the road. While there are a lot of stories floating around about different players, what we find most interesting are which players are moving up and down draft boards across the league. Below is a look at some players whose draft stock has been on the move.
Players Whose Draft Stock is On the Rise:
1. Arthur Brown, LB, Kansas State, Junior (6000, 241 and 4.50 E): With all the talk this spring surrounding Manti Te'o, Kansas State's defensive playmaker Arthur Brown has been rising up draft boards around the league without much notice. No doubt shorter than ideal at 6'0, his ability to read and react to the play so quickly, elite speed and explosive closing burst to give him sideline range has teams confident he will be a three down linebacker in the NFL. Not only an outstanding player on the field, but regarded as a team leader with all the intangibles, Brown is a favorite amongst scouts and coaches. Although Brown may not make it into the first round of the Draft, we hear it is 50/50, he is viewed by many teams as the most complete inside linebacker in the Draft who has no character issues.
2. Sylvester Williams, DT, North Carolina, Senior (6025, 313 and 5.02): After Star Lotulelei's medical hiccup at the Combine (Important to note that Tony Pauline broke story that Star will be working out at Utah's Pro Day this week) and Sharrif Floyd's meteoric rise up draft boards in the media, Williams has been making a move of his own. An extremely gifted athlete with rare playing strength, competitiveness and initial quickness, Williams is viewed as one of the most versatile defensive linemen in the 2013 Draft. Teams are impressed with Williams' ability to be a dominating player from any defensive alignment and are constantly impressed by his hustle to chase down plays that few defensive tackles make the effort to try to. Sharrif Floyd may well end up being drafted before Williams, but from NFL personnel we have spoken to it is no sure thing and some teams have Williams ahead of Floyd on their draft boards.
Players Whose Draft Stock is Falling: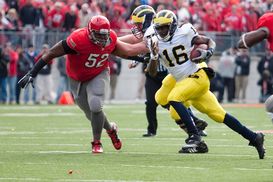 US PRESSWIREOhio State DT Jon Hankins works along the LOS to chase down Michigan's Denard Robinson.
1. Jon Hankins, DT, Ohio State, Junior (6027, 320 and 5.25): Much improved in 2012, Hankins surprised no one when he came out early for the Draft as he was initially expected to be a top ten or fifteen selection. However, according to NFL sources we have spoken to, Hankins stock is not nearly that high now. No one doubts that he has physical strength to control blockers at the POA, the quick hands and athleticism to defeat man blocks and the speed to chase plays down in pursuit. However, the issues that are coming up around the league when teams discuss him is that he does not play with passion/intensity on every snap and has a bad habit of popping upright and losing leverage too often. You can never write off a rare physical specimen being over-drafted, but everything we are hearing points to a second or third round selection.
2. Jordan Mills, OT, Louisiana Tech, Senior (6050, 316 and 5.37): When Mills was a late addition to the Senior Bowl not much was expected from him as many had never evaluated him, but after an excellent week of practice where he handled Ezekiel Ansah very well at times his stock was definitely on the rise. However, as scouts and coaches went back and pulled out the Louisiana Tech game film to evaluate this player who shocked everyone in Mobile, they were very disappointed. Some NFL personnel that we spoke to said that regardless of the athleticism he showed in Mobile, he did not show the foot quickness and flexibility to handle playing tackle in the NFL and would have to slide inside to play guard. Despite the post Senior Bowl hype that Mills was rising up boards and could be drafted as high as the second round, we are hearing more like the fifth round now.
Email Russ at Russelllande@yahoo.com and Follow Russ on Twitter @RUSSLANDE