February 19, 2013 -
Erik Oehler
Draft Rumblings – What NFP is hearing from around the NFL.
The Combine kicks off in a few days, which officially showcases the "underwear Olympics." While there is no doubt some valuable information is gleaned from the medical and interview portions of the Combine, the workouts lead to more mistakes than you can imagine. When I have spoken to scouts and personnel executives over the years, one thing I have constantly heard is that if you helped the Draft before the Combine and Pro Days you would see fewer mistakes drafting. This time of the year is when the teams that draft well are able to separate themselves from those that do not because teams that draft well do not put as much stock in the Combine workouts and fall in love with certain prospects. With all that being said, below is what I have heard from scouts over the last few weeks.
1. Knile Davis, RB, Arkansas, Junior (6000 E, 226 E and 4.45 E): Much attention has been on running back Marcus Lattimore's recovery from his knee injury, but two years ago Knile Davis was viewed as a premier prospect on the same level as Lattimore. While Davis' struggles to stay healthy and protect the ball are real issues that will keep him from being a very high draft pick, we hear that he is a player that many teams believe still has star potential. Unlike most 220+ pounds backs, Davis is natural catching the ball, is a dangerous open field runner who can make tacklers miss and can out-run angles to score long touchdowns. During draft meetings, scouts and coaches alike have raved about Davis' quick cutting ability, burst of acceleration and home run hitting speed. Obviously, Davis' leg/ankle that was injured two years ago will need to pass medical tests and he must try and convince teams he will do what it takes to overcome the fumbling issues he had at Arkansas, but with his upside we've been told he could be drafted significantly higher, possibly in the second or third round, than many expect.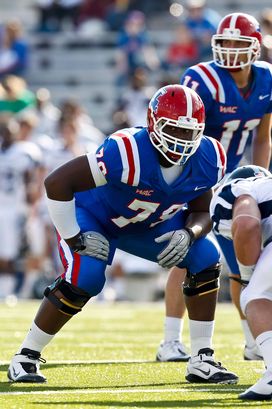 US PRESSWIRELouisiana Tech offensive tackle Jordan Mills prepares to slide out of stance.
2. Jordan Mills, OT, Louisiana Tech, Senior (6053, 353 and 5.35 E): After an impressive week of practice at the Senior Bowl many NFL personnel people who had not evaluated Mills yet were excited to do so. Unfortunately, the results have not been as good as one would have expected after seeing Mills in Mobile. Despite displaying quick feet and good athleticism in practice, on Louisiana Tech film he showed stiff hips and lacked the feet to be considered a left tackle in the NFL. He did not show the quickness to slide out in time to protect the corner consistently and struggled to re-direct to handle explosive change of direction pass rush moves. Still viewed as a strong/powerful linemen who blocks with excellent aggressiveness/competitiveness, Mills will likely be a third or fourth round pick by a team looking for a rookie who can start at right tackle, but he will not make the move into the second or late first round as some predicted after his showing in Mobile.
3. Alex Okafor, DE, Texas, Senior (6045, 261 and 4.85 E): While LSU's Barkevious Mingo and BYU's Ezekiel Ansah are causing some debate in draft rooms, Alex Okafor is causing perhaps more than any other defender. Numerous scouts have told us that when they evaluated him off 2012 game film, they agreed with our assessment that he plays upright too often, lacks good flexibility and struggles to defeat pass blocks to pressure the quarterback consistently. However, after a great week of practice at the Senior Bowl where he flashed top level athleticism and consistently won in one on one drills he got NFL people excited. We hear that Okafor is now in the middle of the classic debate between those who did not like his play on film and those who feel that he is a gifted talent who can be coached to be the player he flashed the ability to be at the Senior Bowl. Although every scout we spoke to viewed him as a third day prospect based on film evaluation, nearly all of them tell us they believe he will at worst be a second round pick and could even end up as a late first rounder.
4. Dion Sims, TE, Michigan State, Junior (6050 E, 285 E and 4.85 E): With tight ends becoming such a big part of NFL passing attacks, teams are always looking for the next "one" who can make big plays as a receiver. Sims is viewed as the mystery man of this year's tight end class because he has rare size, good athleticism and soft, natural hands, but is not the player you expect him to be based on his physique. Regarded primarily as a receiving tight end, Sims lacks explosive acceleration and does not have the playing speed to stretch the field and run away from defenders. Many in the media immediately compare big tight ends to Rob Gronkowski, but Sims is not that type of player. He is much more of a smooth, fluid athlete who uses his size to shield defenders and receiving skills to make tough catches, similar to Antonio Gates. However, it is concerning that Sims is not a good blocker. He does not block with good technique or compete at a high level to keep man out of the play. Although many expected Sims would be a first or high second round pick when he declared, we have heard that the third or fourth round is much more likely.
Email Russ at Russelllande@yahoo.com and Follow Russ on Twitter @RUSSLANDE