February 13, 2013 -
Erik Oehler
Draft Rumblings – What NFP is hearing from around the NFL.
With the 2013 NFL Combine starting next week, many teams are in the middle of their pre-combine draft meetings. Since the All Star Games ended, I have had the chance to talk to numerous NFL personnel to find out what teams are thinking. Below is what I have heard from scouts over the last few weeks.
1. Alvin Bailey, OG, Arkansas, Junior (6050 E, 312 E and 5.15 E): After losing weight this off-season and improving his play on the field, many in the media projected Bailey would definitely be a first round pick after declaring early for the 2013 NFL Draft. However, according to NFL personnel we spoke with, who confirmed what we saw on film, Bailey is more than likely not be a first round pick. There is no doubt that Bailey is an excellent athlete for such a big man, but the issue is that he does not play up to his athleticism consistently. He has the foot quickness, speed and body control to pull and adjust to block moving targets in space. The problem is that too often he stops his feet after making contact and loses block. Additionally, while he has the strength to get movement on in-line run blocks, his habit of bending at the waist, leaning and reaching to make contact leads to him over-extending and falling off blocks. More than anything, we keep hearing that for an offensive lineman with his talent he ends up on the ground way too often.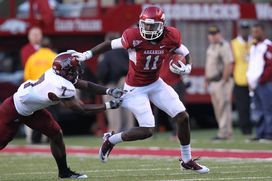 US PRESSWIREArkansas receiver Cobi Hamilton stiff arms defender in order to gain yards running after catch.
2. Cobi Hamilton, WR, Arkansas, Senior (6016, 199 and 4.45 E): For a player who definitely looks the part "on the hoof" and has the explosive acceleration and elite playing speed, Hamilton is not as high on draft boards around the league as many would believe. While he can easily get separation from man coverage because of his burst and pulls away from cornerbacks on deep routes, he is not viewed as a premier prospect. NFL personnel have told us that Hamilton is not viewed as a natural pass catcher because he body catches most passes within his frame which leads to him fighting and then dropping too many passes. Despite his ability to adjust and make spectacular catches on off-target passes, teams are concerned about his habit of dropping too many easy passes. This issue could lead to Hamilton sliding to day three of the draft.
3. Justin Hunter, WR, Tennessee, Junior (6040 E, 200 E and 4.45 E): Not all NFL people that I spoke with can offer this insight, but those who have been sitting in on draft meetings for over a decade made an interesting point to me this week. The discussions surrounding where Justin Hunter should be slotted on the draft board sounds eerily similar to those that took place when Lee Evans came out. Similar to Evans, Hunter looked like a potential top ten pick in 2011 before tearing the ACL in his knee and reminded some of Randy Moss with his big play ability and knack for making tough catches. However, in 2012 Hunter did not show the same explosiveness and elite speed that he did before the injury and dropped way too many passes. The question teams are trying to answer is whether Hunter will eventually return to his pre-injury form as Evans did, or will he be the player he was in 2012 throughout his NFL career. We have been told not to be shocked if some team, perhaps Baltimore as they did with Jamal Lewis, takes a gamble and uses their first round pick on Hunter.
4. Jawan Jamison, RB, Rutgers, Junior (5080 E, 200 E and 4.55 E): Unlike many underclassmen that receive a ton of hype throughout their careers and disappoint NFL teams when they evaluate them, Jamison was not viewed as a big time prospect when he declared, but teams have been pleasantly surprised with how good a player he is. While he is not going to be a first or second round pick, his receiving skills and consistency in pass protection have NFL teams very intrigued about his ability to be a versatile offensive weapon. Most backs who come into the NFL struggle to get on the field early in the careers as they must learn and improve in pass protection. That will not be the case with Jamison, which should enable him to contribute as a third down back as a rookie, which increases his value. Teams have said they expect him to be a fourth round pick, but that they would not be surprised if a team took him towards the bottom of the third round.
Email Russ at Russelllande@yahoo.com and Follow Russ on Twitter @RUSSLANDE