March 07, 2012 -
National Football Post
Draft Talk 18.0
In this week's edition of Draft Talk, Wes Bunting is joined by former Temple FB/TE Evan Rodriguez. The two discuss Rodriguez's post-season climb up draft boards and all of the spots he thinks he can play in the NFL.
Even Rodriguez Scouting Report…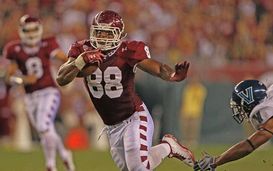 ICONRodriguez can create with the ball in this hands.
A thickly put together athlete with a muscular upper body and lower trunk. Carries his weight well though and is surprisingly very fluid for his size. Possesses impressive overall range, coordination and athletic ability for a 6-2, 250-pound athlete. He showcases natural fluidity in the hips and a natural burst when asked to pull inside from his H-back position. Is quick to get his feet around and seal as a tight end, and is a "plus" athlete for his size with the football in his hands. He displays good straight-line speed in the open field, is able to consistently get out and breakdown on blocks at the second level and overall moves extremely well for a guy his size. Isn't just an athletic move guy, as there is some definite "pop" and punch to his game. Rodriguez is a natural bender when sitting into a three point stance and exhibits a real snap from the hips into contact as an in-line guy and when on the move. He did have a tendency at times to overextend and get caught popping a bit upright into contact. But he extended his arms well into blocks, exhibited good hand placement and demonstrated the kind of nasty streak needed in order to finish and win through contact.
Now, he isn't asked to line-up often as a traditional lead back, but when asked to pull around and lead on plays from his H-back spot he's very coordinated on the move, takes good angles and despite not having the elite "hammer" ability into contact at this stage, he still showcases the natural explosive, pad level and hand usage to certainly develop more "pop" if asked to play consistently as a lead guy in the NFL.
Rodriguez is a coordinated athlete in the pass game. He's a former high school quarterback/strong safety who possesses a natural feel selling his routes off the line, plucks the football cleanly off his frame and snaps his head around quickly in order to create after the catch. He exhibits enough straight-line speed to get down the seam and despite running a bit upright, displays the natural power/willingness to break tackles and finish runs.
Impression: Rodriguez isn't a guy who's going to get drafted high. However, he's got the potential to fill a number of roles on an NFL offense in both the run and pass game, can create some mismatches as a pass catcher and develop into a core special teams guy early on.
Draft Talk will be published weekly with a new guest on each week.
Be sure to check out the NFP's 2012 NFL Draft Page!