September 27, 2011 -
Barry Dorey
Draft Talk 2.0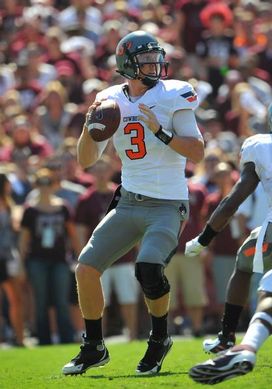 ICONWeeden throws a catchable football.
In this week's edition of Draft Talk, Wes Bunting is joined by CBS College Football Columnist Bruce Feldman. The two talk Oklahoma State QB Brandon Weeden, Texas A&M QB Ryan Tannehill as well as a talented pair of underclassmen in the LSU secondary.
To check out more of Bruce's work click here.
&
To purchase Bruce's new book Swing Your Sword: Leading the Charge in Football and Life click here.
Draft Talk will be published weekly on Tuesday evenings at 7:00 PM ET with a new guest on each week.
Follow me on twitter: @WesBunting
Follow me on twitter: @BFeldmanCBS