October 29, 2012 -
National Football Post
Early Look At The Top 10 NFL Prospects
It is nearly impossible to accurately predict which players will be selected in the top ten six months early because of a variety of factors, but that does not stop me from trying. Below is a breakdown of ten players that I believe warrant being top ten picks based on what I have seen on film and what scouts have told me. You may be shocked to not see Matt Barkley's name on this list, but the reality is that I like Barkley and feel he will be a top ten pick because of the demand for quality quarterbacks, but he is not one of my top ten players as of today. Additionally, after his injury this weekend, South Carolina running back Marcus Lattimore is not on this list.
1. Geno Smith QB Senior West Virginia 6'3 210 4.85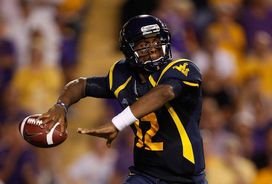 West Virginia QB Geno Smith about to throw a pass.

Following in the footsteps of RGIII, Smith is a special talent with the intangibles to go with it. Despite mechanics that definitely need to be tightened up, Smith is able to get rid of the ball quickly and can re-set and make accurate throws when forced to avoid pressure. His arm strength enables him to make every NFL throw with ease. Most impressive of Smith's skills is his accuracy. He rarely misses a target and almost always puts the ball in the ideal place for his receiver. While he lacks the rare speed that RGIII has, he is right there with him when it comes to arm strength, accuracy and intelligence.
2. Jarvis Jones OLB Junior Georgia 6'3 241 4.50
After transferring to Georgia when USC would not medically clear him to return to football due to spinal stenosis, Jones has been a dominant, game changing player. With rare explosiveness off the ball Jones can get the offensive tackle back on his heels. He has the foot agility to change directions in a flash and explodes in other direction, which allows him to beat pass blocker around corner or back inside. Not only a dominating pass rusher, Jones has the instincts and playing speed to chase down running plays in pursuit. Often compared to Von Miller, he is similar, but tends to play and rush the passer more upright than Miller, which limits his strength as a power rusher.
3. Star Lotulelei DT Senior Utah 6'3 320 4.90
Receiving tremendous hype prior to the 2012 season, I had real doubts that Star could live up to it. However, his strong, violent hand use, quickness off the ball, rare playing strength and the explosive closing burst to finish plays immediately proved to me that he is an elite prospect. While not a gap shooter, Star can jolt offensive linemen upright easily, controls blocker with strength and can shed and make plays behind the line with shocking ease. Star's play reminds me a ton of current Lions defensive tackle Ndamukong Suh and I expect he will be as good a player in the NFL.
4. Johnathan Hankins DT Junior Ohio State 6'3 322 4.85
A "man child" at Ohio State, Hankins has stepped up his game dramatically in 2012. Viewed as a bit of an under-achiever prior to this season, he has played with more passion and intensity this season, while maintaining much better technique, which has led to him being a consistent impact player. With his size and strength, he is able to lock out and shed run blockers to make tackles on inside runs and flashes the ability to torque and toss blockers off him. Although he lacks many pass rush moves, his strength and hand-use enable him to work through pass blocks to pressure quarterback.
5. Bjoern Werner DE Junior Florida State 6'4 255 4.65
Although the Florida State uniforms do not look anything like those of the St. Louis Rams, the similarities between Werner and Chris Long made me want to double check. Werner has excellent initial quickness, uses his hands extremely well to stay free from pass blocker and has a good closing burst. He needs to tighten up his turning of corner as he can be ridden around pocket sometimes despite getting edge. Playing with leverage and using hands violently help Werner to jolt run blocker upright, defeats block and makes a lot of tackles, both on runs at him and in pursuit.
6. Luke Joeckel OT Junior Texas A&M 6'6 310 5.15
The best of a strong group of junior offensive tackles, Joeckel has shown the tools to be a high end pass blocker who also excels as a run blocker. Naturally flexible, Joeckel pass blocks with excellent base and is able to slide out to cut off speed rushers and can re-direct easily to adjust to quick secondary pass rush moves. While not an overtly strong linemen, he can anchor vs most power rushers and gets movement on side/angle in-line run blocks. Joeckel has the tools to start early in his career and should be a long term solution at left tackle. While his teammate at Texas A&M Jake Matthews will likely also be some team's answer at left tackle.
7. Manti Te'o ILB Junior Notre Dame 6'2 255 4.65
Not the flashy pass rusher like Jarvis Jones, Te'o reminds me a little of the Chiefs' Derrick Johnson and the Vikings' Chad Greenway in that he is outstanding in pass coverage and makes a lot of tackles, but makes few big plays behind the line of scrimmage. Smooth an d fluid dropping into coverage, Te'o reads the QB/Pass excellent, closes well and has the ball skills to intercept passes easily. Te'o may get passed on some team's draft boards by some linebackers who are better pass rushers, but his all-around game makes me confident in his ability to be a highly productive starting MLB in the NFL for a long time.
8. Dee Milliner CB Junior Alabama 6'1 199 4.45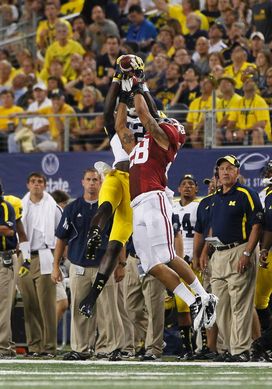 US PRESSWIREDee Milliner goes up high to break up pass against Michigan.

A number of scouts have told us Milliner is a better all-around cornerback prospect than former teammate Dre Kirkpatrick. Strong and physical in coverage, Milliner can get receiver off "stem" and disrupts timing between quarterback and receiver. Unlike many strong cornerbacks, Milliner has the playing speed to stay with receivers on deep routes and show outstanding ball skills to go up and make plays on the ball. Run support from cornerbacks is an added bonus and Milliner definitely separates himself from most cornerbacks with his quickness and aggressiveness coming up and making hard hits/tackles in run support.
9. Keenan Allen WR Junior California 6'3 210 4.40
Allen's ability to get to full speed so fast helps him to get behind defenders to make big plays down field. When he gets the ball in his hands he is a touchdown threat because of his ability to run through contact, make tacklers miss and out-run angles. Not many 6'3 receivers get in and out of their cuts as easily as Allen, which allows him to get separation from coverage. In addition to making big plays after the catch, Allen has been a big play punt returner at California which only adds to his value.
10. John Jenkins NT Senior Georgia 6'3 358 5.40
In today's NFL where nearly half the teams are using 34 defensive schemes, the value of a dominating nose tackle is as high as it has ever been and Jenkins is one. A massive man at over 350 pounds he is remarkably light on his feet and able to move in traffic without losing balance with ease. With the strength to dominate one on one blocks he is a force as a "bull rusher" and anchoring against run blocks. Additionally, Jenkins has shown the strength and technique to anchor against double team run blocks to shut down the opponent's inside rushing attack. If Dontari Poe could be taken with the 11th pick in the 2012 Draft, then some team will jump on Jenkins in the top ten in the 2013 Draft.
Email Russ at Russelllande@yahoo.com and Follow Russ on Twitter @RUSSLANDE