January 17, 2011 -
National Football Post
East-West Shrine game notebook
News…
It was revealed that South Carolina DE Cliff Matthews never responded to his East-West Shrine game invitation and will not be attending this week.
The following is a list of players who decided not to take the Wonderlic this week at the Shrine game…
North Carolina DT Marvin Austin
Ohio State SS Jermale Hines
Illinois OL Randall Hunt
Penn State DT Ollie Ogbu
Miami CB Demarcus Van Dyke
Initial impressions…
North Carolina DT Marvin Austin certainly looks the part. He showed up in shape, carried his weight very well and has the kind of natural lower body girth/mass you look for in an interior lineman. He was also very well put together in the upper body and you can tell he has been working hard — at least in the weight room — all season.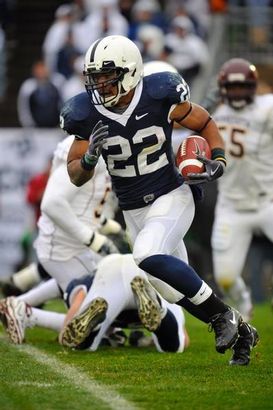 ICONRoyster didn't look the part.
Syracuse RB Delone Carter also was an impressive-looking kid. He was solidly put together in the upper body, had a stronger-looking lower half and packed a lot of mass into his 5-9 frame. He looks fit, strong and poised to have a very good week.
Another back who had the kind of build you're looking for was Maryland's Da'Rel Scott. He wasn't as strapped together in the upper half as Carter. But even better was his impressive lower half, displaying thick thighs and big bubble — how you want to draw it up for a running back.
On the other hand, Oregon wideout Jeff Maehl looked like an undersized kicker when he stepped up in front of the crowd — and I am not exaggerating by any stretch. He had a rail-thin, narrow frame, possessed no muscle tone or girth in either his upper or lower half and just looked like some skinny guy off the street. Now, did we know he was a frail guy coming in? Yes. And some of the best advice I ever got going into a weigh-in was, "There are a lot of bodies in the NFL that aren't pleasant to look at, but are possessed by some really talented football players. So don't get lost in the body type." Maehl fits the description.
Penn State RB Evan Royster was also a pretty unimpressive guy. He was thin through his upper body, but even worse were his thin legs and little girth through the backside. Didn't look like an NFL back to me.
Canadian OT Matthew O' Donnell was the tallest prospect of the bunch, measuring in at nearly 6-10. He's a tall kid with a long set of arms — 35 inches — but we will see if the big guy can bend and gain any leverage this week.
Finally, Texas A&M quarterback Jerrod Johnson was measured with 35-inch arms — a really big number for an offensive lineman let alone a quarterback — which makes so much sense considering when you watch him on tape it takes him far too long to get the ball out of his hands and he really does posses a long wind up in his delivery. And with 35-inch arms it's going to be tough to ever drastically tighten up his release because there is simply too much length to contend with.
Results…
EAST ROSTER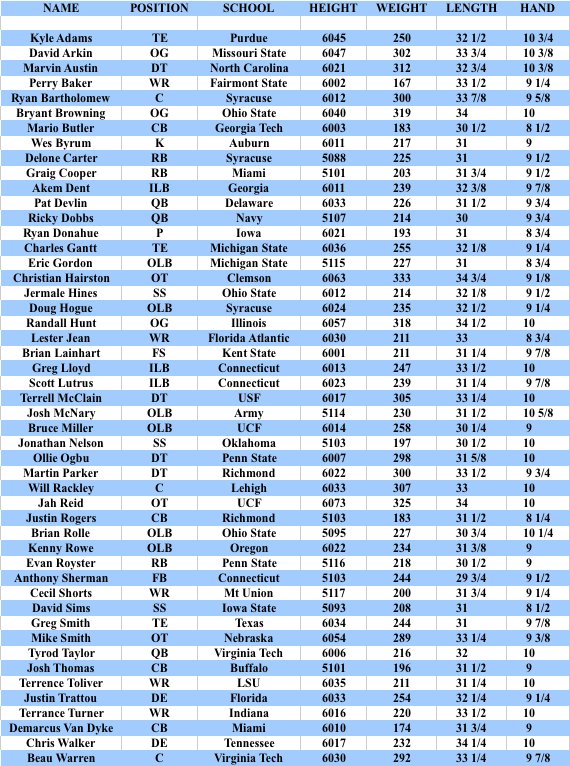 WEST ROSTER