January 13, 2011 -
National Football Post
East-West Shrine Game Preview: Part 1
With the NFP getting ready to head down to Florida this weekend to take in our first All-Star game of the season, it's time to highlight some of the more intriguing prospects that we will be evaluating while down there, starting today with the East squad.
QB Pat Devlin: Delaware
He's not only one of my favorite small-school prospects, Devlin is in my view one of the best quarterback prospects in the entire draft. He's a nice-sized kid with good athleticism for the position and can buy time with his feet. Plus, he throws a really accurate football, anticipates routes well in the pass game and uses his eyes as well as any QB in the draft to manipulate coverages and work his way back across the field. He's a really bright kid who doesn't force the ball into coverages and seems comfortable consistently finding secondary options and has really grown up in the Delaware offense. Now, I want to see the guy throw in person because he lacks great arm strength. But, he seems to spin a clean enough football for the most part and I think he has the ability to still make all throws required in the NFL because of his timing and ability to get the ball out of his hands quickly.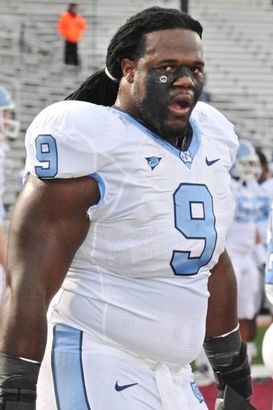 <span>ICONAustin needs to have a big week in order to make up for the lost season.
DT Marvin Austin: North Carolina
Remember the name? The NFP wrote back during the summer that the next time we would see Austin play was during the All-Star game circuit after his involvement in the agent scandal that took place earlier in the year. And here we are. The key for Austin is to simply show up in shape. The biggest question I have about the guy is his overall maturity level and passion for the game of football. He's a talented, powerful kid — there is no doubt about that. However, if he shows up to Orlando out of shape after missing an entire year because of his character concerns, it's going to cause his draft stock to plummet even more than it already has.
WR Lester Jean: Florida Atlantic
At 6-3, 195 pounds, Jean has the type of initial burst and straight-line speed to really make a move up draft boards with a strong week in Orlando. He's a lean, balanced kid who showcases good shiftiness off the line vs. press coverage, accelerates really well vertically down the field and showcases the type of fluidity to develop as a route runner. He still needs to do a better job plucking the football away from his frame, as too often he lets passes get into his body. But, he's a good-looking athlete with the physical skill set to mature into a capable pass-catching option at the next level.
FB Anthony Sherman: Connecticut
Fullback prospects like Stanford's Owen Marecic and Southern Cal's Stanley Havili have been the two guys who have garnered most of the attention all season at the position. However, Sherman is a good lead blocker in his own right with a strong initial pop on contact and coordinated footwork when asked to block on perimeter runs. Plus, the guy is a heck of a special teams player and I have a hard time believing this guy won't be on a roster in 2011.
WR Cecil Shorts III: Mount Union
A dominant small-school performer who will have his chance to stand out vs. the big boys next week in Orlando. Shorts is an explosive athlete off the snap, reaches top-end speed quickly and displays impressive balance and fluidity when asked to get in and out of his breaks. Plus, he's shifty with the ball in his hands and can be dynamic in the open field. Now, he's going to have to show he can handle the physicality of the jump in competition, but in my view he's the top small school wideout I have seen on the year.
Follow me on twitter: @WesBunting