January 15, 2011 -
National Football Post
East-West Shrine Game Preview: Part II
With the NFP getting ready to head down to Florida tomorrow to take in our first All-Star game of the season, it's time to highlight some of the more intriguing prospects that we will be evaluating while down there, looking over the West roster today.
QB Jerrod Johnson: Texas A&M
It looked like Johnson was about to have a massive senior year after his strong performance against Texas in the final game of the 2009 season. However, he struggled with turnovers early and ended up riding the bench the rest of the season. He still possesses an intriguing blend of athleticism and size, and really needs to do a better job taking care of the football. Plus, he was really sloppy with his footwork and overall throwing motion back when I last watched him and tightening up his overall mechanics will be another must for his game if he hopes to stick in the NFL.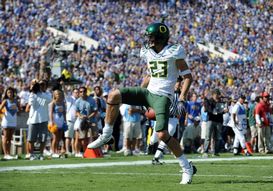 ICONMaehl just finds a way to get the job done.
WR Jeff Maehl: Oregon
Coming off his impressive National Championship performance, Maehl has another chance to prove his worth vs. some of the best in the nation. I can't say he looks the part, but the guy is a coordinated route runner with sneaky speed down the field and all he does is catch the football. He showcases the ability to find soft spots underneath, is fearless over the middle of the field and you could do a lot worse when trying to fill out your receiving corps than Maehl. He's not a dominant athlete by any stretch and isn't going to be drafted high, but he has the kind of skill set that makes me think he'll have a good week and should end up making a team out of camp.
DL Karl Klug: Iowa
It will be interesting to see what position Klug ends up being the most effective at this week. He's an undersized interior lineman who uses his good first step and anticipation to get off the line quickly, play off blocks and motor his way toward the football. However, he lacks the size at 6-4, 270 pounds to routinely hold up inside at the next level and physically looks better suited to play at end. So his transition to the outside this week could go a long way in deciding if in fact he ends up getting drafted or not.
OL Will Rackley: Lehigh
A former left tackle, Rackley will likely be asked to move inside at the next level. He's a thickly built kid with some natural strength/pop in his lower half and has the kind of movement skills to slide laterally inside and mirror in space. It's always good to see these smaller-school prospects stack up with the bigger boys come All-Star season, and Rackley's performance this week could have a major swing on where he ends up getting drafted come April.
DE Ricky Elmore: Arizona
A tall, long defensive end prospect who has the ability to play the run game with integrity, use his length to shed blocks and has a motor that runs non-stop. He lacks a great first step off the snap, which is the only real negative to his game, but he knows how to rush the passer, he's been very productive over the past two seasons and should get some looks this week at both end and as a stand-up backer.
Follow me on twitter: @WesBunting