January 17, 2012 -
National Football Post
East-West Shrine Practice Notes: Day 1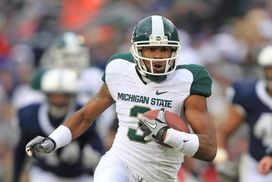 Cunningham had a slow start Monday.
• Small-school CB Micah Pellerin displayed a great feel in coverage Monday during one-on-one sessions. He's slow in his drop, exhibits a good closing burst and despite getting a bit leggy at times he had the length to get his hands on a lot of footballs. Looks like a potential NFL starter at 6-0, 195.

• Another corner who really made a nice impression was Coastal Carolina's Josh Norman. He displayed good vision when feeling routes, a solid initial burst when looking to close and displayed "plus" hands when asked to come down with the catch. There are some character concerns to his game off the field; however, the talent is most certainly there.

• I wasn't real impressed with Michigan State wideout B.J. Cunningham. He made a nice catch early in practice working the slant and plucking the ball off his frame. However, he didn't display the speed to threaten corners vertically and wasn't real explosive in and out of his breaks. Looks limited to more of an inside player only at the next level.

• With nearly 34-inch arms, Mississippi State OL Quinton Saulsberry had a tough time getting his hands up quickly off the snap and gaining leverage Monday when asked to play. He was routinely overwhelmed into the backfield and routinely gave up inside hand position on contact. Plus, he looked maxed out physically and didn't possess the type of frame to play guard at the next level either.

• Illinois wideout A.J. Jenkins made a nice catch plucking the football off his frame early in the day. However, after that he displayed his struggles as a route runner not really setting up his routes and running through his breaks. He also struggled to gain much separation and was inconsistent all day catching the football. Looks like an inside player only in the NFL who needs to be used off the line and asked to run mostly vertical routes.

• I thought the safety group as a whole Monday had a tough time in coverage. But Kansas State's Tysyn Hartman at least displayed the ability to create a slight burst out of his breaks and use his length to cut down some angles. He is stiff and did get turned around a number of times, but I thought he fared better than Duke's Matt Daniels and South Florida's Jerrell Young.

• Finally, watching UT Chattanooga QB B.J. Coleman spin the football Monday gave me flashbacks of when I saw John Skelton down here two years ago. However, much like Skelton, Coleman was inconsistent with his balance in the pocket, looked rushed when trying to settle his feet and his accuracy struggled because of it. However, when he did have time to set his feet and see the throw he showcased the ability to make some tight throws on the skinny post in the intermediate pass game.

Notes from West practice…

• Overall, I thought the MVP of Monday was Miami (OH) OG Brandon Brooks. Not only is he a solid 353-pound lineman who carries his weight well, but he dropped his pad level well into contact in the run game and was natural laterally in pass protection. He displayed a very powerful punch on contact as well and plays with the kind of mean streak needed to consistently finish in the NFL. Looks like yet another NFL starter to me at the next level, only adding to the very strong guard class.

• Arkansas WR Jarius Wright had some struggles catching the football with two drops early in practice where he really fought the football. However, his straight-line speed was apparent with his ability to get vertically down the field on the nine route and routinely run by corners. He also displays a snap out of his breaks working the comeback/stop routes and is one of the few guys down here who seems to strike fear into corners with his speed.

• Another wideout who did a nice job Monday was Fresno State's Devon Wylie. He's undersized at 5-9, 182 pounds. However, he exhibits "plus" straight-line speed and runs his routes full go with the ability to cleanly get out of his breaks. He did drop a pass during the session, but displayed the ability to go get the football as well.

• Finally if there was one guy who actually got the better of Brandon Brooks on one occasion Monday, it was USC DT DaJohn Harris. Harris displayed a good get off burst, was sudden laterally during pass rush drills and exhibited the quick arm over to slip blocks and get up the field. Now, vs. more athletic lateral athletes like Colorado's Ryan Miller he wasn't as effective, but overall it was a strong first showing from Harris inside.
Follow me on twitter: @WesBunting
Check out the NFP Draft page...