January 17, 2012 -
National Football Post
East-West Shrine Practice Notes: Day 2
• While evaluating the safety class today on the East roster, there is definitely some athletic qualities I like with South Carolina State defensive back Christian Thompson. He possesses a long, lean frame, can cleanly turn out of his transition and has solid speed when trying to run with speedy receivers from the slot. Now, he does get a bit leggy at times and doesn't have a great feel recognizing routes in man. And despite putting himself in position to make a number of plays today, he didn't due to his struggles initially locating the football. However, he's a good athlete who can run, change directions and overall is the one safety on the East roster who has made a solid impression on me.

• Cal (PA) OG Rishaw Johnson certainly looks the part. He's a physically built kid with long arms, a thick bubble and natural power through the lower half. However, he's a bit heavy footed when asked to get into the second level, lacks ideal lateral quickness through contact when trying to mirror and has a tough time dropping his pad level in the run game. Overall, he looks the part and I think that is enough to get him drafted, but he might have a hard time sticking on an NFL roster.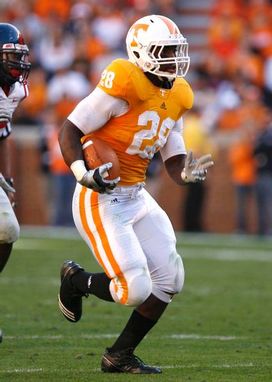 ICONPoole has been as solid as expected.
• Running back Tauren Poole of Tennessee continues to impress with his ability to press the line of scrimmage quickly, be decisive in the hole and accelerate into daylight. He can put his foot in the ground and get North/South quickly and overall has been the best back on the East roster; looks like a solid number two guy at the next level.

• University of Regina DT Akiem Hicks looks the part of a standout defensive lineman at nearly 6-5, 325 pounds. He was very impressive during one-on-one drills today, showcasing impressive initial burst off the snap for his size, power on his bull rush and the length to routinely gain leverage. He also exhibits "plus" short area quickness for a guy his size. He does get upright at times and will stall out when an opposing lineman is able to get under his frame. However, he has the skill set to not only make an NFL roster, but also mature into a solid contributor with some experience in either a 34 or 43 front.

• Virginia DL Matt Conrath on the other hand had a tough time creating any penetration Tuesday as a pass rusher. He lacks a great get off, plays too high and isn't real sudden/power on contact. Overall, he's limited in what he can offer an NFL team and looks more like a developmental five-technique to me.

• The same struggles popped up for Columbia University standout OT Jeff Adams on the other side of the ball. Adams struggles with his flexibility and pad level on contact. Therefore, he makes everyone he goes against look like a good pass rusher because he is consistently susceptible to the bull rush, which was apparent all day Tuesday.

• The East squad is really thin on pure pass rushers and Wake Forest OLB Kyle Wilber hasn't done a ton to stand out. He's a lean kid who has only an average first step and is more smooth than sudden/explosive when trying to slip contact and work back inside. Plus, he allows his pad level to get upright too often, loses the leverage game and is easily pushed past the pocket.

• ECU CB Emanuel Davis had a tough go Tuesday. He has a tendency to get a bit upright when asked to click and close, his weight gets caught on his heels and he doesn't do a great job feeling routes developing in front of him. He too often gives up far to much separation in man and looks like a lower end pick who needs to play in a zone scheme.

• Finally, Miami TE Chase Ford had a monster practice making plays on the football. He isn't a real explosive athlete and lacks much burst off the line. However, he builds speed down the field, showcases good ball skills and coordination, and did a nice job playing with a defender on his hip. Now, he's not to be confused in any way with former Miami standout Jimmy Graham. However at 6-6, 258 pounds you could do a lot worse with a developmental tight end prospect in the back end of the draft.
Follow me on twitter: @WesBunting
Check out the NFP Draft page here...