January 18, 2012 -
National Football Post
East-West Shrine Practice Notes: Day 3
East practice notes…

It looked like there was going to be the possibility of a breakthrough for UT Chattanooga QB B.J. Coleman today, as he seemed much more comfortable working from under center, balancing his feet and maintaining a more efficient base. Plus, he was more natural moving his feet in line with secondary targets early on and letting go of the football on time. However, as soon as the live bullets starting flying he had a tendency to fall off throws and would get narrow/upright in the lower half, limiting his accuracy.
<p class="co_image co_image_right inline_right">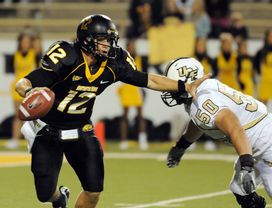 Davis has a natrual feel for the game.
Southern Miss QB Austin Davis has some savvy to his game; he sells the play fake hard and displays nice touch between the numbers. However, his arm is limited, he gets lost once the pocket starts to close in on him and isn't real impressive spinning the football on the move. A guy like him is a dime a dozen in my mind and doesn't warrant more than free agent grade.

It was a bit of a coming out party for Notre Dame CB Robert Blanton Wednesday. The taller, physical corner has had his fair share of struggles in off coverage this week. However, in press man this afternoon he did a nice job shooting his hand into contact, maintaining his footing and getting his head around quickly in order to locate the football. He did get a bit grabby at times, but he possesses the balance to create a burst out of his breaks and was tough to separate from in press coverage.

Tennessee Tech wideout Tim Benford has had a solid week. He's a decent sized kid with some suddenness to his game out of his breaks, can be sharp when asked to change directions and locates the football well. However, he put the ball on the ground twice today and despite being one of the better route runners down here, he's not dynamic enough to not overlook his inconsistencies catching the football. Nevertheless, he gave himself chance to be in an NFL camp with his strong week and fight for a roster spot.

The standout again on Wednesday was Coastal Carolina CB Josh Norman. Norman finished the day with three picks and again showed off his impressive click and close ability, body control and feel in coverage. He was also very physical in pressman as well. Now, he did have a tendency to step into the press and will get caught with all his weight on his front foot, causing him to struggle to regain balance quickly. However, overall the guy has helped himself as much as anyone down here and looks like a potential starting NFL corner and top-100 pick.

Presbyterian DB Justin Bethel has also had a very solid week. He's another long armed kid who is fluid, can run and be physical off the line. However, too often this week he allows himself to pop upright when he looks for the football and doesn't generate the type of closing burst then to go make a play on the throw. He's close to really taking his game to another level, but needs to do a better job keeping his pad level once he snaps his head around to find the football.

This was the best day of practice for Temple OG Derek Dennis. When he doesn't have to handle the bull rush he showcases natural foot quickness for this size and can slide his feet laterally. It's when he's forced to sit down, gain proper hand placement and anchor where he get himself into trouble. The athleticism is there, he just needs to improve pad level off the snap.

It was good to see Pittsburgh OLB Brandon Lindsey rush a little off the edge Wednesday during 1 on 1 drills. He showcased a good first step and even after one day looks the most natural of the group of pass rushers so far this week. He displays the ability to cleanly change directions off his speed rush and keep tackles off balance with the spin as well. However, he's still not dynamic enough in any area of the game to warrant much more than mid-round pick.

Finally, South Carolina DT Travian Robertson has shown flashes all week of creating havoc behind the line of scrimmage. He possesses a good first step, can make himself small when shooting gaps and fight his way through contact. He also displays the ability to gain leverage and get his hands inside on contact when working the bull rush. However, he's limited laterally, doesn't use his hands well to shed when engaged and looks more like a one-gap type only who is worth a flyer late on day three.
Follow me on twitter: @WesBunting
Check out the NFP Draft page here...