January 18, 2011 -
National Football Post
East-West Shrine practice review: Day 2
A breakdown of the top performances and some overall impressions from the West squad on day two of East-West Shrine game preparation.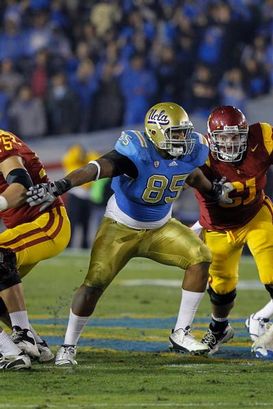 ICONCarter was impressive inside.
I came away really impressed today with the play of UCLA DL David Carter as the guy was extremely tough to block for the most part of the practice. For a taller lineman he does a nice job sitting into his stance off the snap and taking a positive first step off the ball. He also does a nice job maximizing his nearly 34-inch arms into contact and being violent/compact when asked to shed. Plus, he displays some good lateral quickness inside and exhibits the ability to slip blocks off the snap and fight his way in the backfield. He still will lose sight of the ball at times — which was seen during 11-on-11 today — but was able to play off blocks in the run game and was in my view the best defensive lineman on the field today. Should get some real interest from 3-4 teams in need of a five-technique.
Small-school corner Korey Lindsey from Southern Illinois had a tougher go today in man coverage. He showcases some patience in his drop and possesses some natural fluidity to his game, but it's his footwork that needs to continue to improve. You can really see his struggles in his drop when asked to click and close on throws in front of him as he tends to drift and chop his plant foot in order to regain his footing before driving on the throw, instead of cleanly coming out of his breaks. Now there is some talent there, no doubt about that, but he's not the high draft pick a lot of people are making him out to be, in my view.
Rice defensive end Cheta Ozougwu is going to have a tough time making a roster in the NFL and today's performance only further showcased some of his deficiencies. He's an undersized guy with a very average first step and lacks the type of length to consistently keep himself clean and/or disengage from blocks. I'll give the guy credit because he does play hard down in and down out, but he's just not a guy who I can see winning on the edge in the NFL.
Got a chance to talk with LSU OT Joseph Barksdale after practice and it was interesting to learn that he was a former All-American high school defensive tackle and instead of playing behind Glenn Dorsey and company when he got there, he decided to make the move to offensive tackle instead. He's a pretty well-spoken kid who seemed sincere. But when watching him play I would just like to see some girth and more of a killer instinct to his game. He simply comes off too passive for my liking.
Texas A&M quarterback Jerrod Johnson had a tough day spinning the football and just isn't a real clean/natural thrower of the football. Plus, his eye level consistently drops anytime he is asked to break contain outside the pocket and despite being a solid athlete, he's the not type of dynamic run threat that is worth drafting as an intriguing developmental guy in my view.
Finally, there's just something about Oregon State center Alex Linnenkohl that really seems to be wear on me. He's not the biggest or strongest guy on the field and isn't real long either. However, he displays good snap and step ability, possesses good lateral quickness when asked to mirror and does a great job replacing his hands in order to maintain leverage. He isn't going to go high, but he's an undersized overachiever who I think can stick on a roster.
Follow me on twitter: @WesBunting