January 18, 2011 -
National Football Post
East-West Shrine practice review: Day 2
A breakdown of the top performances and some overall impressions from the East squad on day two of East-West Shrine game preparation.
• While taking a look at the defensive backs this afternoon it was hard at times to watch Miami corner DeMarcus Van Dyke try to hold up in man coverage. He's a tall, lean kid who isn't real flexible when asked to get into his drop. He quickly allows his pad level to rise, causing him to get leggy when asked to change directions and transition down the field and is slow to get back up to speed quickly out of his breaks. Balance is key for any defensive back and it's one of the main reasons why I think Van Dyke will have a tough time sticking in the league.
• Georgia Tech corner Mario Butler had a similar problem trying to maintain his balance/footing today in coverage because again, like Van Dyke, he has a tough time sitting into his drop and keeping his feet under him out of his breaks. He quickly allows his pad level to rise, gets too leggy out of his transition and gives up significant separation initially in the pass game. Now, to his credit, his hips seem a bit looser than Van Dyke's, but his ball skills weren't very impressive and he doesn't look much more than a fringe roster guy.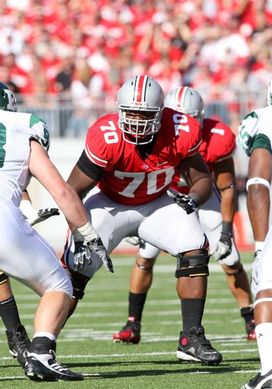 ICONOhio State guard Bryant Browning
• Ohio State offensive guard Bryant Browning did a nice job in pass protection at times today during the one-on-one drills. He's a bit sloppy in the mid-section and isn't the most natural benders, at times getting doubled over at the waist, but he's a long kid who does a nice job extending his arms into contact and gaining leverage at the point. At times he got himself in trouble because his hand placement was poor — too high — allowing defenders to get under him, but his ability to play long and stick to blocks through contact will definitely give him a shot of holding up inside at the next level as a potential roster guy.
• It goes without saying that this wasn't the kind of practice Delaware quarterback Pat Devlin had in mind for his first showing of the week. He was spraying the football all over the place, didn't seem nearly as comfortable in the pocket as he did during his time at Delaware and his overall accuracy suffered because of it. And the main culprit? Well, he was taking snaps from under center. Devlin took nearly all his snaps from the gun over the past two seasons and was rarely asked to read a defense and decipher information in his drop, quickly get away from under center before balancing his footing and striding into a throw. Today he looked fidgety and uncomfortable trying to maintain balance in his lower half while still attempting to get the ball out on time. Most media sources will likely end up killing the guy for his struggles in day one, but in my view it's just part of the learning curve for a quarterback who is making the move from a college spread to more of a traditional NFL offense.
• Lehigh OL Will Rackley displayed some natural body control, fluidity and change of direction skills during one-on-one drills today and what was even more impressive was the fact that he was playing at right tackle — the opposite side where he played his college ball the past four seasons. He looked a bit uncoordinated with his punch and didn't do a great job really extending his arms and gaining leverage on his target. But, his natural movement skills were impressive in my view and I expect him to continue to get better and better throughout the week. He's an intriguing small-school guy with some upside who can make a roster and possibly fight for playing time with some development.
• I've been impressed with Richmond CB Justin Rogers all year and he made another nice impression on me during 11-on-11 today. He's still developing with his footwork when asked to play near the line of scrimmage in man and sit into his drop — something he didn't do often in college. However, as an off/zone guy, he displays an impressive initial burst out of his breaks, keeps his pad level down, doesn't waste much motion when asked to click and close and has a nose for the ball. He's a bit scheme-limited and looks better suited to play on the inside, but he's an intriguing small-school defensive back nevertheless who showed well at first glimpse vs. the jump in competition.
• Finally, Central Florida defensive end Bruce Miller really had a tough time disengaging from blocks in all areas of the game this afternoon, a trait which I think will ultimately keep him from making an NFL roster. He's an undersized kid with a good motor, but his real downfall is his short arms, as he fails to gain leverage consistently at the point in the pass game and can easily be stonewalled and contained through the play.