January 19, 2011 -
National Football Post
East-West Shrine practice review: Day 3
A breakdown of the top performances and some overall impressions from the East squad on day three of East-West Shrine game preparation.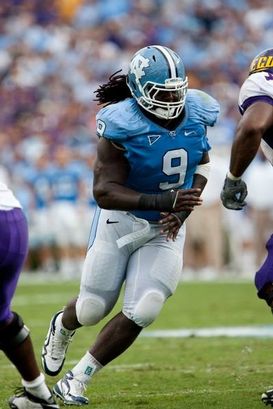 ICONHow will concerns about his character affect UNC's Marvin Austin?
North Carolina defensive tackle Marvin Austin is the one prospect down here who LOOKS like a big-time draft pick. He's well strapped together, possesses a good first step off the snap and exhibits the kind of power to overwhelm through contact. However, he isn't a real natural pass rusher, plays a bit linear and doesn't use his hands well enough to consistently disengage from blocks. Now, to his credit, the guy has the ability to anchor inside, eat up blocks and has been a really tough guy to move all week during 9-on-7 and 11-on-11 drills. And his upside is very high if he wants to put work in, but with the character concerns, I have severe doubts about him ever living up to his potential and ever becoming more than a very average starting lineman in the NFL who you are always trying to get more out of.
One defensive back who continues to stand out in my mind is Buffalo corner Josh Thomas. He's a fluid defender who possesses good initial explosion out of his breaks, closes really well and is a tough kid to really separate from in coverage. He, at times, is a bit slow to snap his head around and locate the football, but he's an intriguing athlete nevertheless with natural balance who has separated himself from most of the corners on the East squad.
The other corner who has been very good this week is Richmond's Justin Rogers, who I wrote about yesterday because of his off coverage ability. For a guy who hasn't been asked to press much during his time at Richmond, he was much better than expected today. He did a nice job extending his arms, maintaining his balance and fluidly opening his hips in order to widen the receiver's angle outside and then find the football. Coming in I thought he was the most NFL-ready small-school corner in the draft and he has done nothing to change my opinion.
Speaking of small-school prospects, Mt. Union wideout Cecil Shorts has done little to really stand out this week. He's a thicker guy than I initially thought, but he simply hasn't displayed a real explosive element to his game, struggling to consistently separate out of his breaks in man, isn't real shifty off the line when asked to beat press and overall just doesn't seem like a real dynamic athlete to me. To his credit he did a nice job adjusting to a throw over his outside shoulder and tracking the football vertically. But for a small-school guy who had a chance to come in and jump out vs. the jump in competition, I thought he has been very blah.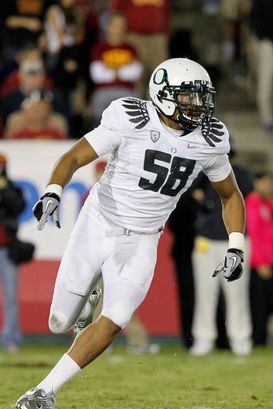 ICONOregon's Kenny Rowe may have a tough time making a roster.
On the defensive side of the ball, Oregon pass rusher Kenny Rowe hasn't been real impressive either. He possesses only a slightly above-average first step, and he's a linear athlete who struggles to cleanly/quickly change directions and counter off the edge. Offensive tackles can consistently overplay his outside rush and he's just very limited in what he can offer as an NFL pass rusher. Then, when you add in the fact that he's undersized and isn't a guy who looks fluid enough either to drop off into coverage as a 3-4 outside backer, he simply strikes me as a guy who is going to have a tough time making a roster.
Finally, as an athlete, I still think Florida Atlantic wideout Lester Jean is the most impressive kid down here at the position. He's long, gets up to speed quickly, can run well for his size and has some natural fluidity to his game. However, as a receiver at this stage, the guy is still a work in progress. He flashes some intriguing talent when asked to go get the football and can separate out of his breaks. But, he's not a real natural receiver plucking the football off his frame, isn't real savvy consistently getting off press and isn't nearly as polished as a similar wideout down here in LSU's Terrence Toliver. I still think he has enough size/speed and overall athletic ability to be worth a later-round developmental type draft pick, but he's going to need some time.
Follow me on Twitter: @WesBunting