January 20, 2011 -
National Football Post
East-West Shrine practice review
A breakdown of the top performances and some overall impressions from the West squad on day three of East-West Shrine game preparation.
• One of the real unsung standouts yesterday was South Carolina fullback Pat DiMarco. He's a strong, well-put-together kid who displays good natural strength to his game and solid body control for the position. He was very impressive during pass protection drills, exhibiting good patience into contact, a strong pop at the point of attack and was consistently able to gain leverage on his opponent and move his feet through contact. DiMarco also displayed some savvy to his game as a pass catcher, setting up his routes nicely and being sharp and precise in order to gain separation despite lacking an ideal initial burst. Plus, the guy plucked the football well away from his body and looks like another senior fullback who might not get drafted but will be in a camp and could end up fighting for a job as a team's guy and starting lead blocker in the NFL.
• It was a mixed bag for Cincinnati wideout Armon Binns, who showcased some of the best range and overall length of any receiver in Orlando when asked to go get the football. He possesses natural coordination, adjusts to the football well and knows how to make a play on the throw. However, with that being said, he isn't a real shifty/sudden athlete, struggles to get up to speed quickly and had a tough time getting off the line and quickly getting into his route vs. any kind of press coverage. He's definitely not a wideout who can play on the outside at the next level and separate, and I have some questions about his overall toughness and willingness to work the middle of the field as a bigger slot guy. But if he's willing he still set seems like a good fit as a big inside wideout who can go up, get the football and move the chains for you in the pass game.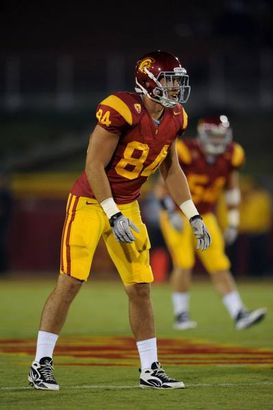 ICONUSC TE Jordan Cameron has shown as well as any prospect in Orlando this week.
• Southern Cal tight end Jordan Cameron has had a really impressive week for himself in Orlando and you could make the argument he's shown as well as any prospect down here at any position. Cameron is a former basketball player who does a surprisingly nice job taking a positive first step off the line, keeping his base down and has the lateral quickness and fluidity to cleanly slip the bump and get into his route. He runs well for his size, can threaten defenses on vertical routes and does a nice job adjusting to the throw. Plus, for a guy who only took up the position recently, he has some natural fluidity and balance on more sharply breaking routes and has really made himself some money this week.
• One small-school defensive back I am warming up to is Citadel corner Cortez Allen. He's a tall, long-armed kid who is at his best up near the line of scrimmage where he does a nice job in press man. He was consistently able to get into the frame of opposing receivers, re-route them off the line and uses his length well to consistently get his hands on the football. Now, he is a high-cut defender who gets too upright too easily at times in coverage and does struggle to quickly get back up to speed out of his breaks and generate a good closing burst, giving up some separation initially. And he's not an off corner by any stretch, as he needs to get his hands on receivers in order to be effective, but he did open my eyes yesterday as a possible press corner and is worth a later round pick, especially if he runs as well as many think he can.
• Finally, I got a chance to talk with Oregon defensive lineman Brandon Bair after practice this week and the guy comes off as a good-spirited, high-energy kid. His motor has been running on full tilt all week and his refusal to be blocked through the play is one of the biggest reasons why he has been able to make some plays during 1-on-1 drills as a pass rusher. However, he is a tall kid who struggles to consistently pass rush with leverage and is easy to get under and work away from the play. He's got a great frame, a pretty good first step for his size and for a tall lineman can sit into his stance with good bend. But, I think he's better suited to add some weight and continue to get stronger, which ultimately could/should allow him to end up as a five-technique at the next level, a spot that I think best fits his skill set.
Follow me on Twitter: @WesBunting