January 13, 2012 -
National Football Post
East-West Shrine Prospect Preview
With the NFP ready to head out Sunday for our annual All-Start game circuit, we preview the East roster and breakdown which prospects will be worth a look this upcoming week in St. Petersburg, Florida.
Top prospects…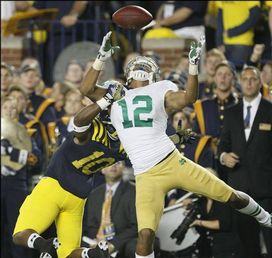 ICONBlanton is a solid size/speed corner.
QB B.J Coleman: Tennessee-Chattanooga (6-4, 220)
He needs to improve his footwork from the gun and from center before he's ready for the NFL game. However, Coleman has a good skill set, can make all the throws and is an intriguing developmental kid with a "plus" upside.
CB Robert Blanton: Notre Dame (6-1, 200)
Is a nice sized kid with some press man skills and upside. Is a bit scheme limited, but he's a good size/speed athlete who can re-route off the ball and as some starting upside.
H-back Evan Rodriguez: Temple (6-3, 250)
Rodriguez isn't a guy who's going to get drafted overly high. However, he's got the potential to fill a number of roles on an NFL offense in both the run and pass game, can create some mismatches as a pass catcher and develop into a core special teams guy early on.
WR B.J. Cunningham: Michigan State (6-2, 215)
Isn't real dynamic of an athlete and it takes him a bit to build speed. However, he can box out defenders, go get the football and break tackles after the catch.
OG Derek Dennis: Temple (6-5, 328)
Is worth a pick because he moves so well for a 325-pound lineman. Needs to learn to play lower though if he ever hopes to be anything more than a reserve. However, his fluidity on the move says he has a chance to mature into a starter.
Underrated prospects…
WR Danny Coale: Virginia Tech (6-0, 200)
A try-hard guy with a feel of the game who could endear himself to a coaching staff, but doesn't warrant more than a late round/free agent grade.
RB Tauren Poole: Tennessee (5-10, 215)
A thick, strong back who runs hard and displays natural one-cut ability. Runs a bit high and isn't overly fluid making defenders miss. But can break tackles, play on third down and looks like a solid contributing NFL back.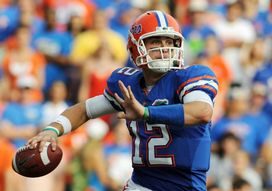 Brantley could help himself with a big week.
WR Lance Lewis: East Carolina (6-3, 209)
A big guy who can line up both inside and out, cleanly get out of his breaks and track the football. Lewis isn't overly dynamic, but has good play speed tracking the football and is guy who could mature into a starter, but more so as a prominent reserve.
Who needs a big week…
QB John Brantley: Florida (6-3, 219)
Does a lot of things well, but doesn't always trust what he sees. Needs some time, but is worth a developmental grade and late round/priority pick.
OG Rishaw Johnson: California (PA) (6-4, 308)
Possesses good size, but technique is a major issue and I don't know how willing he's going to be to work at his trade. Doesn't look real fluid/quick laterally in the pass game as well and in my view isn't a draftable kid.
OLB Brandon Lindsey: Pittsburgh (6-2, 250)
A good athlete with a compact frame who knows how to get after the quarterback in a number of ways, but isn't dynamic in any area. Doesn't look like a playmaking type pass rusher, but his lateral quickness will give him a shot as a rush backer.
Follow me on twitter: @WesBunting
Check out the NFP Draft page here...