January 14, 2012 -
National Football Post
East-West Shrine Prospect Preview
With the NFP ready to head out Sunday for our annual All-Start game circuit, we preview the West roster and breakdown which prospects will be worth a look this upcoming week in St. Petersburg, Florida.
Top prospects…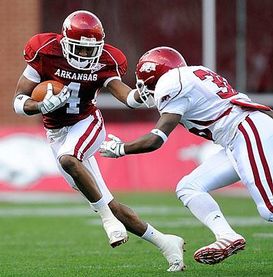 ICONWright will make defenders miss after the catch.
OT Markus Zusevics: Iowa (6-5, 300)
A "plus" run blocker who more than held his own in the pass game. He quickly gets off the football, generates a snap into contact and improved his pad level into/out of his stance as the year went on. Zusevics looks like a potential starting caliber offensive lineman -either at guard or tackle- in the NFL with a year or two of seasoning, but has limited upside.
WR Jarius Wright: Arkansas (5-10, 180)
A coordinated athlete who is sharp as a route runner, tough over the middle and knows how to get open vs. man and zone. Will get re-routed vs. press at times and looks more like an inside player at the next level, but has the skill set to make a roster and carve out a big niche early.
WR Devon Wylie: Fresno State (5-9, 185)
Is limited a bit by his size, but is the kind of cat-quick slot guy with great ball skills who can make a living in the NFL. The major positive with him is that he also has very good speed as well.
CB Shaun Prater: Iowa (5-11, 185)
Is still developing his feel in zone and needs to add more weight. However, he's smooth, fluid and coordinated in his drop and out of his breaks. Has a chance to start in the NFL, more of a zone corner though.
QB Chandler Harnish: Northern Illinois (6-2, 220)
A gritty quarterback prospect who is accurate and can move the chains with his legs. A typical overachieving MAC QB who has been told all his life he's not good enough, but has enough to mature and develop into a reserve at the next level.
Underrated prospects…
RB Bobby Rainey: Western Kentucky (5-8, 205)
I think he could get some looks as a situational type back who can be used in space effectively at times. However, despite his production, I think at best he's a later round pick who is going to have a find a niche early on where he can make plays and be dynamic if he hopes to stick on an NFL roster. My guess would be either as a return guy, a situational guy in the pass game or even on kick coverage.
DT Dominique Hamilton: Missouri (6-5, 305)
Plays the run much stronger than his frame would indicate. He's got a burst off the snap, plays with leverage and extends his long arms. Has the frame to add 15 to 20 pounds and could get some real looks as a 43 nose or even a five-technique in a 34 if he stays at 305. Either way, if he can stay healthy he looks like an intriguing 34 prospect because of his ability to win vs. the run. If he continues to improve, certainly looks worthy of a pick and a roster spot.
TE George Bryan: North Carolina State (6-5, 265)
An NFL caliber "on the line Y", he isn't a dynamic pass catching option but has the ability to make plays underneath and at least threaten the seam and can develop into a plus caliber run blocker. Isn't quite dynamic enough to start in the NFL, but could end up being one of the better reserves at the position on the next level.
Who needs a big week...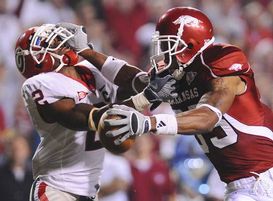 ICONChilds needs a big week to improve his stock.
WR Greg Childs: Arkansas (6-3, 217)
He knows what he is and plays to his strengths. Looks like a big, coordinated possession type receiver at the next level who can win in the three-step game and create some big plays for a team in jump ball situations as well. However, needs to prove he is fully healthy, which could really hurt his draft stock.
ILB Tank Carder: Texas Christian (6-3, 237)
Lacks the athleticism needed to play in space and isn't the kind of "plus" power guy to overcome his deficiencies inside. Looks like an overachieving inside guy to me who you can't count on as a starter.
FS Aaron Henry: Wisconsin (6-0, 210)
A good-sized kid with some natural cover skills and range, but is still learning the mental nuances of the game. Still developing at the position, but skill set says potential starter.
Follow me on twitter: @WesBunting
Check out the NFP Draft page here…