January 20, 2013 -
Erik Oehler
Eight offensive players to watch in the Senior Bowl
Now that the Conference Championship Games are completed and the Super Bowl is right around the corner, the scouting world turns their attention to Mobile, Alabama for this year's edition of the Senior Bowl. This past weekend all the invited players arrived in Mobile, so that on Monday they can go through the first padded practices in preparation for Saturday's Senior Bowl Game. More than 1000 NFL personnel will be in Mobile watching every rep of practice closely. Below we give a short synopsis of eight offensive players NFL teams are excited to watch this week.
1. Ryan Nassib, QB, Syracuse (6020, 228 and 5.05): Already rising up draft boards, NFL personnel are excited to see Nassib matched up with the best senior talent in the country. Quick and athletic to avoid pressure, re-set and make accurate throws, Nassib has NFL teams intrigued. After charting out Nassib in five games we consider him to be the best quarterback in the 2013 NFL Draft and worth drafting with the first overall pick, so we are excited to see how he does in Mobile. Blessed with a strong arm, the ball bursts out of his hand and he can make 15+ yard throws with zip even when a defender is about to hit him and he cannot stride into his throw. Having played in the Big East where the defenses are not the same caliber as the SEC and some of the other conferences, NFL teams are interested to see how he does against top defenders. The big thing that Nassib must work on is his deep passing as he tends to put too much air under his throws which forces his receivers to slow up and wait for the ball. This allows the defensive back to close and make a play on the ball. He could be the story of Mobile if he has a strong week and begins climbing up into the high first round.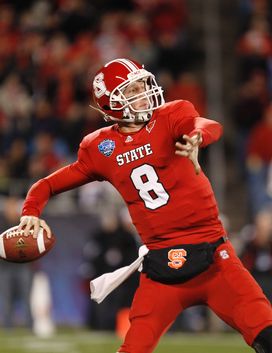 US PRESSWIREN.C. State QB Mike Glennon about to launch a pass down the field.
2. Mike Glennon, QB, N.C. State (6072, 225 and 5.15 E): Perhaps the quarterback that has NFL evaluators the most split, Glennon gets a chance to prove he should be a first round pick. With a cannon arm and flashes of excellent accuracy, Glennon's upside is what has many NFL teams excited. However, inconsistent accuracy, production and too many interceptions are a big red flag. A big week could put Glennon in position to be the 1st QB drafted, although we do not rate him as a first rounder. As I spoke to NFL personnel people in recent weeks, many told me that on film Glennon reminds them of Falcons' QB Matt Ryan when he was at Boston College.
3. Tyler Wilson, QB, Arkansas (6016, 210 and 4.85): A breakout 2011 season had many, including us, expecting Wilson to improve in 2012, finish his career on a high note and challenge to be the first QB selected. However, Wilson had trouble producing at the same level with a new head coach and offensive system. Still an accurate passer with the quick release and arm strength to make every NFL throw, Wilson has all the physical tools except the ideal height to be a high end NFL QB. Breaking down the 2012 film, it looks as though Wilson struggles to consistently read the defense while going through progressions which led to him throwing passes that safeties were consistently able to close and make plays on. A big week could vault Wilson to the top of the QB rankings.
4. Andre Ellington, RB, Clemson (5093, 195 and 4.45 E): A dynamic play-maker with excellent open field running skills, Ellington needs to prove he is worthy of a high draft pick despite his lack of good size. Naturally instinctive with good vision/instincts, he finds creases/holes and has the explosive cutting ability to get to and through it in a flash. Soft, natural hands and good receiving skills make him a valuable receiver from both a running back and slot receiver alignment. In today's NFL, players who can catch passes and make big plays from different alignments have tremendous value. Ellington needs to show NFL teams that he can be that versatile weapon in order to justify being a second round pick.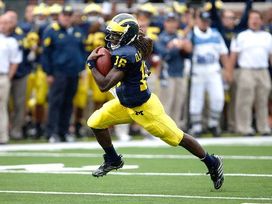 Denard Robinson doing what he does best, making a big play running with the ball.
5. Denard Robinson, WR, Michigan (6000 E, 196 E and 4.40 E): After an outstanding career as a run first QB at Michigan, Robinson now has to prove he has the hands and receiving skills to make the conversion to receiver and possibly third down back. Even though he lined up as a receiver and running back at times, he did not do it enough to convince teams he can become a starter in the NFL. Additionally, NFL teams want to get a close look at him to try and determine if he has the frame to be a durable NFL player. The big question in my mind is whether Denard will become the next Antwaan Randle-El or Eric Crouch?
6. Vance McDonald, TE, Rice (6050 E, 255 E and 4.65 E): As tight ends like Rob Gronkowski and Jimmy Graham are in more demand, the search for big play, receiving tight ends never ends and McDonald has the physical tools to warrant inclusion in that group. A tall and versatile offensive weapon, McDonald has made big plays catching passes from different alignments. While his offensive production does not compare with some of the top tight ends in the country, his combination of size, athleticism, speed and hands is better than most. This game gives McDonald a similar opportunity to the one that Jimmy Graham had when he came to the Senior Bowl viewed as a raw, but very gifted prospect.
7. Oday Aboushi, OT, Virginia (6051, 315 and 5.15 E): Although not one of the big names that the media has been hyping as a first round pick all season, Aboushi comes to Mobile with an opportunity to secure a spot in the opening round. With good height and solid build, Aboushi looks the part of an NFL OT "on the hoof." When his size combines with his smooth athleticism, good technique and competitiveness, he has all the tools to be a good starting left tackle in the NFL. Additionally, Aboushi brings his "hard hat" to the field every day and displays the take no prisoners attitude that I expect from an OT who grew up in Brooklyn, NY.
8. Eric Fisher, OT, Central Michigan (6071, 297 and 4.95 E): Perhaps the player in position to make the most money at the Senior Bowl, I believe Fisher will play so well that he will secure a spot in the top ten. When Jake Matthews and Taylor Lewan choose to return to school for their senior season, Fisher was given the opportunity to jump up and claim the spot as the number two OT. Possessing excellent height and long arms, Fisher has rare athleticism for a 6'7 OT. He makes it look easy sliding out to protect the corner vs edge rushers, can re-direct and slide in the other direction to handle quick pass rush moves back underneath and is outstanding pulling and adjusting to block out in space. Considered a better OT prospect than former Central Michigan OT Joe Staley, Fisher could lock up a spot in the top ten with a dominating week in Mobile.
Email Russ at Russelllande@yahoo.com and Follow Russ on Twitter @RUSSLANDE