November 18, 2010 -
National Football Post
Evaluating Cam Newton's draft stock
Auburn quarterback Cam Newton has not only taken college football by storm this season, but his impressive play week in and week out has suddenly caused many NFL talent evaluators to work some overtime in the likelihood that he decides to come out early. However, with a barrage of character concerns now being brought to the forefront surrounding Newton, the question remains: Is he really the type of prospect everyone in the media is making him out to be?
The National Football Post breaks down the game of Newton and puts our spin on him as an NFL draft pick.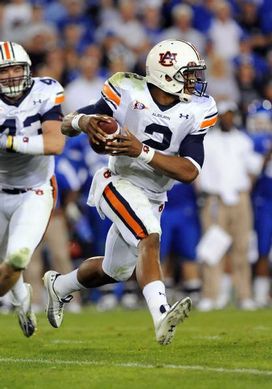 ICONNewton is a bear to bring down in the open field.
Size/Athleticism
At 6-6, 250 pounds, Newton possesses great size for the position. He stands tall in the pocket, keeps the ball held high and doesn't have any type of trouble seeing over the line of scrimmage and viewing the entire field. Plus, he's a strong kid with natural flexibility in his lower half. Displays the ability to consistently keep plays alive with his legs, showcases impressive lateral quickness and balance for a guy his size and accelerates extremely well out of his breaks. He possesses the type of strider speed to pick up yards in chunks once he gets into the second level and has the type of demeanor to finish runs. Does a nice job in short-yardage situations, being patient, dropping his pad level level and simply bulling for tough yards inside while consistently being able to shrug off defenders in the pocket, keep plays alive and create once he breaks contain. He's a major threat any time he's able to get into the open field and can really hurt you with his legs.
Arm strength
Simply put: the guy has the ability to make all the throws with ease. I can't wait to see Newton's hand size because the way the guy is able to grip and rip the football is as good as it gets. He generates good torque from his lower half when he's able to step into his throw, transferring his weight well from his back foot and really produces a lot of explosion through his upper body when he lets go of the pass. He spins a clean football, as passes really seem to jump out of his hands, especially when asked to make plays in the intermediate pass game and down the seam. He showcases the velocity to consistently fit throws into tight areas, but never seems to be pressing of trying to overthrow the ball.
Also, looks very strong and natural on the move. Possesses the type of balance to again generate a lot of torque from his hips and core when asked to roll out, unleashing for the most part a tightly spun throw outside the numbers.
Footwork/mechanics
The one thing that really sticks out to me is how quickly this guy is able to reset his feet and get the ball out of his hands. He showcases good balance in the pocket, keeps the ball cocked and ready to throw, and in an instant he can just cleanly rip off a strong throw.
However, he does have a tendency to not really stride into throws with his front foot at times in the face of pressure. Seems content to short step throws and get rid of the football before the pressure is able to reach him, causing his accuracy and ball location at times to suffer. But there are quite a few instances where he was able to complete the throw with ease at the second level and fit the football into a tight window even when not ideally transferring his weight.
He will also get sloppy when asked to work off the play-action game and boot outside the pocket, getting lazy with his core and overall footing and simply just using his arm to complete throws and failing to maintain his balance through the play. A lot of his inaccuracies in the short passing game are a direct result of this. He also will get lethargic with his footwork at times when asked to throw one of his many bubble screens throughout the course of game, allowing himself to get upright and doesn't consistently drive off his back foot, routinely just throwing with his upper body and loosely swinging his back foot toward the target.
Does take the majority of his snaps from the gun and will need to learn to how to work more predominantly from under center. However, in his limited opportunities working off play-action from under center, he showcases good balance and poise selling his fake and looks very coordinated throughout the process. But at times seems rushed trying to get his eyes around and will start to turn his body prematurely, instead of carrying out the fake and really snapping his head around before setting to throw. However, he is an athletic enough kid to certainly handle all the intricacies of taking snaps from center given more time to develop.
Ball location
When Newton steps into his target and doesn't get lazy with his footwork his ball placement is just fine. And in all honesty, even when he takes that short step in the face of pressure he can still make some big-time throws down the field. He spins a clean, tight football, is accurate in the pocket and can fit the ball through traffic into some very difficult windows that a lot of NFL quarterbacks wouldn't dream of.
His lack of ideal ball placement seems to show up more in the underneath pass game, where he can get lazy with his mechanics and footwork and still complete throws because of his strong arm. This is where at times he will throw slightly behind receivers in the bubble screen game or when asked to boot, which really cuts down on his receivers' run after the catch ability. However, when focused he seems to take much more pride in being fundamentally sound. So really it's more of a case of him being inconsistent throughout stretches of the game and simply maturing in that area.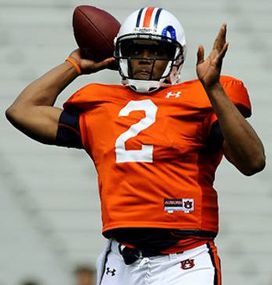 He's come a long way in a short amount of time.
Understanding
For a guy who doesn't have a ton of experience playing at the FBS level he really has shown well for himself at times this season understanding his offense and breaking down opposing teams' defenses. There were times on tape where he worked his way across the field and found a second or third option on the sideline. There were times he looked down the field, took care of the football and checked the play down to a back. And there were times where he was able to escape pressure and on the move find a secondary option, not forcing the football. So the capability is there, it's just being able to do it at a more consistent rate.
Although he still seems more like a one-read guy at this stage in the pass game, he does do a nice job hiding his eyes and not too quickly showing his hand. Seems more content to look at the direction of where he wants to throw the football off the snap than actually staring down his read throughout the play. However, when asked to make plays down the seam he does do a nice job locating the safety, being patient and then quickly letting go of the football. Also, his timing is pretty solid as well. He has the ability to throw receivers open vertically down the field, but looks more content to hold onto the football and let his receiver uncover on more sharply breaking routes — especially the dig. However, again, the idea is there.
Does have the ability to get his team in and out of a play at the line if he doesn't see something he likes, but every time I saw him check at the line it was to a run.
Character/"It" Factor
I have never talked with the kid, so take this with a grain of salt. But, from watching his demeanor on the field, his composure in those close SEC games he's played this year and that infectious smile, he seems like a kid who can rally the troops and who his teammates want to play for. The guy is a winner. He has a national championship at Blinn College, is guiding his football team through the teeth of the best conference in America with a perfect record and is doing so while being the key man everyone is trying to shut down. So, on the field character looks pretty high.
However, when looking at some of the off the field issues surrounding Newton, there is certainly a track record…
Newton has had plenty of questions to answer in recent weeks.
-Faced felony chargers for burglary, larceny and obstruction of justice for being in possession of stolen property at Florida - a laptop- and then throwing it out a dorm window (Charges were later dropped after a pre-trial intervention for 1st-time offenders). Was suspended by the Florida football team as a result.
-Was accused of cheating — according to sources — three times during his time at Florida and even faced potential expulsion because of it.
- Had been said to have left the Florida program because of the return of QB Tim Tebow, which would have cut down on his playing opportunities. However, he was not even enrolled for college classes at Florida at the time Tebow made the decision, according to sources.
- He and his father are each surrounded in the controversy of possibly asking for a pay-for-play plan while (Cam) Newton was being recruited last offseason.
Overall
The skill set is there for this guy to be as good as he wants to be. He's a great-looking piece of clay, has all the tools, can make all the throws and has the kind of athletic ability that is rare at the quarterback position in the NFL today. Now, he's still a work in progress in terms of the finer points of the game, as he gets inconsistent with his mechanics at times and is still learning how to decipher information and more consistently work his progressions across the field in the pass game. However, there have been glimpses of him trying to do the right things and I think with some time and good coaching he definitely has the ability to mature in those areas.
As for the character concerns, he has definitely made some mistakes. Some could be as a result of him simply being young and dumb, some could have been caused from family and financial pressures, but the facts speak for themselves and there is some kind of a track record there.
Therefore, when trying to decide if Newton is a hard-working kid — which he appears to be — who loves the game — which also appears to be true — who has simply made some mistakes in his life, I think the best way to figure that out is simply by looking the kid in the eye and getting a feel for him during workouts and meetings. And I think he's a player you either have a gut feeling about or not.
Again, I have not had that opportunity yet, but as of now I don't think I would feel 100 percent comfortable drafting this kid with a high first-round pick, which is what I ultimately think will end up taking to land him come draft day. Now, my mind could still change, but as of now looking over the facts there is simply too much that goes into the development of becoming a great quarterback in the league and some of his past immature efforts are just enough to make me look elsewhere at the QB position when trying to identify my new future signal caller if I need to invest first-round money in the kid.
My Grade
6.6: Clean player who is inconsistent in his play due to character, alertness or competitiveness…Has all the physical tools needed to become a starter…If he overcomes his deficiencies he will be a star in the league…If he doesn't he will be a complete failure — There is NO middle ground!
What round?
I don't think there is any way this guy makes it past the first round. However, like I stated earlier, I just wouldn't feel comfortable taking Newton in round one at this stage. He seems like a much safer pick in round two where the financial investment isn't nearly as high, which is why I would give him a second-round grade as of today.
Follow me on twitter: @WesBunting