September 18, 2013 -
Jason Cole
Exclusive: Hollywood Park attracts interest from NFL…again
A handful of NFL teams continue to show interest in moving to Los Angeles, with another oldie-but-goodie idea being recycled.
Like most ideas in Los Angeles, it is unlikely to happen.
Three NFL sources said that at least two teams have spoken with the owner of the soon-to-be-closed Hollywood Park horse racing facility in Inglewood to see if the team can either buy the 260-acre property or get the owner to build a stadium.
In addition, the league itself likes the Hollywood Park site because it believes it could easily house two teams as well as studios and offices for NFL Network and possibly a west wing of the Pro Football Hall of Fame.
According to all the sources, Oakland, San Diego, St. Louis and Jacksonville all have the ability to get out of their lease agreements either after this season or after the 2014 season. While those teams have all said publicly they would like to stay where they are, that hasn't stopped them from doing research in Los Angeles.
Or, in this case, checking those sites for a third or fourth time. In the early 1990s, late Raiders owner Al Davis tried to build a new stadium on the Hollywood Park site. When the project failed, Davis returned the Raiders to Oakland.
Nearly 20 years later, teams have checked out Hollywood Park again after management of the track announced in May that the facility would close at the end of the year. At the time, the company announced plans for a housing, hotel and shopping center development.
That hasn't stopped teams from asking Terry Fancher, the executive managing director for Stockbridge Capital, if he'd sell or go in on building a stadium. Fancher's company owns the property.
All of the sources called that idea a long shot.
"Fancher is a commercial developer," one source said. "He either wants to build something on the location to make money himself or sell the property for a profit."
Another source said Fancher has put approximately $500 million into the property between the purchase price, upkeep and other costs since buying it approximately seven years ago. Fancher did not respond to an email seeking comment and Hollywood Park officials didn't return messages.
That likely means any team hoping to buy the site would have to pay more than $500 million for it and then still have to build a stadium. The cost of a stadium there would likely be at least $1.2 billion. That means the cost of building a stadium at Hollywood Park would be at least $1.8 billion.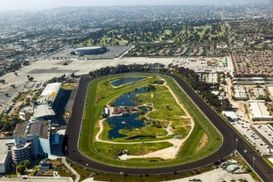 However unlikely, the NFL is looking into Hollywood Park as a potential destination for one of its teams.
Said another source: "Fancher has no desire to be an owner or part-owner of a team and doesn't want to go in with anybody on a stadium project. So you're talking about having to buy the land and add that cost on top of whatever it takes to build the stadium."
Still, Los Angeles remains firmly on the NFL's radar because of what many around the league see as tremendous upside. Many owners believe a team in Los Angeles could quickly be worth $2 billion if handled correctly.
Oakland, Jacksonville, San Diego and St. Louis are all currently valued at less than $1 billion according to the latest Forbes calculations. Oakland, San Diego and St. Louis are each looking for either new stadiums or significant upgrades to their current stadiums.
This month, San Diego owner Dean Spanos asked for a change to the city's proposed convention center expansion. Instead of expanding the current convention center that sits along waterfront property on San Diego Bay, the Chargers have proposed that a new downtown multi-purpose facility be built near there. The facility would serve as a stadium for the football team, as a possible new arena for the NCAA basketball tournament and as separate convention space.
The Chargers are willing to invest money in the development. The team has also suggested that land where Qualcomm Stadium currently sits and property where the aging San Diego Sports Arena sits could be sold to help finance the project. However, local politics in San Diego is confusing at the moment after the recent resignation of Mayor Bob Filner (he has been accused of sexual harassment). A special election has been scheduled for November to elect a new mayor.
All of that has added to the frustration for Spanos.
"Now we're talking about another 90 days or so before we can talk to someone," Spanos said. "I've lived here for 25 years. I don't want to move and I'm not going to threaten to move. But something has to get done. I've been at this for a long time and we're getting closer to the end."
Oakland owner Mark Davis recently talked openly about needing a new stadium. Davis said he hopes that can happen in the Oakland area, but admitted he is monitoring developments in Los Angeles.
Davis did not respond to a request to discuss Hollywood Park.
Hollywood Park is one of four sites that has generated the most interest in Los Angeles over the past five years. Dodger Stadium and the Los Angeles Convention Center have also been discussed, although the convention center project in downtown has lost almost all interest from the NFL because of the proposal set forth by AEG.
Likewise, Dodger Stadium isn't attractive because former Dodgers owner Frank McCourt still controls the parking lots around the stadium.
The other project is in the City of Industry, which is approximately 20 miles east of downtown.
The opinion of most people is that Hollywood Park, the convention center and Dodger Stadium would be attractive for branding purposes and for attracting a high-end fan base that would include A-list celebrities.
City of Industry could also do well by attracting fans from the Inland Empire area and Orange County.
Or as one source explained it: "At Hollywood Park, the convention center and Dodger Stadium, there's very little downside risk, but the costs are expensive either in real dollars or control of the team. In the City of Industry, there's more downside risk, particularly if you don't win right away."
Follow Jason on Twitter: @JasonPhilCole