February 06, 2013 -
Erik Oehler
February 6th – Draft Rumblings
With the 2013 NFL Combine right around the corner and the All Star Game circuit behind us, I have had the chance to talk to many scouts to find out what teams are thinking. Below is what I have heard from scouts over the last few weeks.
1. Barkevious "Kiki" Mingo, DE/OLB, LSU, Junior (6040 E, 231 E and 4.55 E): While there is no debate as to Mingo's athleticism, there definitely is a split as to where he should be drafted and how successful he can be in the NFL. An explosive athlete with rare first step quickness, Mingo can get to the turn point in a flash and has the athleticism to beat OT inside and out. However, more than a few scouts I spoke to wondered why he did not make an impact in every game he played and wasn't LSU's most productive pass rusher. Not only are NFL people split on Mingo's production, but some wonder if his lack of consistent production comes from a lack of aggressiveness and size. His tendency to get upright and lose the leverage battle hinders his ability to shed and get off blocks once they engage him. I have no doubt that Mingo's athleticism will jump out at the Combine and his Pro Day, which will lead to him being a first round pick, but to say that NFL people are split on how good of a player he will become is an understatement.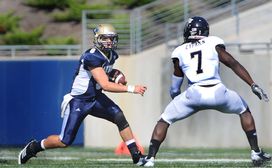 US PRESSWIREFlorida International safety Jonathan Cyprien prepares to breakdown and make an open field tackle.
2. Jonathan Cyprien, SAF, Florida International (6002, 209 and 4.55 E): Coming to the Senior Bowl, Cyprien was viewed as an intriguing second tier safety, but after an excellent week in Mobile a number of scouts told me they feel he needs to be in the discussion in the second round and could be drafted before one of the more well-known safeties like Matt Elam. Muscular and well built, Cyprien definitely looks the part "on the hoof" and once he hit the practice field in Mobile he proved he has the athleticism necessary to be productive in pass coverage in the NFL. After showing good range and coverage skills on film, scouts were happy to see him display the same traits throughout the week. Scouts were also impressed with his ability to come up the field and make last second adjustments to square up on his target.
3. Vance McDonald, TE, Rice, Senior (6041, 262 and 4.70 E): With nearly all the tight end talk centering around Zach Ertz and Tyler Eifert, McDonald was flying under the radar until he stood out in Mobile. Speaking with NFL personnel after the week in Mobile, there was clearly an excitement about McDonald's ability to be a good match-up play-maker who could align in various spots to make plays catching the ball. Although he lacks top end speed, he displayed enough of everything else to have scouts tell me that he reminds them of Rob Gronkowski. A smooth athlete who ran good routes, McDonald displayed a sense/feel for knowing how to get open and the hands to reach out and pluck the ball. While he is not going to jump over Ertz and Eifert, scouts told us they would be surprised to see McDonald make it out of the second round of the Draft.
4. Keavon Milton, TE, Louisiana-Monroe, Senior (6040, 280 and 4.90 E): Scouts have been telling us all season about Milton and now even more so because they were surprised that he was not invited to any All Star games. No one has been talking about him being a high draft pick or ever making big plays as a receiver, but numerous scouts felt that he has value in the NFL because of his dominant blocking ability. Interestingly, some NFL people believe he is best suited to be a backup tight end who contributes as a blocker and short area receiver. While others feel that he has the size, long arms, athleticism and blocking ability to slide inside and try and develop as an offensive tackle or guard. He may not get any publicity between now and the Draft because he is not going to the Combine and will not "wow" anyone with workout numbers at his pro day. However, I am confident he will be drafted by a team based on the number of scouts that believe so strongly in his potential.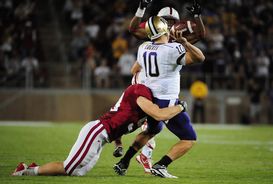 US PRESSWIREStanford's Chase Thomas sacks Jake Locker during the 2011 season.
5. Chase Thomas, OLB, Stanford, Senior (6031, 241 and 4.75 E): After a highly productive career playing outside linebacker in Stanford's 34 defense, Thomas struggled when asked to play off the ball so often as a 43 outside linebacker at the Senior Bowl. When I spoke to scouts it was amazing how the split of opinions on how he would do in the NFL was almost completely based on defensive scheme. For those teams that play 43 defenses where outside linebackers need to excel in coverage, Thomas' value is low. However, for 34 teams he is viewed as a potential starter who could be drafted as early as the third round. NFL people told us that when Thomas is going forward rushing the passer and playing the run that he looks like a future starting linebacker, but when he plays off the ball in coverage he does not look like a player who can contribute on an NFL defense. It will be interesting to see where Thomas ends up being drafted after hearing such varying opinions about his NFL potential.
Email Russ at Russelllande@yahoo.com and Follow Russ on Twitter @RUSSLANDE