April 28, 2012 -
National Football Post
Fifth round breakdown
Round five notes…
• When I watched Alabama NT Josh Chapman on tape I thought the guy was one of the few prospects in the draft capable of anchoring a 3-4 front. He fell on draft day due to medical concerns, but if he can heal up properly, the Colts got themselves a real steal to start the fifth round. Chapman has the skill set to hold the point of attack and be the man who you build a 3-4 defense around.
• I thought Coastal Carolina CB Josh Norman was a top-60 type talent. He displays a great feel in converge, wastes little motion when asked to click and close, and possesses a big frame. There were some character concerns attached to his name that likely caused him to fall, but if he can overcome those inconsistencies, Norman very well could develop into a starter for the Panthers before long.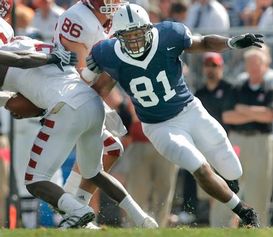 ICONPenn State's Jack Crawford could make some noise in Oakland this season.
• The Bills added a gifted athlete at the offensive tackle spot in Florida State LT Zebrie Sanders. He can mirror laterally, reach the edge and redirect in space. However, Sanders has a tough time playing with consistent leverage and anchoring on contact. He needs to get stronger to have a chance of sticking on the roster.
• New Titans DE/TE Taylor Thompson is one of the most interesting prospects in this year's draft. He's a big 6-6, 260-pound athlete who started at defensive end this year, but was asked to make the move back to tight end at the Players All-Star Classic. The Titans could use him on either the offensive or defensive side of the ball as he has an intriguing athletic skill set for a guy his size. However, long term, his best chance to make an impact looks to be at tight end.
• Washington OL Senio Kelemete played left tackle this past year for the Huskies, but will likely be moved inside to guard at the next level. On tape he showcases the ability to fire off the ball low and create a real snap into contact as a run blocker. He needs to improve his balance laterally in pass protection, but looks like a potential starter for the Cardinals long term.
• The Raiders added a big, talented defensive lineman in Penn State's Jack Crawford in round five. Crawford showcases "plus" size, length and natural power into contact. He flashes the ability to bend, but for the most part plays too upright. Nevertheless, if he can improve his overall pad level, he could certainly outplay his draft selection.
• The Steelers continue to impress, this time adding dynamic RB/WR Chris Rainey. He's a slight athlete who isn't going to be able to take the pounding of being an every-down type option. However, you can line him up all over the offense, get him the football in space and let him create in the open field. Rainey is a home-run type threat every time he gets his hands on the football and should create a ton of mismatches for the Pittsburgh offense.
Follow me on Twitter: @wesbunting