February 02, 2013 -
Erik Oehler
Final breakdown of players that shined in practices at Texas vs the Nation Game.
Now that all of the practices for the Texas versus the Nation game have been completed, all that is left for the players is to prove themselves in the game on Saturday. However, after watching three days of practice, it is clear which players helped and hurt their draft stock this week. Below is a breakdown of six players who practiced well in practice and helped their draft status. I have not included Missouri OT Elvis Fisher who had an excellent two days of practice because he injured his right knee on Wednesday, which could affect his draft stock.
1. Armonty Bryant, DE, East Central Oklahoma (6041, 262 and 4.85 E): From the first snap at practice on Tuesday, Bryant was clearly the best play on the field and that continued throughout the week. Long and linear, Bryant's explosive first step and speed enable him to consistently beat the OT to the turn point. Possessing quick feet and agility, he showed the ability to change directions in a flash to beat pass blocker inside and outside. His excellent use of his hands and long arms show up in his wide variety of pass rush moves. His play this week proved he should have been at the Senior Bowl as he has legit second/third round talent and only has to overcome questions about his off-field decision making (He was arrested on suspicion of felonious distribution of marijuana within 2,000 feet of a school in 2012) to be drafted on day two.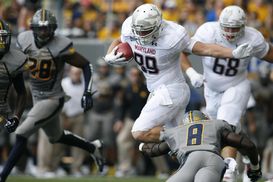 US PRESSWIREMaryland TE Matt Furstenburg runs through low grab tackle to gain yards after contact.
2. Matt Furstenburg, TE, Maryland (6035, 241 and 4.83): While Furstenburg will never win any race to be viewed as a premier speed guy, the reality is that he has deceptive playing speed. Looking effortless running routes, this week he consistently was able to run sharp routes and gained separation from coverage. Soft, natural hands combine with his body control and concentration so that he can make tough catches on off-target passes with ease. Furstenburg is not going to be a high draft pick, but after what he showed this week he would be a good middle round pick with many of the tools to become a productive receiving tight end / h-back in the NFL.
3. DeQuinta Jones, DT, Arkansas (6035, 308 and 5.35 E): Remarkable throughout the week producing from both DE and DT alignments, Jones did so with a good mixture of playing strength, hand use and athleticism. Off the edge he displayed the hand use to stay free and the quickness to defeat pass blocked and pressure the QB consistently. From both a DE and DT alignment Jones was able to jolt and drive OL blocker backwards to disrupt plays behind the line of scrimmage. Jones proved he has the athleticism to warrant being drafted, but will need to play with more leverage and consistently to have a long NFL career.
4. Lamar Mady, OG, Youngstown State (6023, 313 and 5.20 E): Another small school player, Nady's on-field improvement throughout the week of practice proved to me that he can absorb coaching fast to improve his on-field play. Quick out of stance, his ability to pass block with good base/leverage and use his hands so well to "get a good fit" allowed him to tie up and eliminate pass rushers consistently. While his pass blocking was most impressive, Nady's quickness through the LOS to block defenders on the second level was impressive. Despite his play this week, Nady is not going to be a high draft pick, but from what I saw this week he has the tools to develop into a starting guard in the NFL.
5. Uzoma Nwachukwu, WR, Texas A&M (5112, 198 and 4.55 E): Although Nwachukwu was over-shadowed by teammates, NFL scouts believe he has the skills to become a quality receiver. Surprisingly strong to fight through press and physical coverage, his ability to run precise routes allowed him to get open all week. Able to sell cornerback with sharp fakes, he made it easy getting open with double moves. Uzoma did a good job all week of reaching out and plucking the ball away from his body and of winning battles to catch contested passes. His week in Texas continued an impressive senior season, which will likely lead to him being a fourth or fifth round pick.
6. Emeka Onyenekwu, DE/OLB, Louisiana-Lafayette (6036, 254 and 4.75 E): Although he looks significantly lighter in uniform than his measured weight, his ability to play strong at the point of attack grabbed my attention first. Quick getting moving at the snap, Emeka consistently was able to dictate the play to the blocker. Using his hands well to jolt and defeat blocker allowed him to consistently pressure the quarterback and make plays against the run. Technically sound taking on run blocks with good leverage and hand use, he made it look easy holding ground versus pulling offensive linemen, could shed and make the tackle on runs towards him. Emeka was viewed as a late round flier type player before this week, but after his performance in Texas I would be surprised if he is around after the fifth round.
Email Russ at Russelllande@yahoo.com and Follow Russ on Twitter @RUSSLANDE