December 26, 2012 -
Erik Oehler
Final Look At Which Practice Squad Players To Steal
During the final week of the 2012 regular season, this is the time when well-run organizations start putting some backup players on injured reserve in order to create space on the active roster to steal a few practice squad players from other teams. This week I look at defensive players in the NFC that teams should consider signing to their active rosters because they have potential to contribute to their teams in 2013. On measureables listed, they are all verified (As in taken by someone in the NFL) unless they have an "E" next to them, which stands for estimated.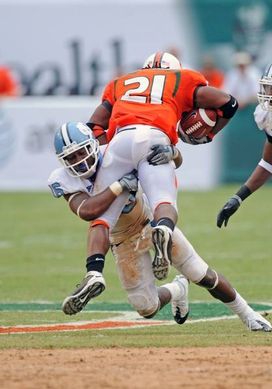 ICONKendric Burney makes a tackle against Miami when he was playing in college.
1. Kendric Burney, CB, North Carolina, Carolina Panthers Practice Squad (5090, 190 and 4.70): A "quicker than fast" cornerback, Burney was a very good college player who is still trying to overcome his lack of long speed. Naturally instinctive with a great feel for the position, Burney is quick transitioning out of pedal and closes on passes much faster than his timed speed has you expect. With a quick, compact backpedal and good all-around footwork, he is able to change directions easily and can flip hips to turn and run with receiver with surprising ease. Well built, Burney shows no hesitation coming up and making hits/tackles on plays in front of him and can be productive as a coverage man on special teams. Obviously, his lack of ideal height and top end speed limit his potential to be a premier cornerback. However, he has the physical skills, toughness and instincts to develop into a quality nickel cornerback, which is why he would be a good player to steal off the Panthers practice squad.
2. Braylon Broughton, DE, TCU, New Orleans Saints Practice Squad (6060, 272 and 4.85): Viewed as a better athlete than football player coming out of TCU, Broughton was a real developmental prospect. With excellent length, a solid, muscular build and the quickness and athleticism that are uncommon for such a big defensive end, Broughton has the tools to be a productive pass rusher and good run defender. Flashing good initial quickness and speed, Broughton has the ability to threaten the corner as a speed rusher, but to become a productive pass rusher in the NFL he will need to develop a wider variety of pass rush moves and pass rush with better effort and intensity on every snap. While Broughton has not proven yet that he has developed from a top athlete to a quality NFL player, with his talent he is worth signing from the Saints practice squad to see if a season on an NFL practice squad has led to his becoming a better football player.
3. Ernest Owusu, DE, California, Tampa Bay Buccaneers Practice Squad (6050, 270 and 4.90): Long armed and deceptively athletic, Owusu has the potential to develop into a quality backup defensive end. Quick getting started at the snap, Owusu is able to threaten the corner as a speed rusher and gets started down the line fast in pursuit. Constantly giving an excellent effort from snap to whistle, he was consistently productive against the run away and as an effort pass rusher. He is not however polished as a pass rusher and his lack of pass rush moves and ability to change directions fast hinders his ability to defeat pass blocks with secondary pass rush moves. Additionally, his tendency to get upright and high against run blockers allows them to tie him up and seal him out of the play too easily. Overall, Owusu has the height, long arms, athleticism and bulk/weight potential to develop, but is best suited to play in a 34 defense, which is why a team that plays one should sign him off the Buccaneers practice squad.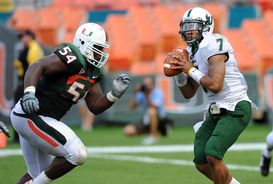 US PRESSWIREDT Micanor Regis closes in on sack against South Florida.
4. Micanor Regis, DT, Miami, Atlanta Falcons Practice Squad (6030, 305 and 5.05): Quick and agile, Regis flashed the ability to defeat blocks and make plays behind the line during his two years starting at Miami. Consistently quick off the ball, Regis shows the ability to get good gap penetration and to defeat one on one run blocks with surprising ease. Despite flashing good strength against run blocks, too often he got high after the snap, lost leverage and could be driven backwards and out of the play. For a player who seemed to produce due to athleticism and effort in college, hopefully spending a season on an NFL practice squad has improved his technique and made him quicker to identify keys to read and react to the play quicker. Overall, I would sign Regis to my team if I played a one gap defensive scheme that asked my defensive linemen to defeat blocks rather than take on and anchor in more of a two gap scheme.
5. Nate Stupar, LB, Penn State, Philadelphia Eagles Practice Squad (6020, 240 and 4.75): While the trend is definitely to find very athletic linebackers who can be playmakers rushing the passer or in pass coverage, linebackers like Stupar still have value. A technically sound player who carries out his assignments consistently, is always in good position and makes more plays in coverage than expected, Stupar has the intangibles to be a versatile backup linebacker. Smart and instinctive, Stupar consistently reads the play fast which helps him to get started towards the ball quickly and gives him much better range than expected. Even though he is not a huge linebacker, he consistently plays strong against blockers, sifts through traffic and makes a lot of tackles on running plays. Overall, if my team played a 34 defense I would sign Stupar as I believe he can develop into a quality third inside linebacker who also becomes a hard core special teams player.

Email Russ at Russelllande@yahoo.com and Follow Russ on Twitter @RUSSLANDE