April 26, 2012 -
National Football Post
FINAL MOCK DRAFT
Our final first round mock draft of the 2012 NFL Draft season…
1. Indianapolis Colts: Stanford QB Andrew Luck
Signed. Sealed. Delivered.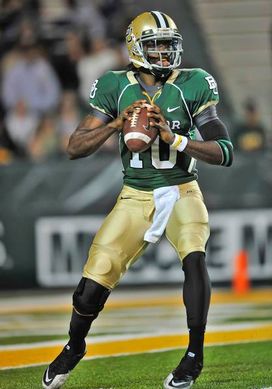 ICONIs Griffin III the answer in Washington?
2. Washington Redskins: Baylor QB Robert Griffin III
Ditto.
3. Minnesota Vikings: Southern Cal OT Matt Kalil
The Vikings go for the priority of the position and opt for offensive tackle over cornerback.
4. Cleveland Browns: Alabama RB Trent Richardson
One of the safest selections in this year's draft and could play at a Pro Bowl-caliber level from day one.
5. Tampa Bay Buccaneers: LSU CB Morris Claiborne
Is there really another option here? Claiborne has the talent to mature into one of the league's top cover men.
6. St. Louis Rams: Oklahoma State WR Justin Blackmon
Putting weapons around QB Sam Bradford is a must going forward, as they need to give their top investment every chance to be successful.
7. Jacksonville Jaguars: South Carolina CB Stephon Gilmore
Gilmore has seen his stock rise in recent weeks and now looks like a top-ten selection.
8. Miami Dolphins: Texas A&M QB Ryan Tannehill
Miami seems like the ideal landing spot for Tannehill at this time. The question is, does anyone move up ahead of them in order to secure the Texas A&M signal caller?
9. Carolina Panthers: Mississippi State DT Fletcher Cox
With a big need at defensive tackle, look for the Panthers to take the best interior lineman according to most in the draft.
10. Buffalo Bills: Alabama SS Mark Barron
The Bills are said not to be interested in an offensive tackle in round one if it's not Matt Kalil. Therefore, with Gilmore gone, Barron or Kuechly looks like the pick.
11. Kansas City Chiefs: Boston College ILB Luke Kuechly
Memphis DT Dontari Poe is a possibility here, but the Chiefs could opt for the safer pick.
12. Seattle Seahawks: Syracuse DE Chandler Jones
Jones is a name who is flying up draft boards now and with Kuechly off the board, Jones makes a lot of sense.
13. Arizona Cardinals: Notre Dame WR Michael Floyd
The Cardinals were at their best with a pair of big time receivers on the outside. Floyd could make wideout Larry Fitzgerald a very happy man.
14. Dallas Cowboys: Stanford: OG David DeCastro
With SS Mark Barron off the board, from what we are hearing DeCastro is the number two guy in line on the Dallas draft board.
15. Philadelphia Eagles: North Carolina DE Quinton Coples
DE Chandler Jones is a name we are hearing in connection with the Eagles, but if he's gone they might look at a similar type prospect.
16. New York Jets: South Carolina OLB/DE Melvin Ingram
Ingram adds the ability to play all over the Jets front seven and rush the passer from a number of spots.
17. Cincinnati Bengals: Alabama OLB Courtney Upshaw
Hearing there aren't a ton of teams out there that think Upshaw is a first round talent, but the Bengals are one of them.
18. San Diego Chargers: LSU DT Michael Brockers
Brockers could end up being the steal of the draft.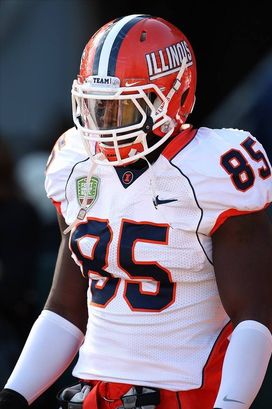 ICONMercilus to the Bears is building momentum.
19. Chicago Bears: Illinois DE Whitney Mercilus
All indications point to the Bears adding a pass rusher. Size/speed is a big sticking point in the Chicago draft room and Mercilus is an intriguing combination of the two.
20. Tennessee Titans: Boise State OLB Shea McClellin
He can play ILB on run downs, stand up and rush the pass from a two-point stance on third down or play as a wide nine guy, making him an ideal fit in Tennessee.
21. Cincinnati Bengals: Alabama CB Dre Kirkpatrick
The Bengals could be in position to package this pick in an attempt to move up, but with need at corner, the falling Kirkpatrick makes sense here.
22. Cleveland Browns: Oklahoma State QB Brandon Weeden
Weeden to the Browns makes sense. However, it could be here or at the end of round one if they want to trade back in.
23. Detroit Lions: Iowa OT Riley Reiff
Reiff has a chance of falling on draft day.
24. Pittsburgh Steelers: Ohio State OT Mike Adams
Despite some off the field concerns, Adams has the kind of talent to start early in his NFL career.
25. Denver Broncos: Memphis DT Dontari Poe
There are some major questions about Poe's game, but the guy is a talent and he could go as high as 11 to the Chiefs.
26. Houston Texans: Georgia Tech WR Stephen Hill
When speaking with one NFL official, he said there is no way Hill falls outside of the first round.
27. New England Patriots: Clemson DE Andre Branch
Branch offers New England the ability to rush from either a two or three point stance and gives them a lot of versatility on third down.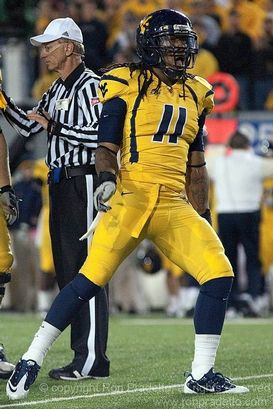 ICONIrvin is a hot name at the end of round one.
28. Green Bay Packers: West Virginia OLB Bruce Irvin
Irvin is a hot name because of his ability to fly off the edge and force quarterback to step up in the pocket.
29. Baltimore Ravens: Alabama ILB Dont'a Hightower
Hightower could go a lot higher than this, but if he's there at 29 he makes a lot sense for the Ravens.
30. San Francisco 49ers: Wisconsin OG Kevin Zeitler
Hearing that if no one falls to the Niners, Wisconsin OG Kevin Zeitler is their "safety pick."
31. New England Patriots: Connecticut DT Kendall Reyes
This pick very well could be traded, but if not we hear New England does have some interest in Reyes at some point.
32. New York Giants: Georgia OL Cordy Glenn
The Giants are known for ignoring all needs and simply taking the best player available.