April 26, 2011 -
National Football Post
Final stock watch: offensive fallers
A rundown of the top five players who seem to be generating some negative buzz as we approach draft day.
Click here to check out offensive risers...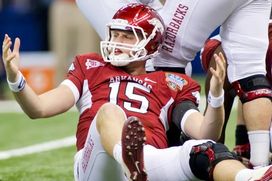 ICONMallett's off the field character has some teams concerned.
QB Ryan Mallett: Arkansas
As talented as Mallett is, the off the field/character concerns just really seem to be piling up on him. I still think there's a chance he goes in round one, but I wouldn't be shocked at all if he gets passed over until round two.
RB John Clay: Wisconsin
Clay is a nice college running back. However, in terms of pro potential he's simply limited. There isn't much wiggle to his game, he plays at one speed and his 4.83 40 time at the NFL Combine was a real killer to his chances of potentially getting drafted.
TE Weslye Saunders: South Carolina
It's always something with Saunders. He was dismissed from the South Carolina football team in 2010, lied to NCAA officials over his involvement in the agent scandal and was unable to workout at the Combine because of a broken bone in his left foot. He ran in the 4.9/5.0 range at his pro day with the broken bone and then had surgery on April 1st to fix it, likely keeping him out of action for 4/6 weeks. There's just a lot of baggage surrounding the kid and he looks like nothing more than a late round pick at this stage.
WR Tandon Doss: Indiana
Wide out is a stopwatch position and despite possessing the physical make-up and production of being a potential top-50 pick, there are questions about Doss' speed. He ran in the 4.6 range at his pro day and could end up falling into the 4th round because of it.
OL DeMarcus Love: Arkansas
Honestly, coming into the year I thought Love had the makings of a potential late first/second round pick. He's a gifted athlete, can bend –when he wants to- and displays some natural strength. However, he's more of a jack-of-all-trades, master of none and is going to need a lot of work before he's ready to step in and play at the next level, likely causing him to fall into the mid round range.
Follow me on twitter: @WesBunting