April 25, 2011 -
National Football Post
Final stock watch: offensive risers
A rundown of the top five players who seem to be generating the most buzz with only three days left before the draft.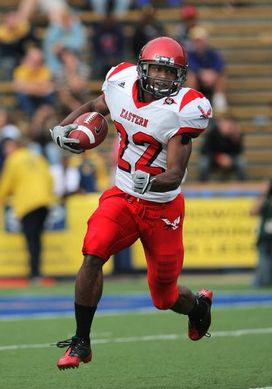 ICONJones possesses the speed to create big plays at the next level.
QB Andy Dalton: TCU
He's accurate, competitive, fiery and knows how to win football games. Those are the attributes that have so many teams buzzing about Dalton as he now looks like a potential late first-round option.
RB Taiwan Jones: Eastern Washington
Jones is up to 196 pounds and still has that kind of blazing 4.3 speed to instantly flip field position and create the big play. Needs to play more so in space in order to be effective, but that speed has NFL teams buzzing.
TE Julius Thomas: Portland State
Jordan Cameron isn't the only former basketball player making the move to the gridiron this year. Thomas is a 6-5, 245-pound kid with an explosive vertical, good straight-line speed and knows how to adjust to the football. He's still learning the nuances of the position, but his upside could warrant a mid-round pick.
WR Randall Cobb: Kentucky
Possesses the ability to consistently separate vs. a two-way go from the slot, is a natural plucker of the football and will create after the catch. Could mature into one of the league's better slot men and now looks like a solid second-round pick.
OL D.J. Young: Michigan State
He's far from a finished product yet. However, at 6-5, 307 pounds the guy pounded out 36 reps on the bench with a massive 84-inch wingspan and has the type of athleticism to get a shot in mid/late round range.