December 22, 2011 -
Jay Clemons
Finish strong
Week 16 Rules To Live By
1. Don't fall in love with one-hit wonders. Indy's Donald Brown (163 total yards, 1 TD), Chicago's Kahlil Bell (108 total yards, 1 TD) and Arizona's Andre Roberts (6 catches, 60 yards, 1 TD) all posted surprisingly stellar performances last week ... creating the illusion they'll be solid fantasy bets again for Week 16. But in my mind, the biggest weekend of the NFL season -- and perhaps the most important fantasy Saturday/Sunday of your life -- is NOT the best time to experiment with flawed, inconsistent assets. Yes, Dwayne Bowe, Beanie Wells, Rashard Mendenhall and LeGarrette Blount have mellowed out somewhat in recent weeks, but they're still more palatable Fantasy Bowl options ... especially when facing the Raiders, Bengals, Rams and Panthers.
2. It's OK to run counter-intelligent moves to your Fantasy Bowl opponent. During the regular season, I can be rather indifferent about my head-to-head competition for a given week -- especially when lording over 11 leagues, plus commissioner duties. (I'm more consumed with Total Points For and Power Rankings.) But during the playoffs, it's imperative to maximize your points, while minimizing the impact of your opponent's star players. For example, if Owner B has Tony Romo at QB ... I highly recommend starting Dez Bryant, Miles Austin, Laurent Robinson or Jason Witten as a savvy reflex. The reasoning is simple: If Romo is going to roll for 3-4 touchdowns against the Eagles, there's a strong chance all the TD passes will go to the above foursome. On a smaller scale, the same holds true for quarterbacks and defenses. If Owner B has Eli Manning as his/her QB1, make every effort to start the Jets D/ST -- just in case Manning tosses three interceptions and one pick-six in Saturday's Big Apple battle.
3. Don't sweat the small stuff, like kickers and defenses. It's real simple here: If you have a top-10 kicker, don't mess with success. And if you have a top-7 defense or one that gets to haunt Kansas City, Cleveland, Indianapolis, St. Louis or Jacksonville in Week 16 ... therein lies the key to playoff success!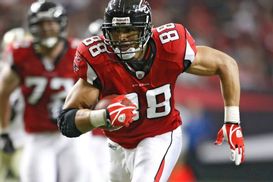 ICONMake sure Tony G is in your starting lineup this weekend. No sense in sitting at this juncture.
4. Start all productive players from the Falcons, Eagles, Saints, Chargers, Cowboys and Lions this weekend. The scheduling gods sometimes smile on fantasyland ... and when that happens, act accordingly. For all-important Week 16, you likely can't go wrong with starting regulars from Chargers-Lions, Eagles-Cowboys and Falcons-Saints -- a game where pass-catching stars like Roddy White, Marques Colston, Jimmy Graham, Tony Gonzalez, Lance Moore and Julio Jones each possess the potential for 85 yards and/or one TD on the lightning-fast surface of the Mercedes-Benz Louisiana Superdome. (Let's hope these naming rights stick longer than Miami's Joe Robbie Stadium, er, Pro Player Park, er, LandShark Stadium, er, Sun Life Stadium, er, "Insert Name Here" Stadium.)
Week 16: QB Locks For 275 Yards and/or 3 TDs
1. Drew Brees vs. Atlanta
2. Aaron Rodgers vs. Chicago
3. Tom Brady vs. Miami
4. Philip Rivers @ Detroit
5. Michael Vick @ Dallas
6. Matthew Stafford vs. San Diego
7. Tony Romo vs. Philadelphia
8. Rex Grossman vs. Minnesota
RB Locks For 120 Total Yards and/or 2 TDs
1. Arian Foster @ Indianapolis
2. Chris Johnson vs. Jacksonville
3. Ray Rice vs. Cleveland
4. Adrian Peterson @ Washington
5. Willis McGahee @ Buffalo
6. Michael Turner @ New Orleans
7. Ryan Mathews @ Detroit
8. LeSean McCoy @ Dallas
9. DeAngelo Williams vs. Tampa Bay
10. C.J. Spiller vs. Denver
11. Michael Bush @ Kansas City
WR Locks For 110 Yards and/or 1 TD
1. Calvin Johnson vs. San Diego
2. Mike Wallace vs. St. Louis
3. Brandon Marshall @ New England
4. Jordy Nelson vs. Chicago
5. Santana Moss vs. Minnesota
6. Roddy White @ New Orleans
7. Hakeem Nicks @ N.Y. Jets
8. Marques Colston vs. Atlanta
9. Dez Bryant vs. Philadelphia
10. Earl Bennett @ Green Bay (super-sleeper pick)
Kicker Locks For 3-Plus Field Goals
1. Mason Crosby vs. Chicago
2. Billy Cundiff vs. Cleveland
3. Neil Rackers @ Indianapolis
4. Shaun Suisham vs. St. Louis
5. Stephen Gostkowski vs. Miami
6. Mike Nugent vs. Arizona
Opportunity Knocks
For those seeking redemption from a failed regular season or inexplicable postseason flameout, I offer a chance to join me (and countless friends from the Seattle area) in an established postseason fantasy league -- once the NFL playoff pairings are announced. Please hit me on Twitter in January, if interested.
Tomorrow Never Knows ... OK, Maybe It Does, Part I
I have brainstormed an admittedly rudimentary estimate of the Top 50 fantasy players for 2012 (non-PPR). Here are the first 25:
1. RB LeSean McCoy, Eagles
2. RB Adrian Peterson, Vikings
3. RB Arian Foster, Texans
4. QB Aaron Rodgers, Packers
5. RB Ray Rice, Ravens
6. WR Calvin Johnson, Lions
7. RB Chris Johnson, Titans
8. RB Ryan Mathews, Chargers
9. RB Jamaal Charles, Chiefs
10. QB Drew Brees, Saints
11. RB Fred Jackson, Bills
12. RB Matt Forte, Bears
13. RB Maurice Jones-Drew, Jaguars
14. RB Michael Turner, Falcons
15. QB Tom Brady, Patriots
16. RB Darren McFadden, Raiders
17. TE Rob Gronkowski, Patriots
18. WR Andre Johnson, Texans
19. RB DeMarco Murray, Cowboys
20. RB Frank Gore, 49ers
21. WR Mike Wallace, Steelers
22. RB Marshawn Lynch, Seahawks
23. WR Larry Fitzgerald, Cardinals
24. WR Roddy White, Falcons
25. RB Rashard Mendenhall, Steelers
Tomorrow Never Knows ... OK, Maybe It Does, Part II
... And here are the next 25, spilling over into Round 5 for 12-teamers:
26. QB Matthew Stafford, Lions
27. WR Gre g Jennings, Packers
28. WR Hakeem Nicks, Giants
29. RB Steven Jackson, Rams
30. RB Roy Helu, Redskins
31. QB Michael Vick, Eagles
32. QB Eli Manning, Giants
33. TE Jimmy Graham, Saints
34. RB Beanie Wells, Cardinals
35. QB Tony Romo, Cowboys
36. QB Cam Newton, Panthers
37. WR Dez Bryant, Cowboys
38. RB Shonn Greene, Jets
39. WR A.J. Green, Bengals
40. RB Trent Richardson, University of Alabama*
41. RB Ahmad Bradshaw, Giants
42. RB LeGarrette Blount, Buccaneers
43. TE Aaron Hernandez, Patriots
44. QB Peyton Manning, Colts
45. QB Philip Rivers, Chargers
46. RB Peyton Hillis</strong>, Free Agent (not likely to return to Browns)
47. TE Antonio Gates, Chargers
48. RB Jahvid Best, Lions (Mikel Leshoure works here, as well)
49. QB Matt Schaub, Texans
50. RB Michael Bush, Raiders (high-end handcuff to D-Mac)
* - likely to turn pro before the NFL draft in April
YouTube Memory Lane
1. 1979 -- <i>Monday Night Football ... Let's rehash one of my favorite chestnuts of the year: Steelers linebacker Jack Lambert unleashes a nasty high-elbow shot on Broncos receiver Haven Moses. Two things make this clip eminently watchable: Howard Cosell shamelessly lampoons Moses for not making a leaping, in-traffic catch of a substandard Craig Morton pass ... and 'Dandy' Don Meredith expresses little sympathy for Moses getting flattened by a future Hall of Famer. If this play had occurred last week, the NFL mini-universe would be up in arms over Lambert not getting flagged for "hitting a defenseless receiver" -- with ESPN subsequently playing the Is Lambert a dirty player? card with Skip Bayless and Stephen A. Smith the following Monday. And yet, in 1979, there were greater safety concerns for Lynn Swann leapfrogging a car, curiously placed near the end zone. What, Three Rivers Stadium didn't have adequate parking then?
2. 1979 -- Seattle fans might want to avert their eyes from this all-time disaster, with the Rams holding the Seahawks to -7 total yards and one first down in a 24-0 rout at The Kingdome. As you may have guessed, the 'minus-7' still stands as the NFL record for Fewest Yards By One Team In A Single Game; remarkably, though, the Seahawks' one first down was never an NFL precedent ... as five teams -- the 1933 Eagles, 1933 Steelers, 1935 Eagles, 1942 Giants and 1966 Broncos -- all went an entire game without gaining 10 yards in 4 downs or less. Ouch! Postscript: Six days prior to the Seahawks' historic meltdown, the franchise garnered a level of never-before-attained fame on Monday Night Football ... by stunning the Falcons on Efren Herrera's fake-kick/go-route reception to set up the winning score -- prompting the awesome Cosell quote: (Head coach) Jack Patera is giving the nation ... a lesson in creative football!
3. 1980 (Oilers-Steelers) -- In the 1979 AFC Championship Game (played on Jan. 6, 1980), Houston's Vernon Perry shocks the black-and-gold Pittsburgh faithful with a 75-yard pick-six off Hall of Famer-to-be Terry Bradshaw. This game marked the zenith of the Oilers' Luv Ya Blue era, highlighted by head coach Bum Phillips, QB Dan Pastorini and Earl Campbell, the Hall of Fame back who rushed for an incredible 6,457 yards and 55 touchdowns in his first four pro seasons (1977-80). From a more historic standpoint, thanks to Mike Renfro's non-scoring touchdown catch in the third quarter -- where all of America could plainly see that Renfro had two feet inbounds in the end zone -- the NFL might have been motivated to experiment with instant replay in the 1980s ... before fully adopting it for modern-day use. Could you imagine the social-media outrage today, if a crucial call in a championship game couldn't be overturned, via instant replay? Let's give a tiny bit of credit to Renfro and NBC announcer Dick Enberg for planting that technologically advanced seed on a cold, blustery day in Steel City. (Cue the disco-themed outro)
Goodbye ... And Good Luck!
Well, here it is ... perhaps the last fantasy football-related paragraph of my lifetime; and as part of that, it's been my sincere pleasure to share unsolicited advice, anecdotal stories and YouTube memories apropos of nothing to the fantasy masses this season. (Hopefully my July-based guarantee of Make The Playoffs ... Or Your Money Back came through, as well.) I would also like to thank the National Football Post powers-that-be -- Andrew Brandt, Jack Bechta, Matt Bowen, and especially Elise Menaker (the omnipresent intern) and Joe Fortenbaugh -- for providing a twice-a-week forum to celebrate the game/hobby that has effectively consumed my life for the last 10 years. I'll leave with five parting words: Don't ever bench Larry Fitzgerald!
Jay Clemons can be reached, day or night, via Twitter.