March 18, 2013 -
Erik Oehler
First Pro Day Preview – Week of March 18 – 22
While the evaluation of game film is still bar far and away the most important aspect of scouting, NFL teams send coaches and scouts across the country to work-out prospects to fill in the last piece of the scouting puzzle. Today we look at Florida State, San Diego State, Virginia and North Carolina State. On Wednesday, we will break down the Pro Days for the last few days of the week, which include Sharrif Floyd's workout on Friday the 22nd. I have not included Utah on this list because as I write this article my sources in the NFL have not been able to give me any further clarity as to Star Lotulelei's medical situation or if he will work-out at Utah's Pro Day later this week.
1. March 19, Florida State: QB E.J. Manuel, OT Menelik Watson, CB Xavier Rhodes and DE Bjoern Werner:
Amazingly four of the players who work-out for Florida State could be first round picks, but possibly their best prospect, defensive end Cornell "Tank" Carradine, is not expected to workout at full speed as he is less than six months from having surgery to repair a torn right ACL. Additionally, it is not known if fellow defensive end Brandon Jenkins, who injured his left foot in Florida State's 2012 season opener and missed the remainder of the season, will be able to work-out at 100%.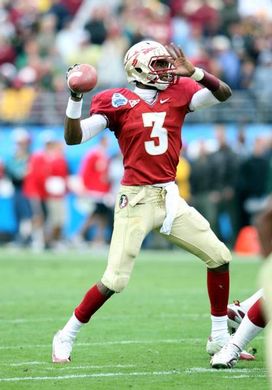 ICONFlorida State QB E.J. Manuel strides into throw as he prepares to release ball.
For E.J. Manuel this throwing session is vital as he is in a battle to prove he is one of the best quarterbacks in this Draft and warrants being a first round selection. NFL personnel that I have spoken with view Manuel as a smart and mature young man with excellent athletic skills, a quick and compact release to go with a strong arm and good accuracy. They want to see a little bit more aggressiveness and urgency in his footwork/mechanics and drive the ball more forcefully.
Perhaps the most interesting story in the 2013 Draft, Menelik Watson has a chance to continue his meteoric rise up draft boards. Only two years into his football career, Watson's impressive play and flashes of dominance at Florida State have NFL teams curious as to how good he can become with more experience. Thickly built and possessing rare natural strength, Watson is still raw when it comes to technique and consistency, but his uncommon athleticism/feet for such a big man has vaulted him into the first round on most team's draft boards. If he impresses in the positional drills and when he meets with teams over the next month, we have heard he could climb even higher and force himself into the top fifteen picks of the first round.
Blessed with a rare combination of size and speed for a cornerback, Rhodes needs a good work-out to assure him of being a first round pick after he struggled during positional drills at the Combine. There is little doubt amongst NFL teams that with his size, strength and speed he can be very effective playing press man coverage at the next level, but he needs to prove he has the feet, hips and awareness/instincts to be productive playing "off" and "zone" coverage. His choppy footwork and length made it look hard and awkward trying to transition and change directions at the Combine despite displaying the ability to be good in this area on film. If he moves well and shows the ability to COD fast then he could ease concerns and lock up a spot in the first round.
All season defensive end Bjoern Werner has been mentioned as a likely top ten pick if he came out for the Draft and although his Combine workout was just okay, most teams we have spoken to tell us he is still listed that high. Tams are looking to see two different things from Werner to ease any concerns and assure himself a spot in the top ten. Teams that play 43 defenses want him to prove he has the first step explosiveness and overall speed to consistently threaten the corner as an edge rusher from a down defensive end alignment. While those that use 34 alignments want to figure out if they feel Werner has the athleticism to play upright as a rush-linebacker in their scheme. Werner needs to prove that he can drop off the ball smoothly, changes directions easily and displays the body control and coordination necessary to make the full-time switch to outside linebacker.
2. March 19, San Diego State: CB Leon McFadden and TE Gavin Escobar: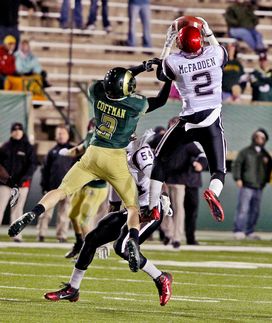 US PRESSWIRESan Diego State CB Leon McFadden goes up high to break up pass.
Likely the most fundamentally/technically sound cornerback in the Draft; McFadden shocked many by running in the low to mid 4.5's at the Combine. Viewed off film evaluation as an excellent cornerback who did everything well, but lacked the explosiveness and top end speed to consistently cover well deep. You can be sure NFL teams will be watching closely in the work-out to see if McFadden really possesses the quickness and speed that he showed at Combine and if they come away convinced of that they he would move up to the top of the second round.
Escobar has not received the national attention from the media and "draftniks" as Stanford's Zach Ertz and Notre Dame's Tyler Eifert, but according to sources around the league he is right in the mix with them on a number of teams' draft boards. With great height at nearly 6'6, smooth athleticism, deceptive playing speed and rare ball skills, Escobar seems to be the complete package when it comes to a big, receiving tight end for an NFL team and that is why I expect him to be picked in the top 40 picks.
3. March 20, North Carolina State: QB Mike Glennon:
As the 2012 season progressed and the spring scouting season is nearing its end, Glennon has seen his draft stock fluctuate as much as any player in the Draft. Evaluating his performance against Florida State we were impressed and then speaking to scouts around the league liked his arm strength and ability to make all the NFL throws with good zip and accuracy. However, not viewed as a quick twitch athlete who can consistently avoid pressure, Glennon has shown a bad habit of throwing the ball up for grabs to avoid sacks. Overall, Glennon needs to prove he is more like Matt Ryan than Dan McGui re to assuage fears about his lack of athleticism and be drafted in the first two rounds.
Email Russ at Russelllande@yahoo.com and Follow Russ on Twitter @RUSSLANDE