May 04, 2011 -
National Football Post
First round breakdown
Love em…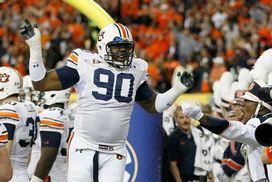 ICONFairley was a gift for the Lions at 13.
Detroit Lions: DT Nick Fairley
I'll start with the obvious. The fact that the Lions were able to get in my mind the best defensive tackle prospect on the board at 13 still has me shaking my head. Fairley is explosive, can slip blocks on contact and knows how to rush the passer. Plus, there's still a lot of upside to his game and pairing him next to Ndamukong Suh inside has to have head coach Jim Schwartz smiling.
New Orleans Saints: RB Mark Ingram
I said it before and will say it again, I still think Ingram is a much better running back prospect than Ryan Mathews, who went 12th overall last year to San Diego. And if Ingram is given the opportunity to carry the rock 20-plus times for the Saints this year, there is no doubt in my mind he could be a 1,300-plus yard back. Ingram is savvy between the tackles, runs hard and has real burst out of his breaks. He's the type of back that can finish games for you come the fourth quarter and should average in the 4.5/5.0 yards per pop range in this offense.
Baltimore Ravens: CB Jimmy Smith
Any way you look at it, the Ravens got a big, physical press corner who can come in and play right away at pick 27. Jimmy Smith was the second-best talent in my mind at the cornerback position, but was knocked down draft boards because of some character concerns. However, he goes to a great locker room in Baltimore and should be able to mature quickly under the leadership in place. Has some real Nnamdi Asomugha potential long term.
Chicago Bears: OT Gabe Carimi
Carimi isn't the most athletic of tackles in this year's class. However, he's heavy handed, understands angles and is tough to disengage from in the pass game. Pair that with his ability to dominate as an in-line guy in the run game and the Bears got the kind of left tackle they need to win football games in Chicago come December.
Philadelphia Eagles: OG Danny Watkins
I joked back when I saw Watkins earlier in the year that if he were 3 years younger the guy would be a first-round pick — that's how talented I thought he was. Well, as it turns out talent rules as the Eagles got themselves in my mind one of the safest picks in the entire class. Watkins is tough, versatile, displays good pop/leverage in the run game and can slide his feet well through contact vs. the pass. Has the makings of developing into one of the league's best guards early in his NFL career.
Question em…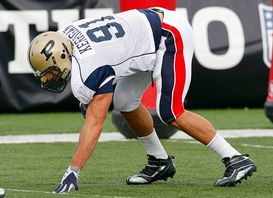 ICONKerrigan lacks ideal fluidity in all areas of his game.
Washington Redskins: DE Ryan Kerrigan
Kerrigan possesses a great motor, knows how to use his hands and possesses some natural pop on contact. However, on tape he looks limited as an athlete, isn't real effective in pursuit and I thought he would have been better off playing with his hand on the ground at the next level. He isn't the run support guy many make him out to be, but I just think asking this stiff-hipped guy to play in space consistently isn't ideal for him. And despite me thinking he's going to be a solid pass rusher at the next level, I still don't think he's going to be the type of dynamic sack artist to consistently outweigh his flaws in space.
Seattle Seahawks: OT James Carpenter
I know a lot of talent evaluators who were high on Carpenter the closer we got to the draft, but there were quite a few scouts I talked to as well who still saw him as a second-round option (mid/late even in some camps). I happened to fall into the latter group. He's a strong anchor player who can wall off defenders in the run game and he does have some natural coordination when asked to break down in space. However, I don't think he's overly rangy when asked to get out to the second level — seems to lumber a bit — and will get overextended on any type of counter back inside in pass protection. Overall, I do agree that Gabe Carimi wouldn't have been an ideal fit for the Seahawks zone scheme. However, despite not having the same type of "nasty" to his game as Carpenter, I thought Mississippi State OT Derek Sherrod would have been the better option for the Seahawks, even on the right side.
New York Jets: DL Muhammad Wilkerson
Wilkerson is a talented kid. He possesses a great looking frame at 6-5, 310 pounds, is long-armed and can make plays in pursuit. Plus, he does have experience two-gapping in Temple's 3-4 front. However, on tape he plays too high, doesn't know how to rush the passer yet and I saw him more as a second/third round type option than even late first. He's got the talent to be a very good starter in the NFL, there's just a lot of development that's going to need to take place and I liked the idea of the safer play in round one with a guy like Cameron Heyward instead.
Follow me on twitter: @WesBunting