February 21, 2013 -
Erik Oehler
Five D-Linemen that NFL teams are watching closely at the Combine
1. Cornellius "Tank" Carradine, DE, Florida State, Senior (6044 E, 255 E and 4.65 E): While teammate and fellow defensive end Bjoern Werner has received all the publicity, Carradine is not a forgotten man as he was a widely discussed prospect during recent Draft meetings around the league. A first time starter in 2012, Carradine displayed the ability to consistently defeat pass blocks with great hand use and remarkably polished pass rush moves. When combined with his outstanding play against the run at him and away, Carradine's on field play warranted consideration as a top 15 pick. However, after he tore the ACL in his right knee against Florida and missed the rest of the season he has fallen off the media's NFL Draft radar. Numerous NFL teams are interested to see how he checks out medically because if he does well in team physicals he could still end up as a first round pick. Rumors persist that he will be able to workout at close to 100% prior to the Draft, which would lead to him jumping over many other defensive ends to be one of the top five pass rushers in the Draft. Additionally, teams that play 34 defenses believe that he has the athleticism to be productive playing upright as an outside linebacker.
2. Kwame Geathers, NT, Georgia, Junior (6060 E, 355 E and 5.05 E): Throughout the season Jarvis Jones, Alec Ogletree and John Jenkins received the Lions' share of attention, but Geathers play in the middle of the Bulldogs' defense was a big part of their success. A massive man with the strength to dominate run blockers when he maintains leverage and uses hands well, Geathers is viewed as one of the most intriguing nose/defensive tackle prospects in the Draft. He needs to prove this week that he has the athleticism to consistently play with good pad level as many tall defensive tackles have failed. While a strong performance in Indianapolis will not move Geathers into the first round, it should assure him of being a second day Draft pick. Not only do teams view him as an interior player, but teams like New England and Kansas City that often align in the "big 34" defensive scheme view him as a potential power defensive end.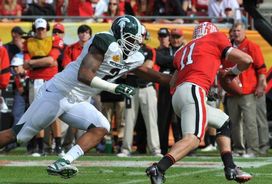 Michigan State defensive end William Gholston makes a tackle.
3. William Gholston, OG, Michigan State, Senior (6070, 278 and 4.75 E): After a dominant 2011 season Gholston was expected to improve upon that in 2012 to lock up a spot as a top ten pick. Things did not go as planned as he did not play with the same intensity or aggressiveness and it resulted in his production dropping. NFL teams are still excited about Gholston's future because he has the height, long arms, natural strength and shocking athleticism to be a dominant defensive end in either a 43 or 34 scheme. The Combine is big for Gholston as he needs to prove to teams that he has the fire to be the player he was in 2011 and will be able to maintain a high level of intensity and competitiveness once he gets paid. If he interviews well and impresses during the workout he could put himself back in position to be a late first or high second round pick.
4. Akeem Spence, DT, Illinois, Senior (6010 E, 305 E and 4.75 E): Already having graduated, it was no surprise when Spence decided to bypass his senior season and enter the 2013 Draft. An explosive interior player who consistently was able to get backfield penetration, his ability to anchor and defeat run blocks was equality impressive. Highly productive throughout his college career, Spence needs to prove to NFL teams that he has the elite athleticism to overcome his lack of ideal size. A number of scouts have told us that Spence reminds them of former LSU defensive tackle Drake Nevis and current Bengals linemen Geno Atkins, but to justify these comparisons he must prove this week that his athleticism, strength and technique can help him play at that high a level despite often being dwarfed by the man blocking him.
5. Walter Stewart, DE/OLB, Cincinnati, Senior (6037, 245 and 4.65): Considering that a few months ago Stewart was told that his football career was likely over due to a back injury, his future now is in the hands of the different NFL medical staffs. A dynamic edge rusher/player, Stewart makes it look easy beating offensive tackles and pressuring the quarterback. He has the explosive first step and speed to get the corner and combined with his excellent hand use and ability to dip a shoulder, he can stay free from blocker to turn corner and explode to the passer. Not only productive rushing the passer, Stewart does an excellent job defeating blocks to make plays against the run, both towards him and on runs away. Do not be surprised if Stewart's back passes some physicals if he ends up being a top 40 selection in the Draft.
Email Russ at Russelllande@yahoo.com and Follow Russ on Twitter @RUSSLANDE