March 18, 2014 -
Ari Nissim
Five free agent signings that hit the mark
This list may not be comprised of the marquee signings that took place on the first day of free agency. In fact, there are only two players on this list that signed a contract exceeding two years in length. What I was looking for in writing this article was the player's ability to make an immediate impact for his new franchise while weighing the value efficiency of each contract.
1. Hakeem Nicks – WR – Indianapolis Colts [1 Year - $4M] -- This is exactly the type of free agent signing that can have a huge impact with limited downside from both a play and monetary perspective. Nicks has ties to the Indianapolis coaching staff, as head coach Chuck Pagano and wide receivers coach Charlie Williams both worked at North Carolina while Nicks was playing for the Tar Heels. This gives everyone a level of understanding of what they are getting. The benefit to the Colts' situation is that Nicks doesn't have to be "the man." With Reggie Wayne, T.Y. Hilton, and Dwayne Allen already featured in the passing attack, and one of the elite young guns in Andrew Luck distributing the ball, Nicks has a real chance to succeed in a big way.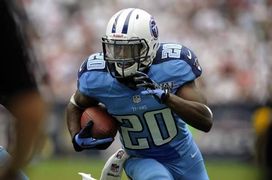 Verner notched a career-high five interceptions last season.
2. Alterraun Verner – CB – Tampa Bay Buccaneers [4 Years - $25.5M] -- This is a player that has good skills that fit Lovie Smith's defensive system. Adding Verner to a secondary that already features quality safeties will allow the former Tennessee Titan to play to his potential. Although he may not be as good a corner as a healthy Darrelle Revis, because of the requirements of Lovie's system, the Bucs were able to address a number of positions by spreading the money earmarked to Revis ($16M Per Year) around while still landing a corner in Verner that will allow them to play solid defense.
3. B.J. Raji – DL – Green Bay Packers [1 Year - $4M] -- Raji has had a tough go of it the last few years; playing out of position by moving to defensive end has not helped his production. However, sometimes teams need guys to man positions that may not be the best situation for the player, but better for the team as a whole. If the Packers move Raji back to nose tackle, I believe he will regain the form that made him shine during his first couple of years in the league. This kid has a ton of talent and at the end of the day, people with Raji's size and athleticism are not found on every street corner, or every NFL team for that matter. Remember, the best big nose tackles in this league can easily play into their mid- 30s, so to bring back Raji—who will play this season at 28-years-old—is not a bad decision by the only team he has ever played for.
4. Brandon Pettigrew – TE – Detroit Lions [4 Years - $16M] -- Every offensive coach I have ever been around has always said that having a blocking tight end is an important part of building an offense (They are typically called the 'Y' tight end, which is the inline tight end). The ultimate is having a blocking tight end who can catch. As the game has evolved, the majority of tight ends have become more athletic with an increased focus on receiving, thus, a large majority of tight ends today cannot block very well. Although Pettigrew is not an elite tight end, he's a solid blocker who can put up production in the passing game, which affords an offense the ability to do things in multiple formations. That adds a lot of value.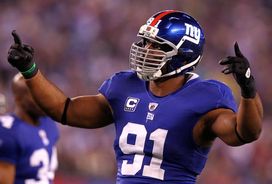 Tuck brings two Super Bowl rings to the Oakland locker room.
5. Justin Tuck – DL – Oakland Raiders [2 Years - $10M] -- This is not the typical signing you would see on this type of list, because a lot of the reasons you are signing this type of player aren't necessarily going to be seen on the field. Although Tuck still has some good football left in him, his leadership abilities, as well as the other ancillary benefits that come with having a player like this in meeting rooms and the building, can do a lot for a team's character.
Follow Ari on Twitter: @AriNissim
Ari Nissim worked with the New York Jets from 2006 through 2013, serving six years as Director of Football Administration. In addition, Nissim interned at the NFL League office and worked at Athletic Resource Management Sports Agency, and currently teaches in the NYU Sports Management Program.