February 16, 2011 -
National Football Post
Five junior prospects that need to stand out at the Combine
With the NFL Combine quickly approaching, the NFP takes a look at five junior prospects that will have a lot of money riding on the line based on their one workout at this year's Combine.
WR Jon Baldwin: Pittsburgh
At 6-5, 230 pounds, Baldwin looks more like a power forward than wide receiver at times in the way he attacks the football at its highest point and comes down with the grab. Talking to scouts before the season, there were a number who said they thought Baldwin was the most talented receiver in the country, more so than Julio Jones and A.J. Green. Then why so many question marks surrounding Baldwin as a potential first-round pick? Well, first and foremost, there are some character/diva concerns to his game that have some teams worried. Plus, watching him this year he looked a little heavier than in 2009, causing him to fight himself a bit off the line, struggling to get up to speed quickly. There has been talk from a number of sources that despite his size Baldwin can run in the low 4.4, high 4.3 range. Now, does he play anywhere near that fast on tape in my mind? No. But, if he's able to go out and run a sub 4.4 at 6-5, 230 pounds, no matter what he looked like on tape this year, I would have a tough time seeing him fall out of the first round.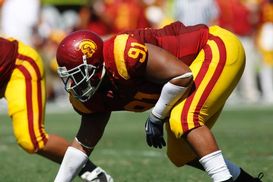 ICONCasey needs to show up in the best shape of his life.
DT Jurrell Casey: USC
In all honesty, outside of Auburn DT Nick Fairley, Casey might be the most naturally gifted defensive tackle prospect in the draft. He's explosive off the football, displays good short-area quickness inside and uses his long arms well to slip blocks on contact. However, at 6-1, 305 pounds, Casey does possess a bit of a sloppy build, especially through the mid-section and there are questions about the guy's overall work habits. Now, from a talent perspective, there is no reason why this guy can't be a Sedrick Ellis-type defender in the NFL if he decides to fully commit himself. Therefore, at the Combine he needs to show up in shape and ready to go. Because if he comes in slightly overweight with some soft spots to his frame, the questionable work ethic and stamina issues are going to gain even further momentum, and in this talented defensive line class, he could end up falling a lot further than his physical talents would indicate.
OT Tyron Smith: USC
On the other side of the coin, Southern Cal offensive tackle Tyron Smith is going to have the complete opposite task of Casey at the NFL Combine and that's showing up with some added weight/girth to his frame. Smith played this past season at around 285 pounds, which is a good number considering he came to USC back in 2008 as a five-star 260-pound lineman. The good thing for Smith is that he's only 20-years old — not turning 21 till December of this year — and he has a wide lower half and the natural frame to quickly fill out. There have been reports around the web that he's already up to 300-plus pounds. However, the key for him is to naturally put on the weight and still maintain his impressive natural athleticism, which ultimately will make him a more intriguing prospect. However, as he continues to mature, I don't think Smith will have any problem reaching 310-plus pounds in the future.
CB Aaron Williams: Texas
With the depth and overall talent level toward the top end of the draft at the cornerback position, Texas standout Aaron Williams is one guy who seems to be falling by the wayside after the initial top corner prospects. However, at 6-1, 195 pounds, Williams displays good length and overall size for the position. But it's his impressive speed, fluidity and overall leaping ability that makes him such a unique prospect for his size. Now, he is raw and there are some rough spots to his game in terms of his footwork in his drop and ability to consistently locate the football down the field. Nevertheless, Williams is a gifted size/speed athlete who has the ability to really make a run at the late first round if he's able to be one of the top performers across the board at next week's NFL Combine.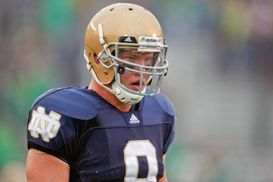 ICONRudolph's medical will be the key.
TE Kyle Rudolph: Notre Dame
So much is always made of the physical testing every year at the NFL Combine. The 40-yard dash times, the vertical jump, three-cone, etc. However, did you ever wonder why one of your favorite draft prospects who was being tapped as a potential 1st or 2nd round pick ends up going in the mid rounds? 10-1 it's because of medical. And that's the biggest concern with Notre Dame TE Kyle Rudolph at this stage. Rudolph is in the midst of rehabbing his hamstring, one he had surgery on to repair a tear back in October. He's the only tight end prospect in the draft who could get a sniff of the first round. However, depending on how he checks out medically at the Combine, it could go a long way in determining if he has a legit shot at the top 32 picks or if will he just fall into that much safer second-round range.
Follow me on twitter: @WesBunting